Rainbow Wahine turn corner in season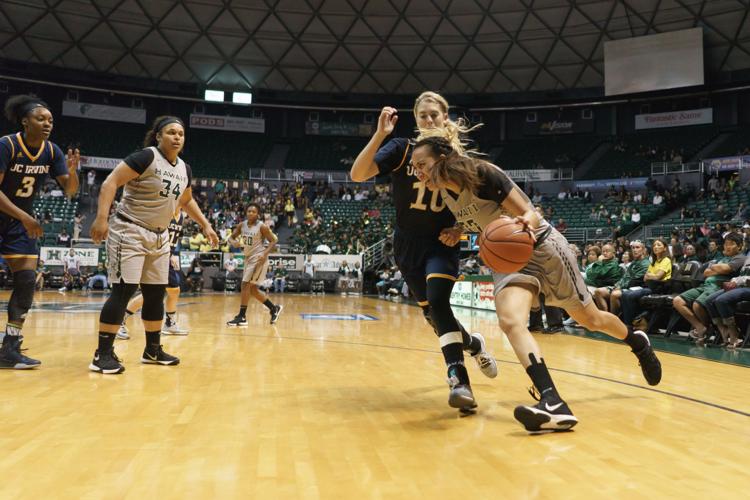 It doesn't matter how you start; it's how you finish. 
A basketball team with a .500 record at home should not be worth acknowledgment. However, the Rainbow Wahine have, seemingly, turned their season around. 
The 2015-2016 season started off well for the 14-9 (7-3 BWC) University of Hawai'i women's team, winning four straight games before losing to Washington State on Nov. 22. 
That 62-52 loss led to a 1-4 record in the team's following five games.
Just like a basketball game, momentum changes sides and teams go on runs, while others suffer through droughts, unable to gain any positive traction. The Wahine, since starting 5-4, have gone 10-5 including seven road wins. In fact, the 'Bows have a better road record (9-2) than they do at the Stan Sheriff Center (5-5) this season. 
It's important to keep in mind that two games this season took place in Lā'ie, O'ahu, which are considered neutral games since they technically aren't home fixtures for the Wahine – both games were losses to Texas A&M and BYU.
Having a deep rotation is something that head coach Laura Beeman has been adamant about since taking over the program, especially in the last two seasons. But this year, the rotation is bigger. 
The Wahine have 13 players who average 5.4 minutes or more each game, including six players who average over 20 minutes per outing. 
After losing Shawna-Lei Kuehu after her eligibility ran out after last season, UH needed to find a go-to scorer. Currently, only Destiny King averages double-digit points (10.4) per game and although the lack of a premier scoring option affected the 'Bows early on in the season, it's clear now that their glaring weakness has become a strength. 
UH has seven players who average five points per game. To put that into perspective, UC Riverside, who own first place in the Big West with a 7-0 record as of Saturday, only has six.
One might argue that Riverside might have less scorers than UH, but they have more players who can put up double-digit points on a regular basis. While that may be true, the fact still remains that the Wahine's rotation is deeper and that any player can be given the ball to score and aren't confined to just one or two options on offense. 
With the Big West Tournament just around the corner, the Wahine must continue to keep up this level of play in order to have a shot at making the NCAA Tournament for the first time since 2002. But after beating the likes of UC Santa Barbara and Cal Poly on the road, it looks like momentum is back swinging in the Wahine's favor.
Question is, for how long? 
UH takes on Long Beach State Thursday, Feb. 11 at the Stan Sheriff Center. Tip-off is set for 5:30 p.m. in the first game of a double-header followed by the Rainbow Warriors matchup against UC Irvine at 8 p.m.