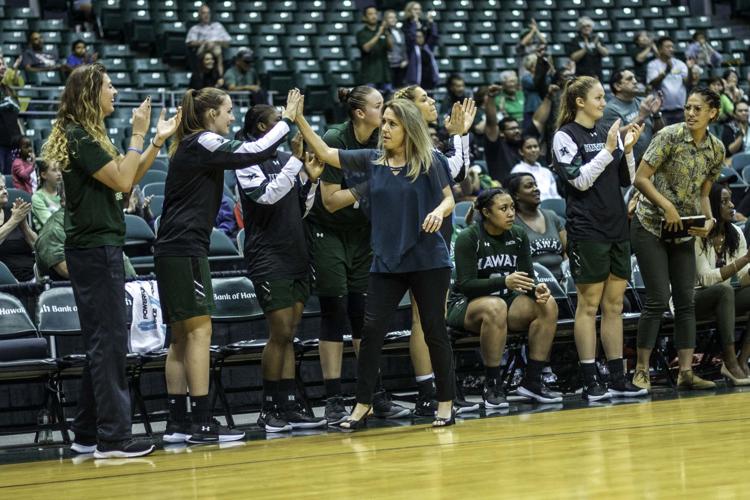 The 2018-19 University of Hawai'i women's basketball season can be summarized as a journey filled with ups and downs, as the Rainbow Wahine faced challenges ranging from injuries to unexpected departures. Through this adversity, the team was able to grow not only as players but as people as well. 
"They overcame so much adversity to get to this point, and it was incredible to coach them and be a part of it," head coach Laura Beeman said after UH's first round exit in the Women's National Invitation Tournament. 
After starting off the first month of the season 2-7, the Rainbow Wahine steadily showed improvement, finishing the remainder of their schedule playing above .500. UH went 13-10 for the remainder of the season, including a 4-2 record in the month of March. 
UH went to the Big West Championship game, finished second in the conference and made its first appearance in the WNIT since 2015.
The season ended in the opening round of the WNIT as UH was defeated by the Saint Mary Gaels 67-43 at the McKeon Pavilion on March 22. 
Despite the way the season ended, UH still has much to be proud of: the Rainbow Wahine had some great offensive performances throughout the season, scoring 70+ points six times.
The Rainbow Wahine were able to reach this notable accomplishment behind the leadership of seniors Tia Kanoa, Leah Salanoa, Lahni Salanoa and Rachel Odumu, who are all scheduled to graduate in the spring. This leaves eight players to return for the 2019-20 season.
One of those eight players will be forward Amy Atwell, who had the team's season high in points with 25.
Atwell's teammate guard Jadynn Alexander was able to get her career high in points this season with 15 off the bench.
Before the season, UH was predicted to finish No. 6 in conference standings by both the coaches and the media.
Overall, this season was a step in the right direction for the Rainbow Wahine. The 2018-19 team surpassed the win total of the previous two seasons, finishing the season with a final record of 15-17.