Hawai'i overcame a 17 point deficit in the second half to beat Cal State University Northridge in an 80-75 win in front of a crowd of 5,311 on Saturday night at the Stan Sheriff Center.
The Rainbow Warriors (14-6, 5-1 Big West Conference) remain undefeated (4-0) at home while the Matadors (9-14) drop to 4-4 in conference play.
CSUN took a double-digit lead in the first half after going on a 14-3 run. The Matadors led 41-32 heading into the half. 
But Zigmars Raimo's power layup with 40 seconds left in the game was the start of the 'Bows' rally. The 'Bows shot 54% in the second half and held CSUN to just two field goals in the last 10 minutes of the game. 
A pair of Justin Webster free throws extended UH's lead to three points with 13 seconds left. The Matadors attempted to tie the games, but the 'Bows forced a CSUN violation as the clock ticked down.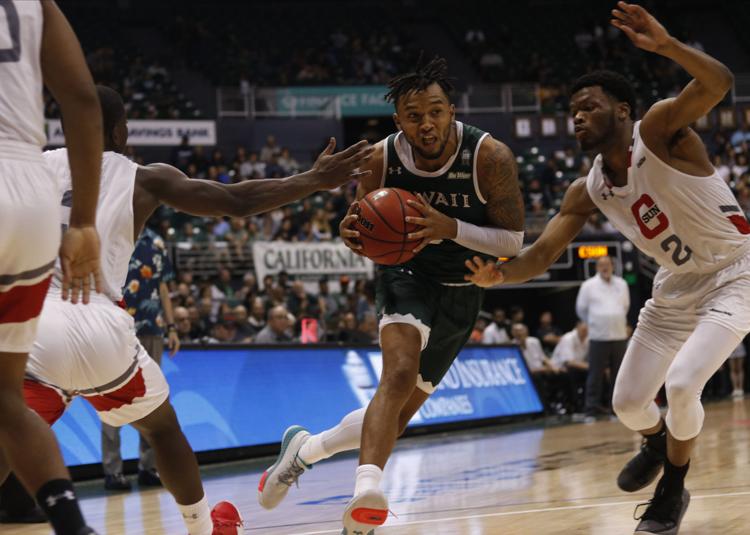 Eddide Stansberry led the 'Bows with 22 points, including five 3-pointers. Terrell Gomez led the Matadors with 13 points.
Raimo finished with 20 points, while freshman Webster contributed to a career-high 17 points. Drew Buggs dished out 10 assists to move third place in the school's all-time list.
The 'Bows now travel to UC Santa Barbara for another conference matchup on Feb. 6 at 5 p.m. HST.