The Rainbow Warriors break their four-game losing streak by splitting the double header against CSU Fullerton. In Friday's game, the Warriors lost handily to the Titans 83-67 in a game where the 'Bows struggled to keep up with the hot hands of Fullerton. After a team meeting before the next game, the 'Bows rebounded in a 76-53 win. 
In the loss to the Titans on Friday, the Rainbow Warriors couldn't keep up with the shooting of CSU Fullerton as they finished with a 53.6 shooting percentage. Four different Titans finished the day with double digit points, led by junior guard Tray Maddox Jr's 23 points and his perfect three point shooting percentage. 
While the 'Bows outrebounded Fullerton 39-31 and Justin Webster put up 20 points, his second straight 20 point performance, help was hard to come by in the loss in the Titan's Gym. Guards Junior Madut (12 pts) and Biwali Bayles (9 pts) tried to spark a comeback in the second half, but couldn't capitalize on winning the offensive rebounding game in the second half.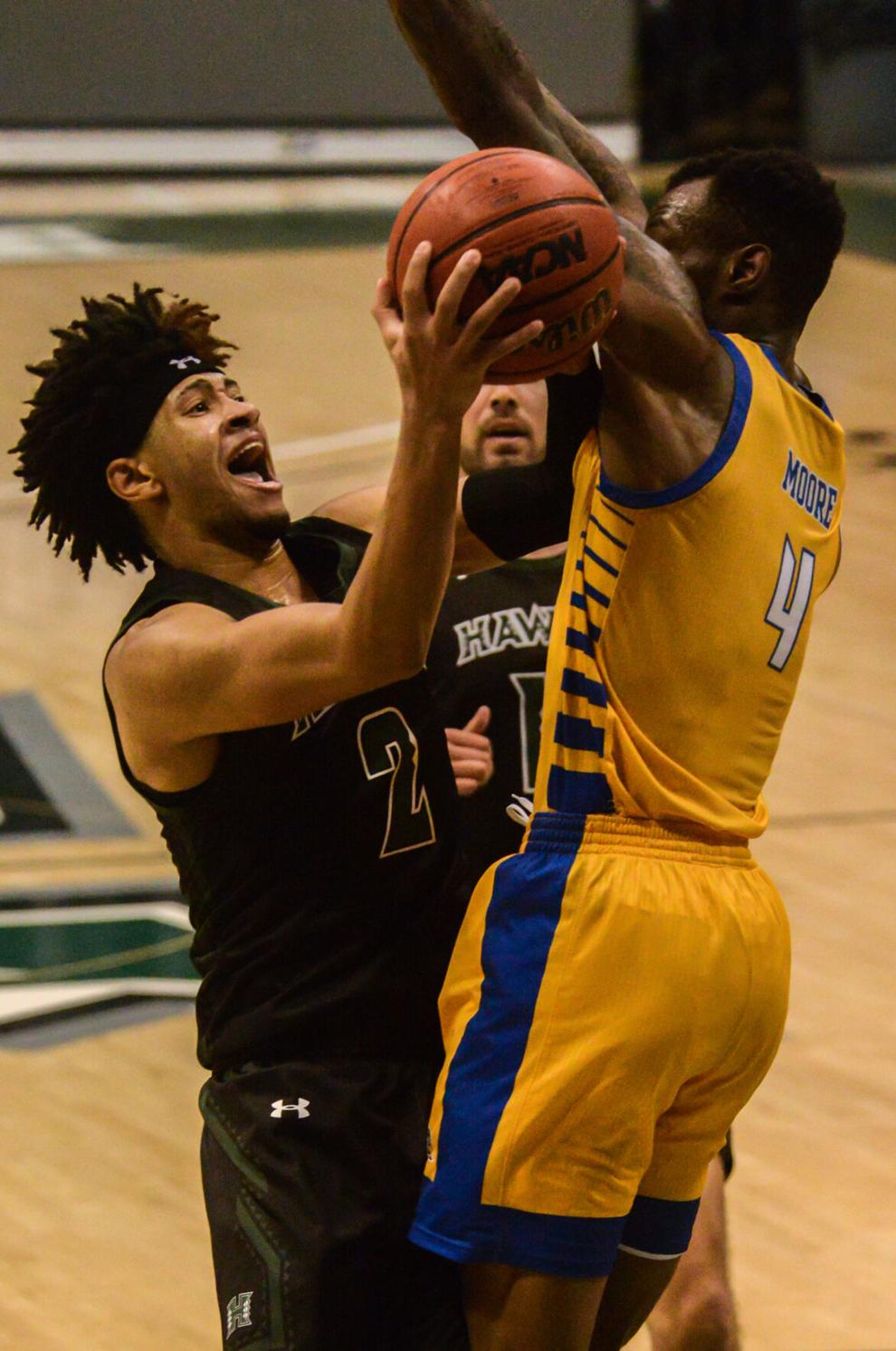 After the game, the players held a team meeting to get things off their chest and it seemed coming together was the trick to overcome the Titans. 
The Warriors would rebound against the Titans on Saturday 76-53, getting their second Big West win this season and quell the worries of Rainbow Warriors fans. 
UH would once again beat the Titans in rebounds 47-28, and dominated the paint points with 36 points versus the Titan's 26. Mate Colina came off the bench to lead the Warriors with 11 rebounds to go along with five points. Four 'Bows would finish the night with double digit points, with Junior Madut leading the way with 14 points.  
A large factor for UH's big win can be seen in second chance points, as the 'Bows had 20 points versus Fullerton's one point. 
The men's basketball squad has much to prove this week, as they host the top of the Big West Conference in the UC-Irvine Anteaters at the SimpliFi Arena at Stan Sheriff Center.