SandBows gear up for 2018 season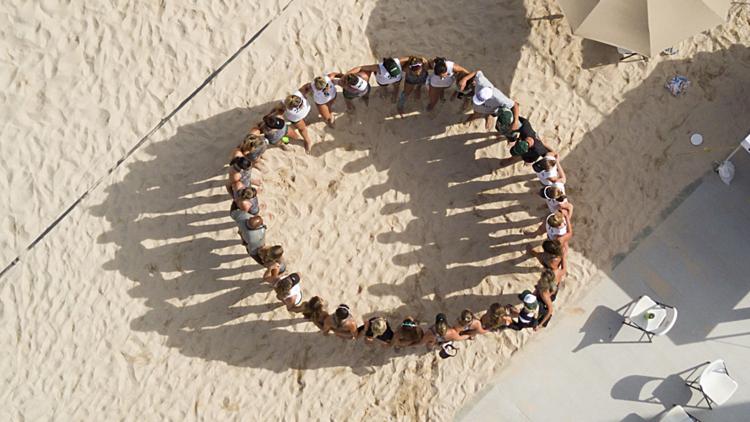 The University of Hawai'i beach volleyball team opens up its 2018 season with the Rainbow Wahine Classic against Stanford and UCLA from Feb. 24–25 at the Clarence T.C. Ching Athletics Complex. 
After finishing the 2017 season with a 29–7 record, a second-straight Big West title, and ranking third in the AVCA Collegiate Beach Volleyball Poll, Hawai'i is eager to play against new teams and rivals. As a veteran team, UH will harness the momentum and power gained during its long offseason. 
SandBows head coach Jeff Hall hopes for the team to learn more about itself after its season openers.
"We have some really skilled pairs," Hall said. "But you never know until the lights come on and you have to compete. Win, lose, we're going to learn a lot about ourselves. I'm really looking forward to the reflection afterwards and how we did in the battle."
The Classic 
This year's Rainbow Wahine Classic marks the first time since 2015 that the SandBows will play at home. For the past two years, UH had its season opener on the road (the 2017 Arizona Invitational and 2016 Pepperdine Kick-off Tournament). In 2015, UH started the season at home at Queen's Beach, but this year is the first time opening up at the Clarence T.C. Ching Athletics Complex.  
The Rainbow Wahine Classic features Pac-12 schools Stanford and UCLA. Hall says it will be a fun weekend and he is looking forward to the challenge. 
Stanford finished the 2017 season with a 13–10, 4–7 Pac-12 record; and with the school's beach volleyball program still developing, Hall believes they will shape into another contender. 
The Bruins finished fifth last year after posting a 30–6 record. UCLA and UH's rivalry in both men's and women's volleyball has been fierce, according to Hall. Led by Hawai'i-born head coach Stein Metzger, the Bruins will provide the SandBows with a challenge. 
"It's a definite battle, and they are arguably one of the top five programs right now, talent wise," Hall said. "The first weekend right out the gate matters. Hopefully we come away with a couple of wins and we can leapfrog them."
Three of UH's first five matches this season will be against the Bruins as the team's first road trip will be to Los Angeles to face UCLA and Loyola Marymount University on March 8. 
The squad
The SandBows return five seniors, including All-Big West first team members Ka'iwi Schucht and Laurel Weaver, and second team member Carly Kan. 
Last season, Schucht amassed a 26–9 record, played all matches at the No. 2 flight with Nikki Taylor and went 11–6 against ranked opponents. Weaver played all matches at the No. 3 flight with Emily Maglio, and finished with a 30–4 record. Kan posted a single-season record at 31–5, breaking the former record of 20 in 2014. She went 21–5 at the No. 4 flight with Ari Homayun and 10–0 at the No. 5 flight. 
Three juniors bolster the squad: Two time All-Big West first team member Maglio and second team members Homayun and Hi'ilawe Huddleston. 
Following the juniors are four sophomores: Amy Ozee, Chloe Luyties, Morgan Martin and Cali Bunn.
The team also has nine fresh faces hoping to see action time in this season. Hall says he is looking forward to seeing everyone compete and develop their leadership skills.
"From one to five, I can't wait to see how these pairs battle," Hall said. "I'm looking for everyone to emerge and be their own leaders, and lead by example more than lead vocally ... because when you're in competition, you can't do anything more about getting better, you just have to play."
For seniors like Weaver, the hope is to have a chance to play at the national championships.
"Everyday we have talked about how we want to be on that court playing for the national championships on championship Sunday," Weaver said. "So every huddle, we're saying Sunday, Sunday – that's our focus. Whatever we need to do to get there, we're going to make it happen and we're going to hold each other accountable to that."
The team is multi-ethnic and diverse. Hall says one unique aspect is that they have four Canadian players: Allyssah Fitterer, Jenna Banz, Lea Monkhouse and Maglio. 
"It's a reflection of what Hawai'i, the state is," Hall said. "It's such a melting pot that our team is very reflective of that."
This season also marks the first time that Hawai'i will host the Big West Championship at Queen's Beach from April 27–29. The SandBows are the league's two-time defending champion. 
UH will begin the Rainbow Wahine Classic against Stanford on Feb. 24 at 1 p.m. Admission to the matches is free.