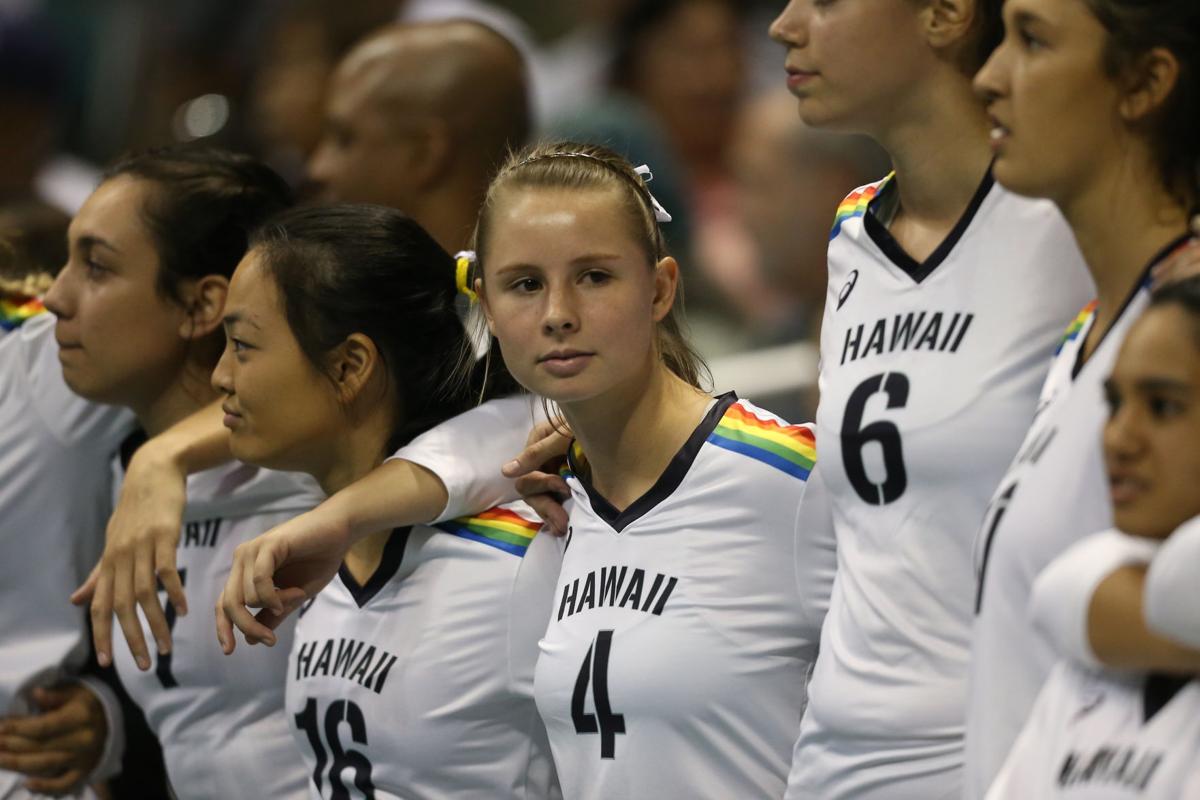 Wahine volleyball defensive specialist Clare-Marie Anderson may be better known for her contributions off the court. The aspiring OBGYN has started her lifelong dream of helping others by contributing to many worthy causes in addition to being a two sport athlete, managing her time between indoor and beach volleyball. 
"I'm so grateful for the opportunity to play both because not every school lets you do that," Anderson said. "I love both programs so much and the girls on both teams are so amazing and supportive."
Anderson was selected as a 2017 Peace Scholar and will be in Norway for two months this summer studying at the Nobel Peace Institute and the University of Oslo. 
"I am very passionate about medicine and wanting to help people but I also want to find a way to incorporate peace building skills and conflict resolution in that, bridge the gap between the two," Anderson said. "I think now more than ever we need to promote peace in this world of ours. I hope to incorporate peace building skills into what I do when I'm a doctor, hopefully serving underprivileged communities as well as other communities and helping as many people as I can." 
Anderson is already active in several local organizations that are helping shape her future. 
"My greatest dream is to become a doctor one day so I'm really trying to get involved in different volunteer, internship and research experiences to help me reach that goal," Anderson said.  
As a Biology major, Anderson has an affinity for science that she pursues through the University of Hawai'i Cancer Center. 
"That's more lab based," Anderson said. "I do a lot of tissue cell cultures and Western blots and a lot of biology techniques. That's really interesting because I really have a passion for science and being in the lab. I'm really glad I get to do that as well." 
To get a feel for interacting with patients, Anderson turns to Kaiser Permanente. 
 "I've been doing that since freshman year, it's really great," Anderson said. "I get to talk to patients, which helps me with my bedside manner, and it's really nice to get to put a smile on a patients face when they're in the hospital and that's not their favorite place to be." 
 Anderson has fully committed herself to helping others. One way she does this is through the Make A Wish foundation.  
"I intern at Make A Wish Hawai'i, which is one of the greatest experiences of my life because you get to see how much a wish can have such a powerful impact on a child who is going through a hard time," Anderson said. "To see how passionate every person at the Make A Wish foundation is for what they do is really amazing and I was blessed to be a part of that."
For her research experience, Anderson partnered with Kapi'olani Medical Center. 
"I'm a research intern in the OBGYN department because I'm hoping to become an OBGYN one day, we'll see where med school takes me, but I really want to help support women and their health," Anderson said. "I've been working on a birth plan study with one of the doctors there, seeing the pros and cons of having a set birth plan. That will hopefully be published this summer and then I'll start some more clinical research with them following my arrival back from Norway." 
 On the court, Anderson is a quiet leader who has always had volleyball as a part of her life. 
"I try to lead by example because I'm not always the loudest and I'm not always on the court for an extended period of time," Anderson said. "I try to work hard every single day, in the gym, out of the gym, in school. Work ethic is a priority for me and I have faith that will be our mantra as a team too, we're going to give 100% every day. I'm so blessed to be a part of the program, no matter how much playing time I get, I'm just blessed to be here."
Being a Wahine has been the goal for Anderson since she was a child and she's happy to play her final chapter of her volleyball career representing the state. 
"I grew up in Kaunakakai on Moloka'i so I would watch every single game on TV when I was a little girl," Anderson said. "When I moved here when I was 10, I got to be a ball girl and that was the most exciting thing for me. I was like 'Yes! I'm wiping up the sweat of my heroes!' I've just always wanted to be like them. I'm so grateful for Dave for giving me the opportunity in the first place to come here and be a Rainbow Wahine. It's an absolute dream come true."
With all of these academic and athletic activities, Anderson stays modest when explaining how she manages it all. 
"I have incredible parents and people I'm surrounded by," Anderson said. "My parents are the most incredible example of work ethic. I'm very fortunate to have grown up with two extremely selfless and had working parents and they support me with everything I do. My teammates and coaches are right there with them, as they are with everyone in the program. They give so much and love us so much, which really means a lot. That's what gets me through. I'm really determined and focused on achieving my goals."
Though she may be following her dreams wherever they take her, Anderson will never forget where she came from. 
"Serving Hawai'i has always been a dream of mine as well," Anderson said. "I'm hoping to reach other communities along the way. I'm really interested in perhaps doing a stint in the Peace Corps to help communities that could really use improved health education and health care. We'll see where my medical career takes me. Ultimately, I want to be here. This is my home and these are the people I grew up with and owe so much to so I want to give back to this community that has given me so much. Even Molokai, being able to be a doctor and give back to the community that raised me would be incredible." 
To keep up with Clare-Marie Anderson during her two months in Norway, visit: https://peacescholars.wordpress.com/2017-peace-scholars/