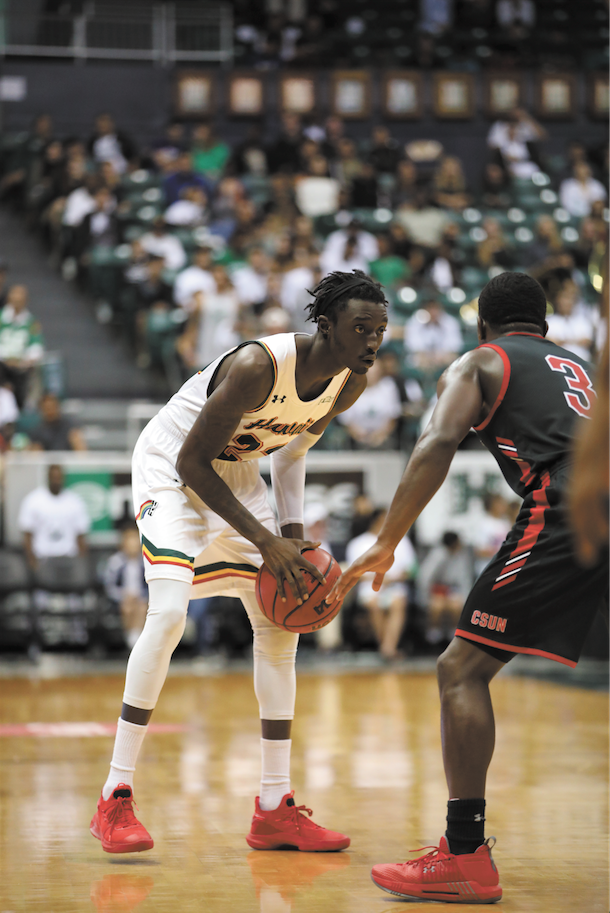 Throughout his four-year career, he has earned a reputation as a tough and fearless competitor who will not back down from anybody. 
University of Hawai'i senior guard Sheriff Drammeh has become a popular figure because of his ability to capitalize on an exciting play with a charismatic celebration. It has been a staple of Drammeh's game ever since he first made his debut at the Stan Sheriff Center as a freshman in 2015.
"I've always enjoyed getting the crowd involved. It started my freshman year when I started dabbing," Drammeh said.
These celebrations are a big reason why many fans love to root for No. 23. He said the fans and the kids are some of his favorite parts of playing in Hawai'i. 
"As soon as we come out they just start to scream like crazy," Drammeh said.
His older sister, Binta Drammeh, is a professional basketball player in Europe. Binta helped push him to the next level of competitive basketball.
"She was always a teacher to me, but she was also super hard on me as well," Drammeh said of his sister. "Her tough love taught me how to work out on my own because she moved out pretty early."
They had countless battles growing up in Sweden, but they still have love for each other despite Drammeh's claim that he would easily beat his older sister in a game of basketball.
"I know she doesn't want to play me no more because she knows better," Drammeh said confidently.
He has slowly but surely turned into the player that the Rainbow Warriors had hoped for after they signed him back in 2015.
"Sheriff is an exciting player with great defensive instincts," UH head coach Eran Ganot said.
Four years later, it is safe to say that Drammeh is still that and so much more to anybody who has seen him play. He won the Big West Best Hustle Player and the team's Bob Nash Hustle Award during the 2017-18 season for his relentless style of play and for being one of the nation's best in drawing charges. One of his career highlights was the team's 2016 trip to the NCAA tournament during Drammeh's freshman season, something that he hopes to repeat in his final season.
Despite the bittersweet feeling of being a senior at UH, Drammeh is keeping an open mind to his future.
"We're just trying (to) end the season as best as we can, just trying to make the tournament and pursue whatever is next," Drammeh said.
The Stockholm native is keeping his options open for after he obtains his degree in economics at the end of this semester. 
"I got some goals, hopefully basketball takes me somewhere to do some business," Drammeh said. "I'm excited to see what the future holds." 
Drammeh has learned a lot during his time with the Warriors, and now that his time is coming to an end, he feels it is important to let the younger generation know how important it is to follow one's dreams.
"Just remember to give it all you got, really put your heart into it, don't give no excuses and don't let anybody hold you back, just be you," he said.
The Warriors now travel to California to end their regular season, playing UC Davis on March 7 and Cal State Fullerton on March 9.