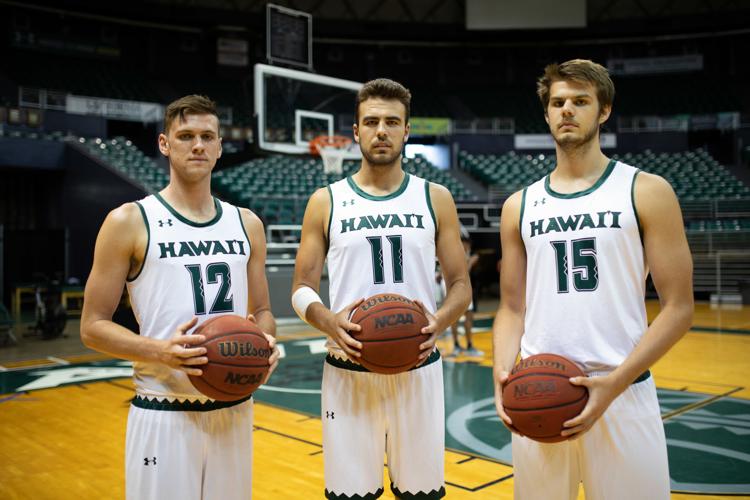 The University of Hawai'i Rainbow Warrior basketball team went down under to Australia for a four city trip this past summer, bringing back nostalgic memories for Australia natives Jack Purchase, Mate Colina and Owen Hulland.
The trio are the only Australian players on the roster this upcoming 2018-19 season.
Purchase, a senior and Melbourne native, will enter the season ranked ninth at UH in career three-pointers made (122) and attempted (341). He was also the Big West's Best Sixth Player. On the four city trip to Australia, Purchase was able to show his teammates his hometown. 
When asked how that experience was, Purchase said it was great to show the team where he is from. As a senior, Purchase tries to make his fellow Australian mates comfortable and adjust well to the team. 
"I hang out with [Mate and Owen] a lot on and off the court. It's good having some Aussies around, hearing some Australian accents, going out to dinners," Purchase said. "I think I have been taking them under my wing." 
Hulland, a freshman from Adelaide, agreed it was easy to transition from his hometown to Hawai'i because of Purchase and Colina. 
"It's good having Jack on the team giving me advice throughout the preseason and season. I played with Mate for a year in Australia as well as on the UH team," Hulland said. "It makes it a lot easier knowing what he can do." 
Hulland and Colina played together for the Australia Center of Excellence (CoE) before coming to UH. The duo brings their 7-foot height and power to the team. 
At CoE, Hulland averaged 12.0 points per game and 5.5 rebounds per game for the CoE last season. He also shot 53 percent from the floor, 37 percent on three-pointers and 90 percent from the free throw line. 
Colina, also a Melbourne native, joined the team last season and enters the upcoming season as a redshirt freshman. Colina participated in the 2017 U20 Australian National Championship, where he averaged 12.2 points and 7.3 rebounds per game. 
When asked about having fellow Australian teammates, Colina said "Having Jack here has been great. He's really helped me feel comfortable. He's helped me with the new culture and living an American lifestyle."
UH has one of the most diverse squads in the NCAA with players from four states (California, Colorado, Hawai'i and Texas) and three foreign countries (Australia, Latvia and Sweden). 
Fans can get a glimpse of the Rainbow Warriors as the team hosts its third annual Tip Off Event on Oct. 18 at the Stan Sheriff Center.