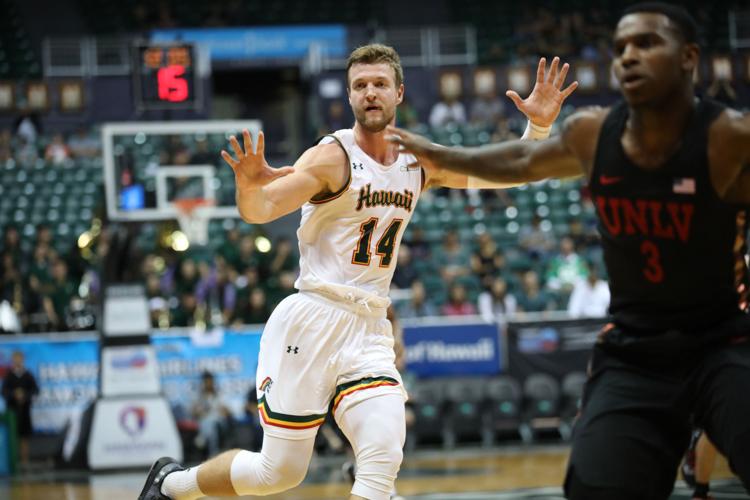 If a song about University of Hawai'i men's basketball junior forward Zigmars Raimo was made, one of the lyrics would be "Ziggy, Ziggy, Ziggy can't you see? Sometimes your post moves just hypnotize me," because of his smooth footwork when he faces off against the centers of the Big West. 
"It's my time right now to shine. The coaches and everybody make us train incredibly hard. It's difficult to not get better with this training staff," Raimo said.
He's had a basketball legacy in his family for a long time. Visvaldis Egltis, Raimo's grandfather, was a Latvian basketball legend who won a European Championship as a member of the Soviet team. He always had support from his family: his grandparents would always be in the front row of his games in Latvia.
"I play every game for my family, to make them happy. Just being able to see how happy my grandfather's face is when I score a basket, it made me want to get better growing up," Raimo said.
No. 14 from UH Mānoa is one of the cornerstones of this year's team, breaking out of the shell he's been in for his first two years. 
"He's been one of our more consistent players all year," head coach Eran Ganot said. "He's very unselfish."
Raimo has many monikers but one of his more popular ones is "Rhino." He earned the nickname from fans and members of the Mānoa community because of his physical style of play and ability to remain durable for long periods of time.
As his game improves, he has had opportunities to travel around the world to play the game he loves. But with that opportunity came restrictions, especially for his family members who support him. 
"I would give everything for my grandparents to be in the front row supporting me because it's not possible for them to fly out here," Raimo said. "They still wake up early in Latvia so they can watch my games, it means a lot to me."
"Ziggy," as his teammates and friends call him, has clearly been putting in the work. He's been a member of the VEF Riga club team, which is considered to be the top program in Latvia. He is one of 12 Latvian athletes currently in an NCAA D1 basketball program, and has had the opportunity to represent his country in international play, along with the chance to share the court with NBA star forward Kristaps Porzingis.
"I'm a huge fan of Porzingis, I've talked to him in Latvia. I've practiced with him, we're friends," Raimo said of his fellow countryman. "Latvians are a small community so we talk to each other randomly when we see each other." 
Being a public figure in Hawai'i is something Raimo takes seriously. Last season he was awarded the team's Community Service Award because of his involvement in the Mānoa community.
"One of my favorite moments was being able to make a kid's day when he was going through a lot," Raimo said. "We were just doing something simple like shooting around, it made him so happy and it made my day as well, just being able to be with him while he was going through the treatment in the hospital."
Raimo is embracing the challenge of being a leader to the young Rainbow Warrior trio of seven-footers Mate Colina, Dawson Carper and Owen Hulland. 
"I wanted to show them how to play, it's been  a different perspective for me this year, I realized that the whole year is a grind," Raimo said.
He understands the importance of having balance in life. When he goes home for the summer he spends time with his friends and family while still training to be a better player. 
Despite being a Latvian man who is 6-foot-8 and 230 pounds, Raimo is still like any other person from the islands. He enjoys going to the beach and relaxing with his friends and loved ones.
"Back home I didn't play in front of thousands, so here it's different," Raimo said. 
He has come a long way since his days in Latvia. He used to play in small gyms in front of his close friends, family and a few fans. Now he's playing in front of the Mānoa Maniacs at the Stan Sheriff Center. 
"Our fans are some of the best in country, I think their energy pushes us to play harder," he said.