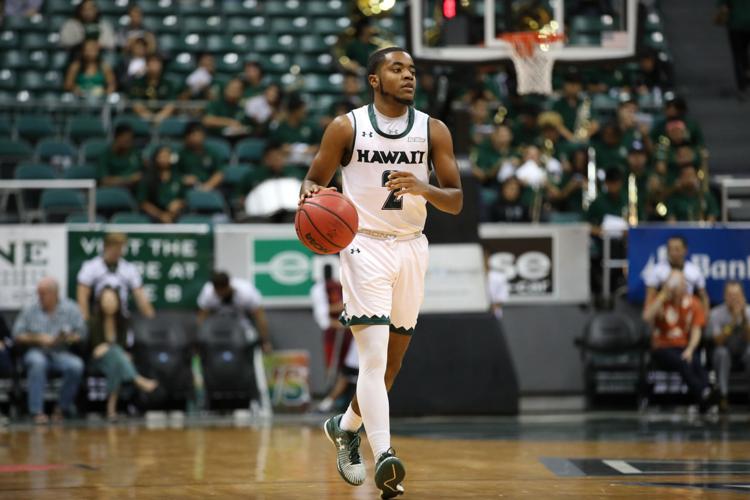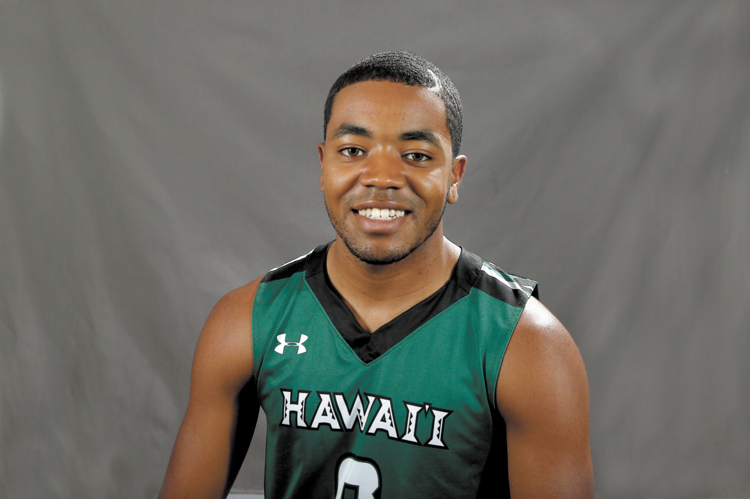 University of Hawai'i men's basketball senior point guard Brocke Stepteau found his voice as an aspiring rapper a long time ago, and is still searching for his voice on the basketball court. 
"I haven't been the most vocal throughout my career here but now that I have some experience, I'm up for the challenge. Trying to get out of my comfort zone is what I've been working on," Stepteau said. 
Off the court and outside the studio, Stepteau is also interested in law. He is majoring in political science in order to have the possibility of going to law school after he gets his degree next year.
At the same time, he is going to pursue music in hopes that there is a chance he can make it a career. 
The guard was able to get where he is with hard work, and admits that there have been some challenges along the way.
In his freshman year, Stepteau played no more than a few minutes off the bench, averaging 0.2 points per game. Last year, he became one of the leaders of the team, averaging 9.5 points per game while hitting 44.4 percent of his shots from the 3-point line and 51.2 percent of his shots from the field.
He serves as not only an inspiration, but also as a mentor to his younger teammates, showing them that they can achieve anything they want if they put their mind to it.
"I look to help some of the younger guys get further along as they are trying to learn what to do," Stepteau said.
Surprisingly, his work on the court has translated quite well in the studio. The 2x Most Improved Player winner recently collaborated with Chelsea Vasquez (a content creator who also works with the women's basketball team) to create a music video as part of GMC, a rap group he is involved with alongside fellow teammate Brandon Thomas.
The song, "No Flop," mentions the grind to the top and believing in yourself when no one else does. It also features verses by teammates sophomore guard Drew Buggs and junior guard Leland Green, who are addressed by their rap monikers "DBuggz" and "LA Fleet." 
The song has gotten good feedback from the Mānoa community racking up over 3,500 views since its release on Oct. 8.
Stepteau's goal when it comes to music is to be like Grammy-nominated rapper J. Cole because of his overall flow and his ability to deliver on every track.
"That's just something I try to base my rhyme style off of," Stepteau said. "I got to remember that everybody is different and I have to create my own flare."
Stepteau is all about standing out from the crowd and being creative. He mentioned his goal of collaborating with an island reggae artist for a song before leaving the island after graduation.
 "I feel like it would be a good dynamic, incorporating some of my style with the island style as well, it's in the works," Stepteau said.
For now, music has taken a backseat to the ongoing season. The Rainbow Warriors recently participated in the Wooden Legacy Tournament that went on Nov. 22, 23 and 25. 
It was a special trip for Stepteau; it will be his last year playing for UH, and his parents came out to support and spend Thanksgiving with him.
Stepteau has not been able to fly back to his home in Dallas, Texas because of the grueling playing schedule of the season.
He wants to be remembered as a winner and feels like one of the best ways to prove that is to get back to the NCAA tournament.
UH's last appearance was when they made it to the second round of the 2016 NCAA tournament. 
Later in December of that year, the NCAA placed a postseason ban on Hawai'i for the 2017 season and reduced scholarships through 2018 for improper benefits and actions by the school.
Stepteau joined the program as a walk-on in 2014. This year, he was put on scholarship because of his key contributions on and off the court. 
The Rainbow Warriors will be hosting the Diamond Head Classic from Dec. 22-25.
It will provide Stepteau and the 'Bows another chance to show college basketball what they are made of after their performance at the Wooden Legacy Tournament.
"At the end of the day I want to be someone that helped to push the culture forward and bring back some of the winning ways we had here a few years ago," Stepteau said. 
One thing is for certain though — he ain't "No Flop."