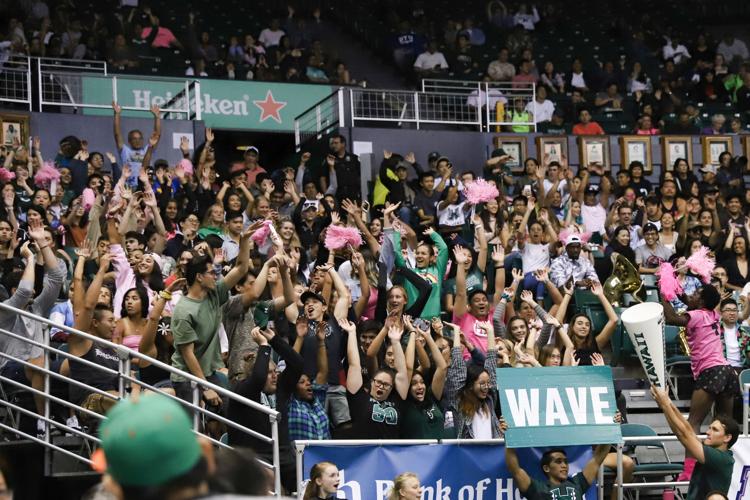 As the middle of March started to roll through, athletics teams at the University of Hawai'i were just getting started.
The men's and women's basketball teams were preparing for the Big West tournament. The men's volleyball team was on its way for a chance at a second national title, being ranked second in the nation at the time. Senior athletes readied themselves for their senior nights, with some having their last chance to shine as an athlete.
Then with one announcement, it was all over.
On March 20, the university announced its move to online courses due to COVID-19. This happened a week after UH Athletics announced the cancellation of all university athletic events.
The semester is now over and the number of COVID-19 cases across the state has risen above 600 cases.
With the state of quarantine and social distancing, what does this mean for the next school year of college athletics?
In a call with conference commissioners and Vice President Mike Pence in April, the commissioners came together to agree on focusing on the students first, rather than the athletes.
"Our players are students. If we are not in college, we're not having contests," Big 12 commissioner Bob Bowlsby said. 
The commissioner of the Mountain West, Craig Thompson, came out saying how most colleges depend on football as their main revenue to support their other sports.
"The matter of the fact is, if there is no college football this fall there's very little likelihood there will be any other sports," Thompson said. "Because 85 percent of the revenue derived in college athletics comes from the sport of football." And  as  more  and  more  time passes, states and organizations are slowly beginning to ease up.
And as more and more time passes, states and organizations are slowly beginning to ease up.
At Gov. David Ige's press conference on May 4, UH President David Lassner announced the return of in-person classes for the fall semester. 
Although the plans are not to return to normalcy, this should give hope to sports fans that there will be UH Athletics games to cheer at, right?
Unfortunately, this is not the case.
"We're not there with a plan for intercollegiate  athletics  just  yet, it's complicated for student athletes, for fans, and most of all it's not something UH can unilaterally decide," Lassner said at the May 4 press conference.
Being a member of different conferences such as the Mountain West, Big West and Mountain Pacific Sports Federation, the university cannot just start up play without making collaborative efforts with each conference to create future schedules.
UH Athletic Director David Matlin seconded the point. However, he felt optimistic about the plans being made for fall athletics.
"If schools open, which is what we're  planning  to  do…  I  think there's a pathway for athletics," Matlin said. "I'm optimistic we'll be playing in the fall … but the timeline when things can be implemented depends on the timeline of the virus."
As conferences gather together to attempt to plan out how the future will be made, being able to stick to any premade schedule seems unlikely.
Jack Swarbick, athletic director of Notre Dame, expects many universities to be unable to coordinate with other schools due to differences in policies within universities and states.
While talking to the media, Thompson wondered aloud if football in the Mountain West could resume without its three California teams.
For UH, starting up the football season could be top priority for athletic revenue.
"There's  no  question  that  not playing football would be a revenue impact, because football is a net positive for the program and helps impact the program," Matlin said.
But just because football may be the more valuable sport when it comes to TV deals, the university shows its strength in its versatility.
"One  thing  the  University  of Hawai'i athletics has is our revenue sources are diversified," Matlin said.
The men's volleyball team led the nation in accumulated attendance, almost  doubling  Brigham  Young University's, both teams being the top two in the nation.
The baseball team also proved to be a popular spring sport for the islands, doubling the attendance last year of the top Mountain West team, Fresno State.
These are desperate times for all people in the world. While some strive for normalcy, others realize the world may be very different coming out of the COVID-19 pandemic.
Whether or not fans are let in at any capacity, UH seems to be confident that some amount of games will be played in the fall.
"Lets just say right now, we knew it was going to be Oct. 1 that we were going to be able to play in front of fans in some fashion. I still think you can start in September, and maybe you go fanless in that first month," Matlin stated hypothetically.
"(Both conferences) are planning to compete on time, we're realistic that the virus is going to drive the timeline, but we are going to prepare for that and have contingencies if we have to start a little late," he added.
Should we be prepared to miss some sports in the fall of 2020, yes. But there will be hope that athletics will continue with both the fans' and athletes' health in priority.