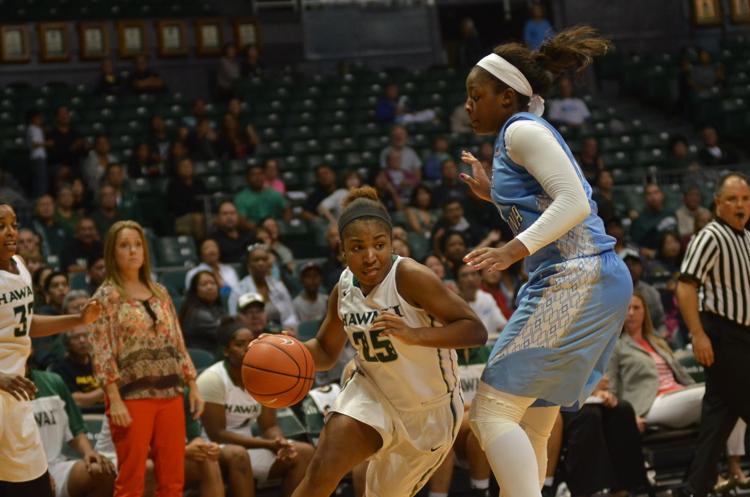 The University of Hawai'i Rainbow Wahine basketball team (9-7) was dominant Thursday evening, rolling to a 77-50 victory over the Cal State Northridge Matadors (2-14).
Playing against a Matadors team that has struggled this season, the Wahine played well in all facets. The 'Bows shot 55.6 percent from the field, 60 percent from long range and 84.6 percent from the charity stripe. The Wahine also out-rebounded CSUN 41-22.
"We need that effort," said head coach Laura Beeman. "We've had games where our post game had been dominant, and we've had games where our post hasn't been dominant, being able to get great position, get the ball in the post, and also shoot well from outside, we were able to play as a whole."
The game started off slowly, and the first basket wasn't made until Kalei Adolpho layed-in one at the 7:38 mark of the first quarter. After that, the 'Bows never relinquished the lead.
CSUN kept up in the first quarter, knocking down a three pointer at the end of the period to cut the deficit to 17-12, but continuously struggled to come up with stops and at the half they trailed 37-24.
Any hopes of a comeback quickly folded in the beginning of the second half. Aided by standouts guard Ashleigh Karaitiana and Adolpho, UH orchestrated a 9-2 run to push its lead to 20, the largest of the night.
Hawai'i lead 62-38 at the end of the third quarter, and cruised though the rest of the contest to win by 27.
"We definitely came in with a lot more confidence," said Adolpho. "You don't lose these kinds of games."
Karaitiana was honored before the game, becoming just the 19th player in the history of Hawai'i Women's basketball to score over 1,000 career points. She finished with a team high 17 points.
With the win, UH snaps its home losing streak of five games, and extends its winning streak over conference opponents at Stan Sheriff Center to 16.
Next up, the Rainbow Wahine will host UC riverside Saturday night. Tipoff is 7 p.m. HST.