The magical season continues as the University of Hawai'i women's volleyball team is headed to the NCAA Tournament Sweet 16 for the first time since 2015. The No. 18 Rainbow Wahine (26-3, 14-2 Big West Conference) took down No. 20 San Diego in straight sets (25-23, 25-21, 25-21) to make it out of the only subregional with three ranked teams. The Wahine will bring a 13-match win streak to the Wisconsin regional, where they will take on fifth seeded Nebraska.
"It's about fight and heart," head coach Robyn Ah Mow said of the team's deepest tournament run since 2015. "It just takes time. We aren't going to snap our fingers and say, 'hey this is our culture, get with it.' It takes time, and these girls are buying into it. Now this is the product."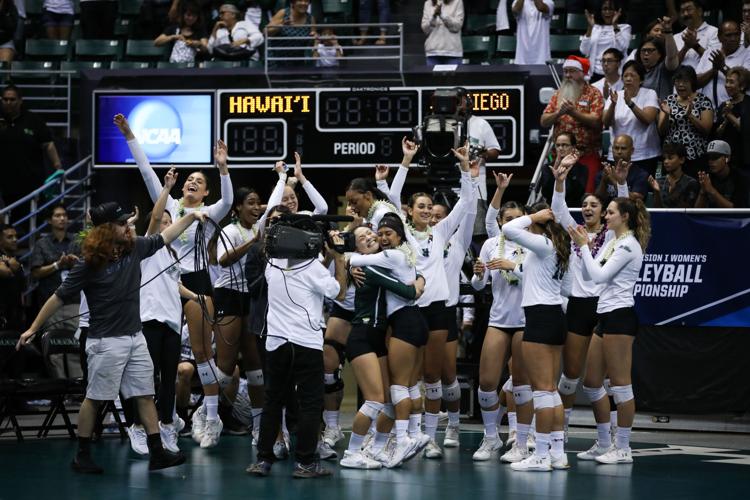 Leading the charge for Hawai'i was outside hitter Hanna Hellvig. The freshman led the team with a match-best 12 kills. Hellvig also took part in 3 blocks, bring her points total to a match-high 14.5 points. Senior McKenna Ross also contributed with another double-digit kill performance, putting down 10. Freshman middle blocker Amber Igiede came just short of making it three Wahine in double-digits, finishing with 9 kills on 23 swings. Senior setter Norene Iosia racked up another double-double, with 24 assists and 12 digs. Meanwhile, redshirt junior libero Rika Okino continues to wreak havoc on the defensive end, leaping and diving her way to a match-best 20 digs. Senior setter Bailey Choy led the team from the serving line with all 3 of the Wahine's service aces.
"The people that were here last spring set a foundation for all of these newcomers," Ah Mow said. "We had five freshmen coming in, plus transfers like Brooke and Bailey. To set a foundation this spring and to have that culture and people coming in, they just bite into that culture."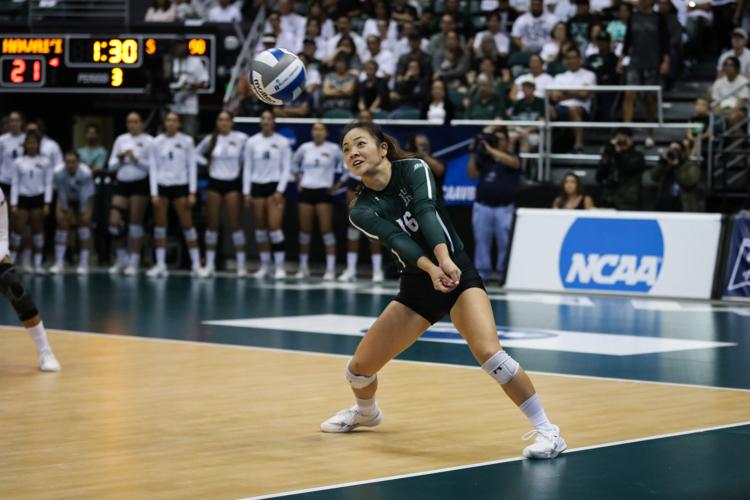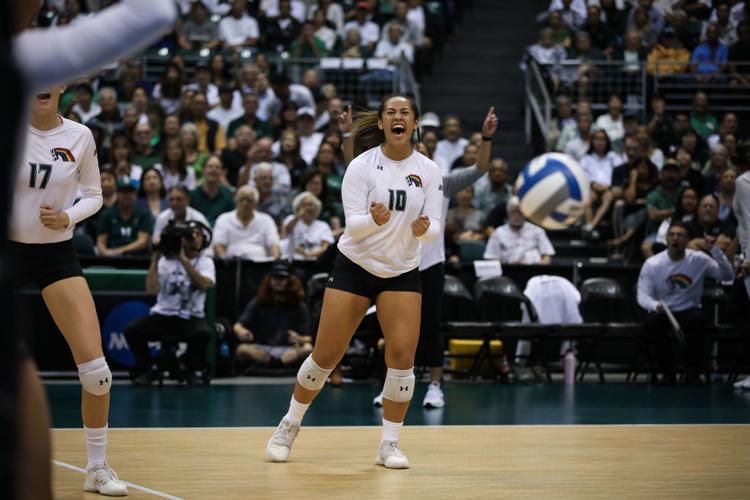 After scoring the opening point, San Diego came out ahead of an early back-and-forth with a 4-3 advantage. The tide began to turn from there. A Hellvig kill to force a side out kickstarted a 4-0 UH run, led by a 3 service scoring run by Choy that included her first service ace. The run gave Hawai'i the breathing room they needed, as they kept the Toreros at arms' length and held on to the lead the rest of the way. With a slim 21-20 lead late in the set, A Hanna Hellvig kill again kickstarted a quick Wahine run that gave them their first set point opportunity. San Diego responded with a 3-0 run of their own to make it a one score deficit, but Hann Hellvig put down a kill to wrap things up 25-23. Amber Igiede put down 6 kills without an error in the set.
San Diego opened set two with a quick 3-0 run. The advantage was soon lost however, as the Wahine snatched the lead away with a 6-1 run. Hawai'i later pushed their lead to 16-12, but a 4-0 Toreros run tied the set up at 16-16. With the score again tied at 17-17, the 'Bows pulled away for the last time with a 4-0 run that saw another Choy service ace. Like the first set, San Diego fought back to cut the late deficit to 23-21, but Brooke Van Sickle's kill followed by a Torero attacking error wrapped up set two 25-21. Rika Okino had 11 of her 20 digs in the set.
For the third set in a row, San Diego began with the opening score. Hawai'i responded with three straight Hanna Hellvig kills, with fellow freshman Igiede capping off the 4-0 run. After the Toreros later fought back to take a 7-6 lead, redshirt junior Jolie Rasmussen was again sent on to the court to change the momentum. In a back-and-forth set three that saw five lead changes and eight ties, Rasmussen put down 4 quick kills on just 5 swings. A 5-0 UH run late in the set tied the set up and subsequently gave the Wahine a 17-14 lead. Choy put down another service ace during the run. San Diego never recovered from the run, as the 'Bows put an end to the match with a 3-1 run to claim the 25-21 and the clean sweep.
"We have worked so hard to get to this point," Igiede said. "We wouldn't want to let something like travel dictate how we play. I think it's such a fun time of the season. This is the best part, so we just want to go out and go hard."
The Rainbow Wahine will head to Wisconsin as the Sweet 16 is set to begin on Dec. 12. The tip-off time has yet to be announced.