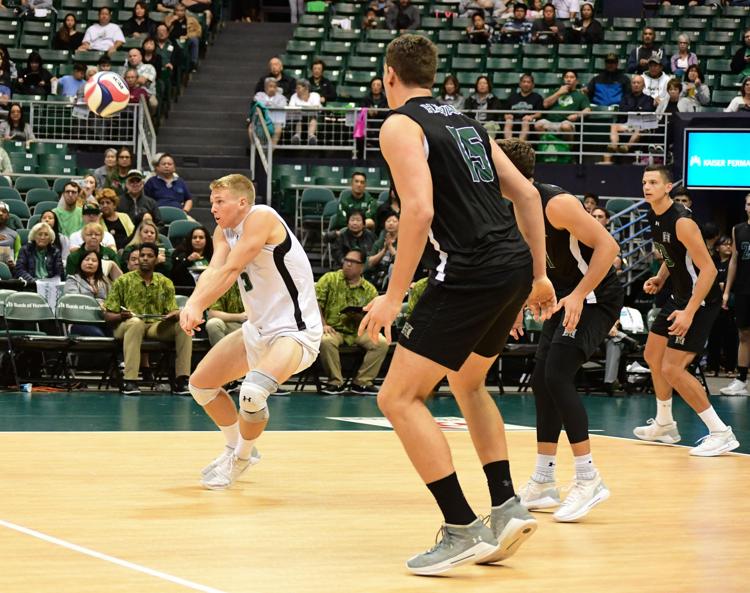 Men's Volleyball
The University of Hawai'i men's volleyball team went 3-0 in the Brigham Young University Invitational last week after notching sweeps over McKendree, Princeton and BYU. 
The most notable sweep of the weekend was over BYU. UH has not won in Provo, Utah since 2003. The Rainbow Warriors also extended their NCAA-record straight set win streak to 60. 
UH will be on the road this week, playing against Concordia-Irvine on March 26 at 4 p.m. HST before a pair of Big West Conference matches versus UC San Diego on March 29 and 30 at 4 p.m. HST. 
Water Polo
The Rainbow Wahine won 15-2 over CSUN on March 23 at the Duke Kahanamoku Aquatic Complex.  Freshman Maxine Schaap tied a career high of five goals to lead the team.
Baseball
The Rainbow Warrior baseball team dropped their first three games on the road at Ohio State on March 21, 22 and 23, but not before making an epic 15-3 comeback win on March 24. 
UH will return to the Les Murakami Stadium this week to open up Big West Conference play against UC Irvine from March 29 to 31. First pitch is set for 6:35 p.m. 
Women's Beach Volleyball
The Rainbow Wahine beach volleyball team finished the Arizona Invitational last week with a 2-2 mark and completed their Arizona trip 3-2 overall. The SandBows are 13-6 on the season.
UH will compete in the Big West Challenge on March 30 and 31 at Prismo Beach in California. The SandBows will go up against CSUN, CSU Bakersfield, UC Davis, Long Beach State, Sacramento State and Cal Poly. 
UH will be back in action for a home game versus Cal on Friday, March 29 at 6 p.m.
Swimming and Diving 
Junior swimmer Phoebe Hines was named an All-American after placing fifth overall in the 1650 freestyle event of the NCAA Championships at the University of Texas on March 23. 
Hines is the second female swimmer at UH to be crowned an All-American since 2006: the last was a year ago when Franziska Weidner accomplished the goal in the 100 breaststroke. 
Track and Field
Senior Raion Black won two individual races and led the 4x400m relay team to victory as she highlighted UH's effort at the Rainbow Relays on March 23 at the Clarence T.C. Ching Athletics Complex. 
Next up for UH is the Stanford Invitational (March 29 to 30) and the SF State Distance Carnival (March 28 to 30) in California. 
Women's Golf 
The Rainbow Wahine golf team finished in third place at the seventh annual Ānuenue Spring Break Classic on March 23 at the Waikoloa Resorts Kings' Course.
Oklahoma State captured the team title with an 885 total. Arkansas State finished 26 strokes back for second place, followed by UH (920), Utah Valley (924) and Georgia Southern (939).
Next for UH is the Big West Championship from April 15 to 17 in Moorpark, California.