Sweet-E's Cafe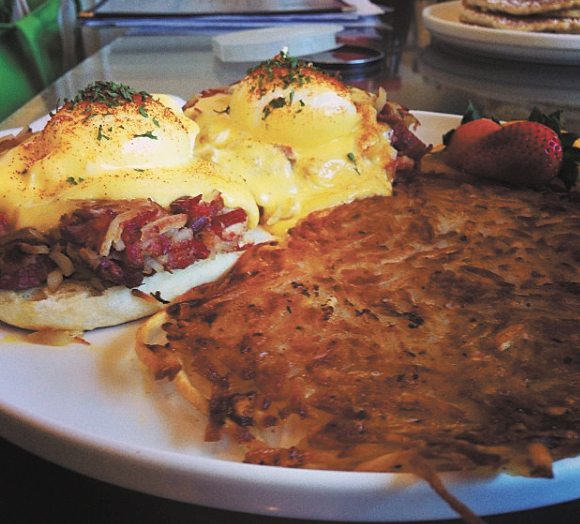 Located on Kapahulu Avenue, Sweet-E's Cafe boasts a wide variety of breakfast and lunch options. From their "Extraordinary Omelets," "Elegant Waffles" and "Extravagant Sandwiches," this popular brunch spot caters to whatever craving might strike you first thing in the morning. Prices range from $8 to $14 for dishes that are delicious and generous with their portion size. Sweet-E's is open every day at 7 a.m. and offers all-day breakfast with lunch options available from 11 a.m. to 2 p.m.
---
Morning Glass Coffee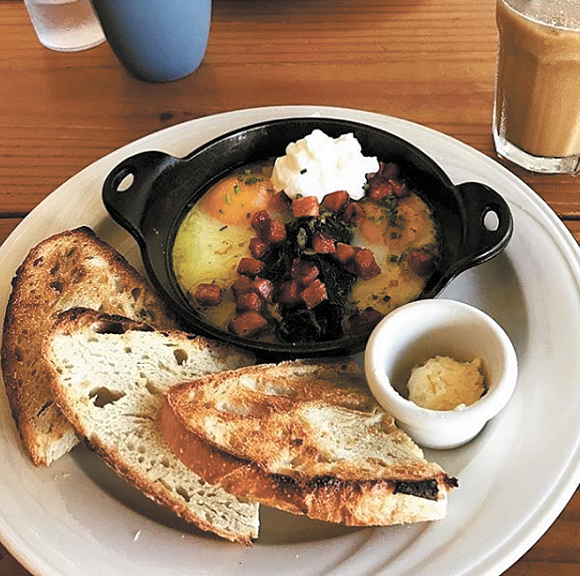 This popular coffee shop with locations in Mānoa, Kaka'ako and Osaka, Japan, advertises its use of fresh, locally-sourced ingredients. They offer a wide selection of coffees that are ground and prepared to order as well as other specialty drinks. The staff asks for at least five minutes for a freshly brewed cup of coffee, but the finished product is worth the wait. The shop is open every day, offering breakfast Monday to Friday from 7 a.m. to 10:30 a.m. and lunch Monday to Saturday from 11 a.m. to 3 p.m. and Sunday from 11 a.m. to 12:45 p.m. Saturdays are when the shop offers their weekend brunch menu. Their special brunch menu includes classics like breakfast tacos and biscuits and gravy as well as more innovative options, like their oatmeal brûlée and macaroni and cheese pancakes.
---
Koa Café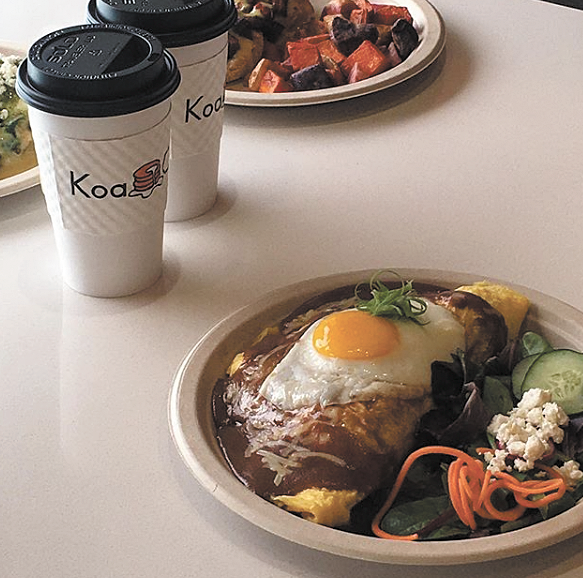 Dubbed "the younger and hipper sister to Oahu's favorite fast-casual breakfast joint Koa Pancake House" on their website, Koa Café offers a "modern twist on breakfast." The café offers traditional brunch items like omelets, pancakes and breakfast sandwiches as well as specialty dishes like their Guava Lava Mochi Waffles and their Crabby Patty, which comes with two crab cakes and slices of avocado on toasted english muffins topped with poached eggs and a hollandaise sauce. With locations in Mō'ili'ili and Kapolei, this brunch spot is open everyday from 6:30 a.m. to 2 p.m.
---
The Nook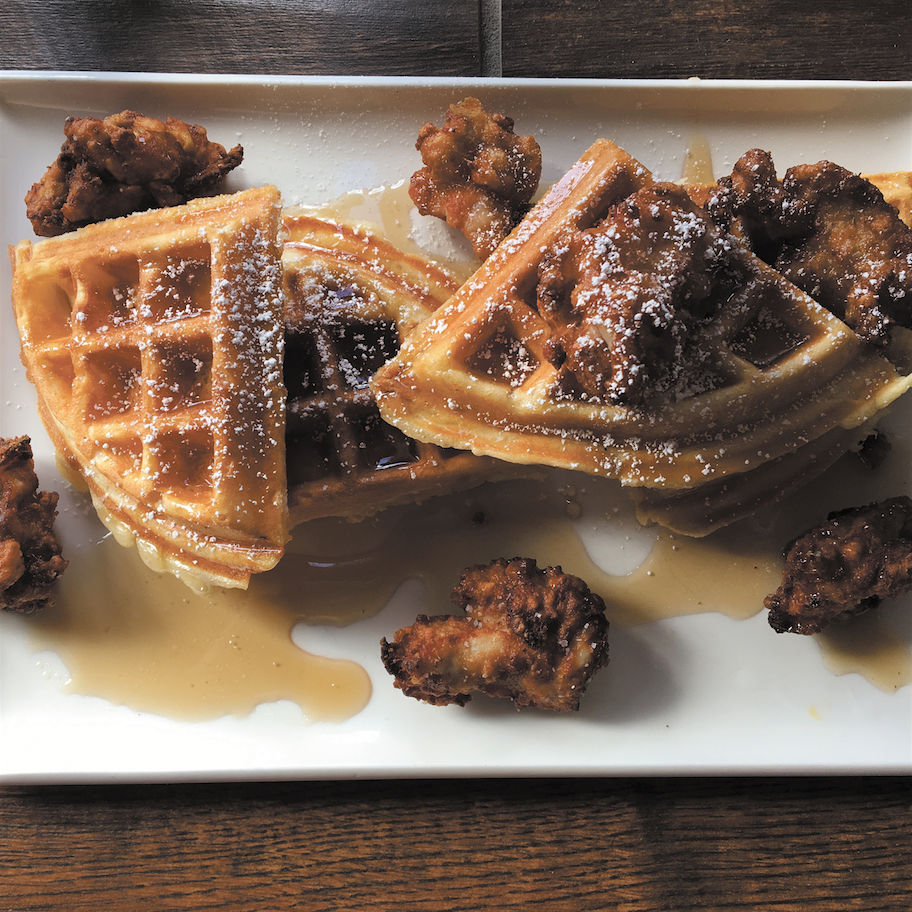 First opened in 2014, The Nook specializes in "new American cuisine made with an island flair and locally sourced ingredients." At first glance, the menu appears to offer popular brunch dishes like eggs Benedict, waffles and pancakes. Closer inspection reveals an updated twist on these classics. The Nook offers mochiko chicken and mochi waffles with a bacon maple syrup, lilikoi cheesecake pancakes, roasted cauliflower soft scramble served with a savory bread pudding and what they refer to as Gypsy Toast, which is a french toast that changes with what is seasonally available. While their prices are steep on a college student's budget, ranging from $13 to $16, you get what you pay for. The Nook is open for brunch, Tuesday through Sunday from 7 a.m. to 2 p.m., and for dinner, Wednesday through Sunday from 6 p.m. to 10 p.m.
---
Yogurstory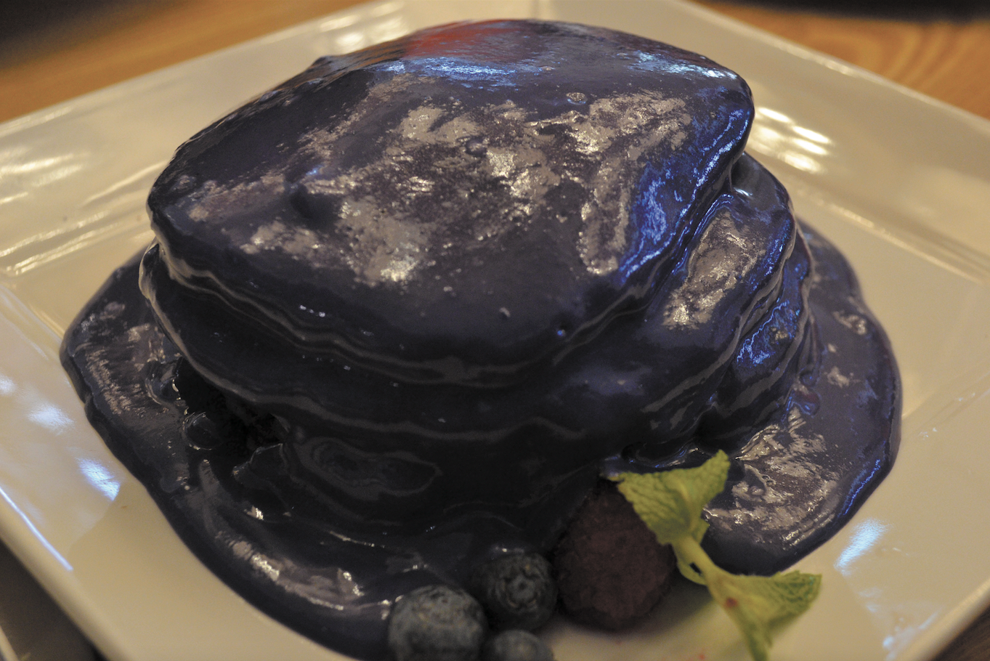 What started as a soft-serve frozen yogurt cafe that also served coffee, desserts and food grew into a popular brunch spot boasting waffle desserts and local fusion dishes, with no frozen yogurt machine in sight. Yogurstory offers house specialties including their kalua pork loco moco and their famous ube pancakes topped with an ube coconut sauce, a collection of egg Benedicts, like their BAE, topped with pork belly, as well as their wide variety of waffle desserts like their Red Carpet, which is red velvet waffles with taro cream cheese and chocolate and their dulce de leche waffles topped with brûléed bananas. You can also order from a selection of savory lunch options, such as their Asian chicken salad or their turkey pesto panini. With large portions and prices ranging from $8 to $18, you will get the brunch bang for your buck. Yogurstory is open every day of the week for breakfast and brunch, from 7:30 a.m. to 3 p.m., as well as for dinner, from 5 to 11 p.m.