Tea Boss
With a mission to have you drinking "tea Like the Boss," Tea Boss offers a new trend in beverages, as detailed on its website. Dubbing this trend the "New Coffee," Tea Boss breaks away from traditional tea houses and is dedicated to making tea "healthier, refreshing and fun." 
Offering traditional teas, contemporary teas, special blends and coffee, Tea Boss offers a variety of beverages, including Amber Black Tea, Coconut Milk Tea and Oreo Milk Tea. 
Tea Boss Cafe also has another establishment called Tea Boss Kissa, located at 88 Pi'ikoi St., which serves "breakfast, salads, sandwiches, poke bowls and pasta." Some menu items include chorizo omelets, mentaiko pasta and a green goddess turkey sandwich. The hours for this location are 7 a.m. to 1 a.m. Sunday through Monday. 
The boba shop has two other locations, both relatively close to the UH Mānoa campus: one in Waikīkī on Kuhio Avenue, open Sunday through Monday from 9 a.m. to 11 p.m., and the other on Kapiolani Boulevard, open from 10 a.m. to 11 p.m. Sunday through Thursday, and 10 a.m. to 12 a.m. on Fridays and Saturdays. 
---
Shaka Shaka Tea Express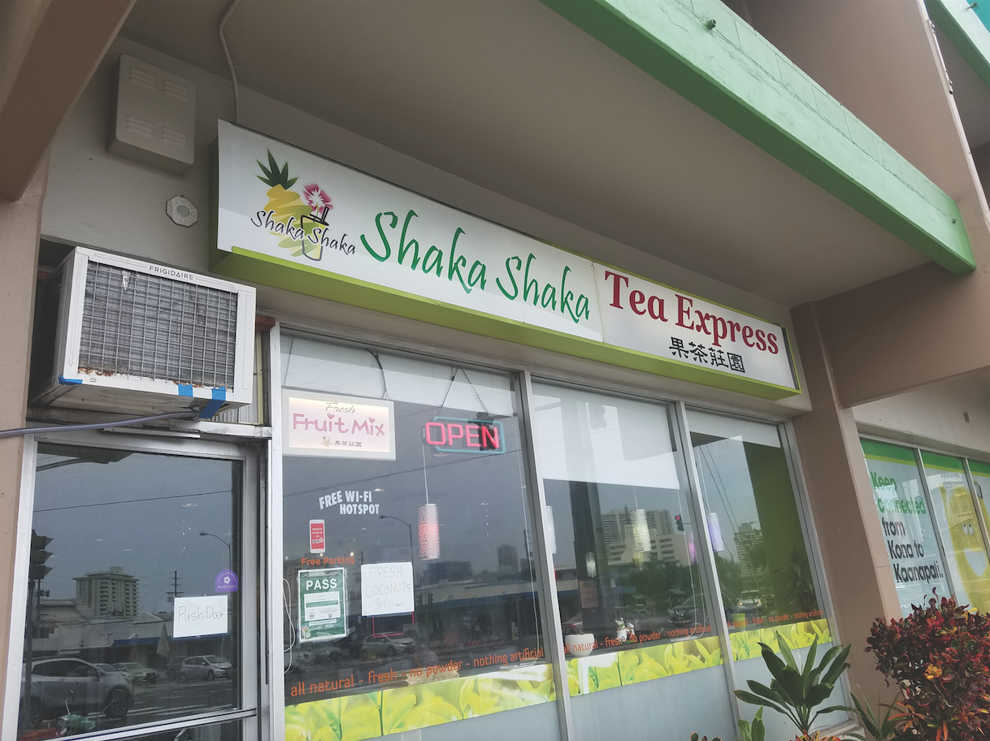 With the closest location to UH Mānoa being at Puck's Alley on South King Street, Shaka Shaka Tea Express offers drinks made with natural ingredients and fresh fruits. According to its official website, the establishment uses real pineapple chunks in their signature pineapple drinks and has seasonal smoothies, like lychee and persimmon.
Shaka Shaka also uses an "exclusive homemade brown cane sugar" in its drinks and allows customers to customize their order by choosing different fruit combinations. 
The location at Puck's Alley is open everyday from 10 a.m. to 10 p.m. Monday through Thursday, and from 10 a.m. to 11 p.m. on Fridays and Saturdays. There are two other Shaka Shaka locations on O'ahu: one on Dillingham Boulevard and the other in the Salt Lake Shopping Center.  
---
Mr. Tea Cafe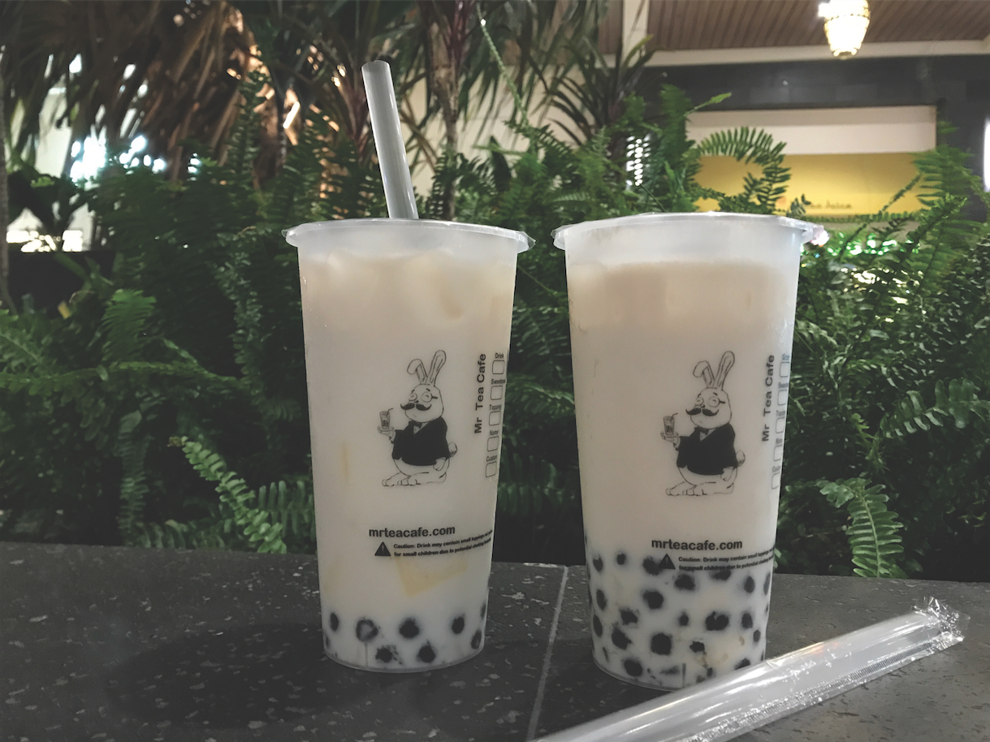 Founded by "a bunch of guys obsessed with boba milk tea," according to its website, Mr. Tea Cafe offers a "hub for creativity and atmosphere to transport you away from the boba shops you have been used to in the past." Inspired by the owners' passion for milk tea, Mr. Tea's tea recipe is strictly their own, meaning you cannot get the same milk tea anywhere else. 
Its menu has a variety of milk teas, iced teas, smoothies and hot teas, paired with 12 different toppings, including haupia, azuki beans and the traditional tapioca pearls.
Mr. Tea also has a bakery that sells macarons and four different types of sandwiches, including ham and turkey and a tuna croissant.
Mr. Tea has five locations on O'ahu. The closest shop is located on the UH Mānoa campus in Ba-Le, which is open Monday to Thursday from 10 a.m. to 8 p.m. and Fridays from 10 a.m. to 9 p.m., with a limited menu. Other Mr. Tea shops can be found at Ala Moana in the Ewa Wing, on the street level in Kaka'ako and on Ward Avenue. 
---
Teapresso Bar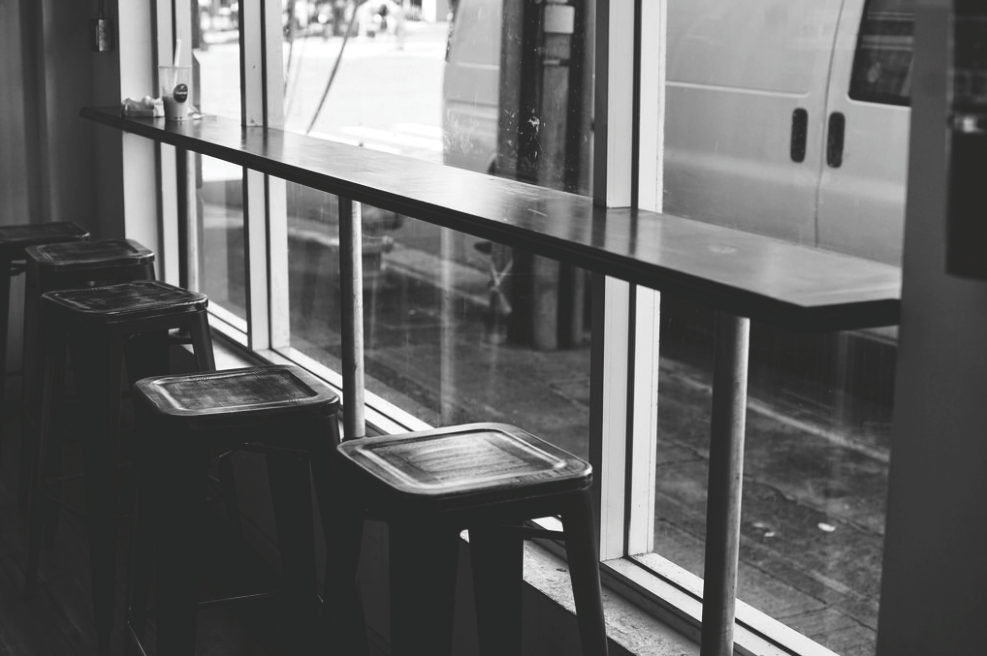 Teapresso Bar is the "first fresh, brew-to-order boba milk tea in Hawai'i" that offers "non-powder, non-GMO, Gluten Free, Vegan and Organic options," according to its official website. 
Customers can choose from a variety of organic coffees, teas, milk teas, lemonades, slushies, frappuccinos and smoothies. From the Hapa Haole Matcha Milk Tea, which contains green tea, matcha and white chocolate, to the Lava Flow smoothie, Teapresso Bar offers many flavors and topping options, such as boba, matcha crystals and heart-shaped jelly. 
Teapresso Bar has nine locations on O'ahu and three in the outer islands. The closest shop to the University of Hawai'i at Mānoa campus is in Kaimuki, and is open everyday from 9 a.m. to 10 p.m., but students can also venture to downtown, Ala Moana, Ke'eaumoku, Waikīkī, Chinatown, Kapolei or Waipahu to get their Teapresso fix. 
The boba establishment also has catering and delivery services to help spruce up a private party or make a night in a bit sweeter.
---
Honolulu Juice Factory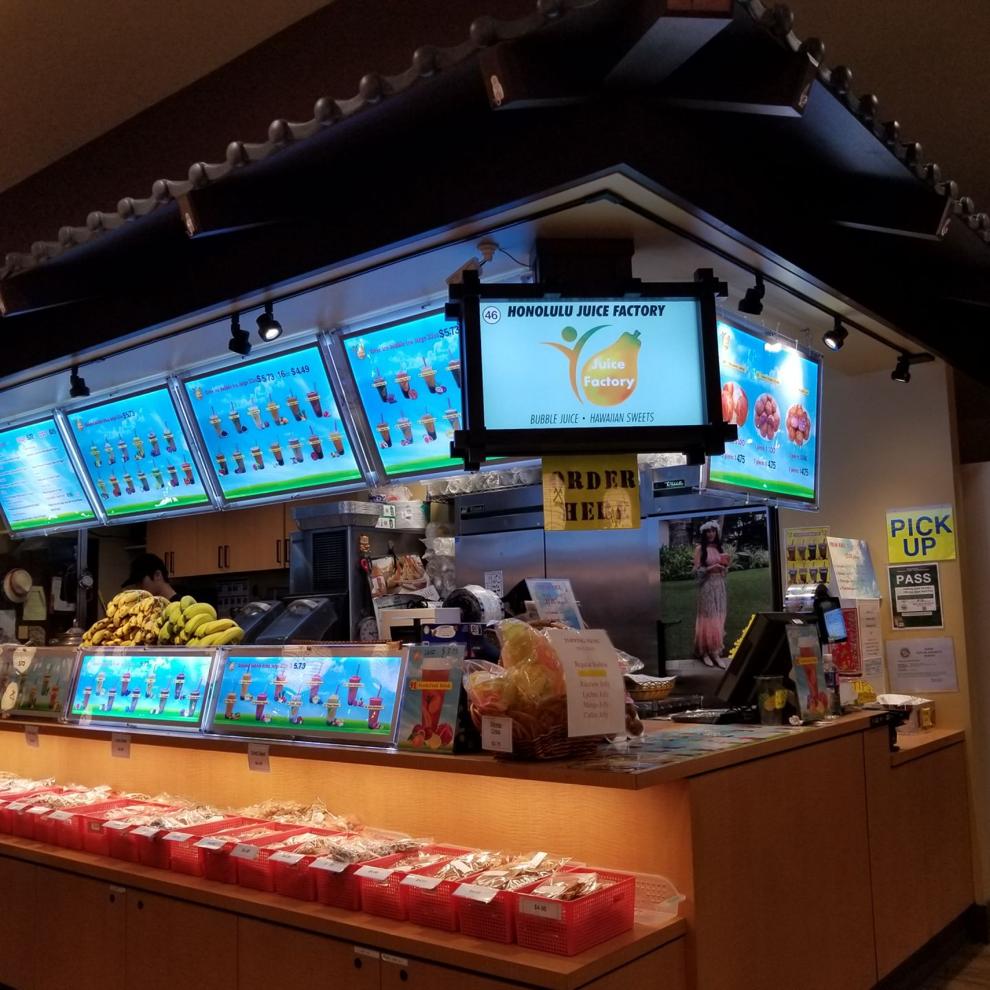 For those who frequent Shirokiya, this next shop should be familiar. Located in Ala Moana's Shirokiya Japan Village Walk, the Honolulu Juice Factory offers "bubble juice" and "Hawaiian sweets," according to Shirokiya's establishment directory. 
Pictured on the establishment's Yelp page, the Honolulu Juice Factory offers a plethora of food and drink options, from boba tea, with flavors like mocha coffee and avocado banana, to local favorites like Okinawan andagi, sweet potato mochi and loco moco plates. 
The shop does not have an official website, but the Shirokiya Japan Village Walk is open daily from 10 a.m. to 10 p.m., closing at 9 p.m. on the 2nd and 4th Sundays of the month.