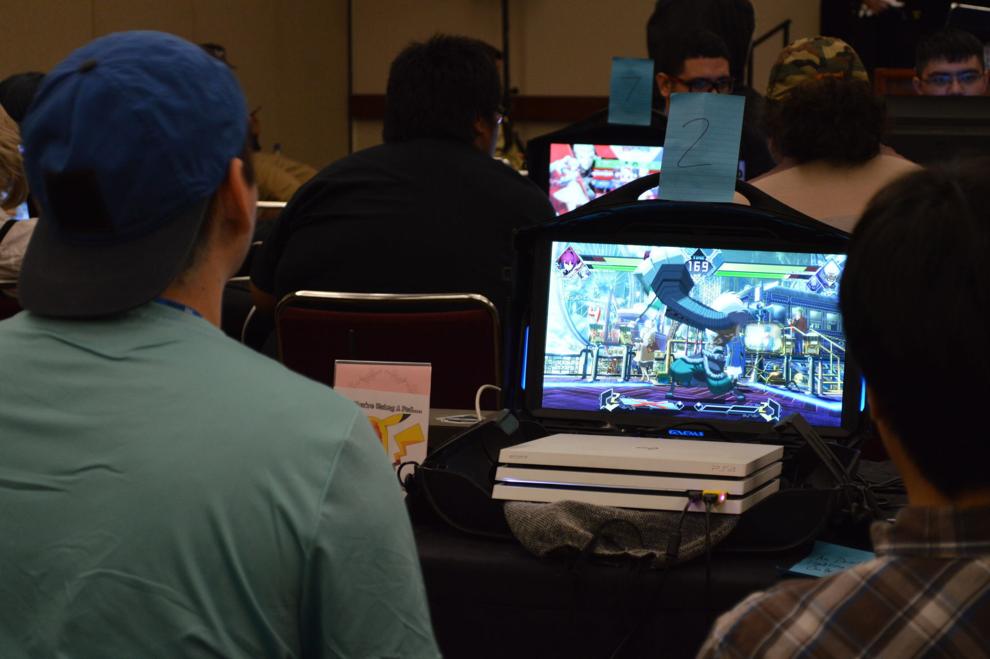 Under Gov. David Ige's "Stay at Home" order, remaining in our place of residence can cause a build-up of restless energy. Playing video games can be an option for those who want to pass the time by getting lost in an interactive story. 
Want to play something but don't know where to start? Here are five games to consider while we wait for April 30th. 
Quick note: "Animal Crossing" is not a part of this piece. Many people already have it on their "Quarantine Gaming Lists," so it will not be repeated here. 
Little Misfortune (2019)
Developed by KillMonday Games, the same team behind "Fran Bow" (2015), "Little Misfortune" follows 8-year-old Misfortune Ramirez Hernandez on her journey to find Eternal Happiness, a prize that she plans to give to her mother. 
Guided by Mr. Voice, who Misfortune hears in her head, she is determined to be successful in her quest, but not before finding herself in some interesting predicaments, all while attempting to get closer to Benjamin, a fox whom she is in love with. 
While playing the game, players are presented with choices that affect events that occur later in the game. "Little Misfortune," despite its cute design, deals with dark themes, such as emotional abuse and child neglect, and includes partial nudity and mature language. 
Especially with Misfortune's spunky attitude and dialogue, those who enjoy this balance of "cute" and "mature" may love playing "Little Misfortune." 
"Little Misfortune" is available for purchase on Steam, Origin, Gog.com, Humble, Android and iOS. 
Dragon Age: Inquisition (2014) 
Ever dreamed about fighting demons and slaying dragons? If so, "Dragon Age: Inquisition" may be the game for you. 
Released in 2014 by BioWare, "Dragon Age: Inquisition," an action role-playing game, is the third installment in the "Dragon Age" series. You play as a prisoner-turned-Inquisitor with the task of saving the world of Thedas from destruction.
Like its previous installments, Dragon Age: Inquisition is heavily story-based, with players making dialogue and game choices that affect the relationships between their character, the members of the Inquisition and the world state. 
Along with having the creative ability to customize their character, players can partake in various side quests and optional romances with members of the Inquisition. With a plethora of choices and potential dilemmas, Dragon Age: Inquisition is a great choice for those who enjoy RPG-style games that combine war, fantasy and, well, dragons. 
This game is rated M for violence, blood, strong language, nudity and sexual content. 
"Dragon Age: Inquisition" is available for purchase on PC, XBOX and Playstation. 
Devil May Cry 5 (2019) 
Continuing the theme of fighting demons, Capcom's "Devil May Cry 5" is an action-packed game that sees recurring protagonist and demon-human hybrid Dante and "Devil May Cry 4's" Nero investigating the cause of a large tree that drains the citizens of Red Grave City of their blood and summons demons that terrorize those who survive. 
Players have the chance to play as three characters: Dante, Nero and newcomer "V." All three characters have different weapons and abilities that keep game play interesting. Although the game sequences can be seen as "over the top," the series is known for not taking part of itself seriously. This approach to the game can be appealing to players who want a good time, as opposed to something as in-depth as "Dragon Age: Inquisition." 
DMC 5 is rated M and includes blood, partial nudity, violence and strong language. It can be purchased for the Playstation 4, Xbox One, and PC. 
Super Smash Bros. Ultimate (2018) 
Stepping out of M-rated video games, "Super Smash Bros. Ultimate" is an ideal choice for gamers who enjoy fighting style games without the blood and gore (but with all the nostalgia that Nintendo offers with its various characters).
Released for the Nintendo Switch in 2018, "Super Smash Bros. Ultimate" can be enjoyed by a single player fighting against a computer, or multiplayer with friends and family thanks to the game's "Connect and Play" feature. According to smashbros.com, players can pick their fighter and enjoy various Game Modes including "Classic" and "Tourney." 
The game is rated E for ages 10 and up, but is only available on the Nintendo Switch. 
BitLife- Life Simulator (2018)  
Want to play a game about life that was not "The Game of Life" or "The Sims"?  No need to fear, for "BitLife-Life Simulator" is here. Available for free on Android and iOS, "BitLife" allows you to live multiple lives and make choices that dictate the journey of your current character. 
With each round, the player is given a "new life" and choices on how to go about living this life based on external circumstances. Whether the player wants their current character to live a "normal" or "crazy" life is dependent on the choices the player makes and the repercussions that come as a result (do I need to play the trailer again?). 
Albeit based on a simple concept, one can spend a good amount of time navigating through the game's multiple facets, which include choosing one's job, sexuality, where to work, who to date and marry, as well as where to emigrate to.