1. Make sure to use the UH Health Check-in App
The new UH Health Check-in App called LumiSight UH is required for all who enter UH campuses. It is available on both the Apple App Store and the Google Play Store. For those without a smart device, you can also access it at uh.campus.lumisight.com.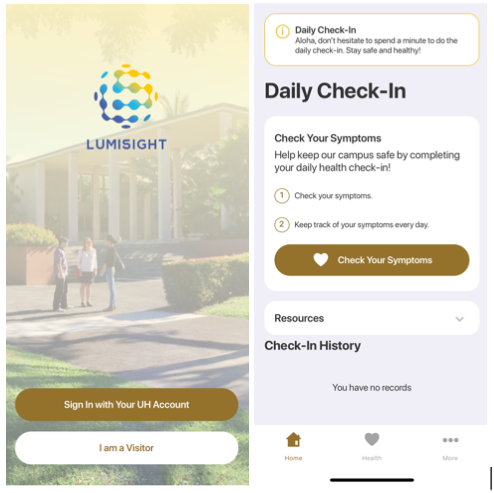 All you have to do is enter your UH username and allow the Multi-Factor Authentication (if enabled on your UH account) then set up your account by answering a few questions. You can then check-in to the app upon arrival to campus or simply do a daily health check-in. 
The Centers for Disease Control and Prevention highly recommend daily health check-ins to keep yourself and others safe. 
For more information about the Lumisight UH app, go to  ITS COVID-19 resource page or submit your questions via this web form.
2. How to get your UPASS and Mānoa One ID: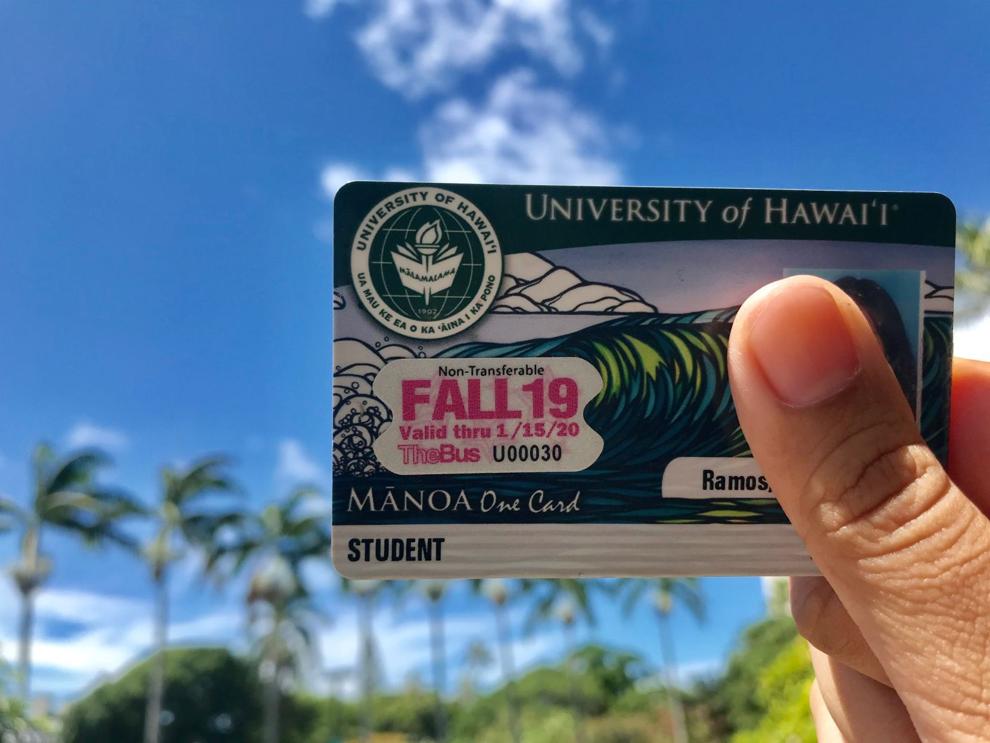 Your Mānoa OneCard and Spring 2021 UPASS stickers can be picked up at the Campus Center ID and Information Office. If you would like your ID card and UPASS mailed to you, email ccinfo@hawaii.edu. Campus Center has re-opened and is conducting in-person services.
If this is your first time receiving a Mānoa One card, you must upload your photo to http://go.hawaii.edu/A5g and you will be notified when it is ready for pick up or has been processed. Make sure your photo follows the guidelines provided at the submission link. 
Your UPASS allows you semester long unlimited access to the city bus and is specifically designated to UH students. 
For most students, the UPASS is included in your tuition. A replacement costs $50. UH partner schools and students studying medicine and law can purchase a UPASS sticker for the fall semester for $225.
Your UPASS is valid from Jan. 1, 2021 through May 31, 2021.
When receiving your UPASS and/or ID, please wear a face mask and practice social distancing.
If you have questions, contact ccinfo@hawaii.edu.
3. The UH Rainbow Shuttle is suspended for Fall 2020. Here are other transportation and parking options:
TheBus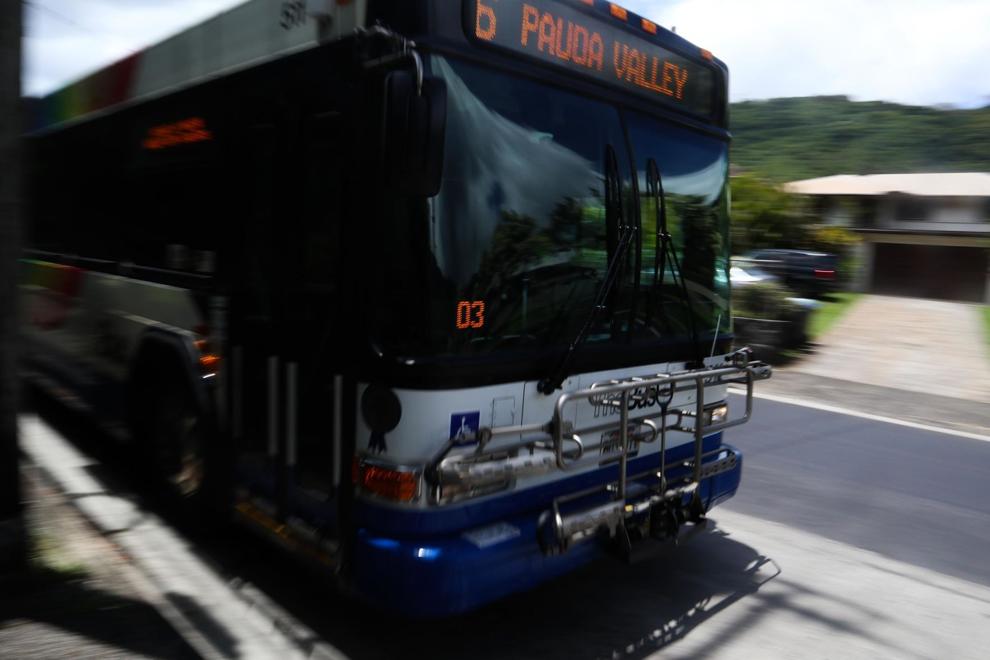 All eligible UHM faculty, staff and students have access to a UPASS. The UPASS allows all students and faculty to use TheBus for free. 
The UPASS sticker is placed on the front of your Mānoa One Card and is checked by the bus drivers. TheBus routes can be accessed on TheBus and Google Maps application on the Apple application store and Google Play store.
Biki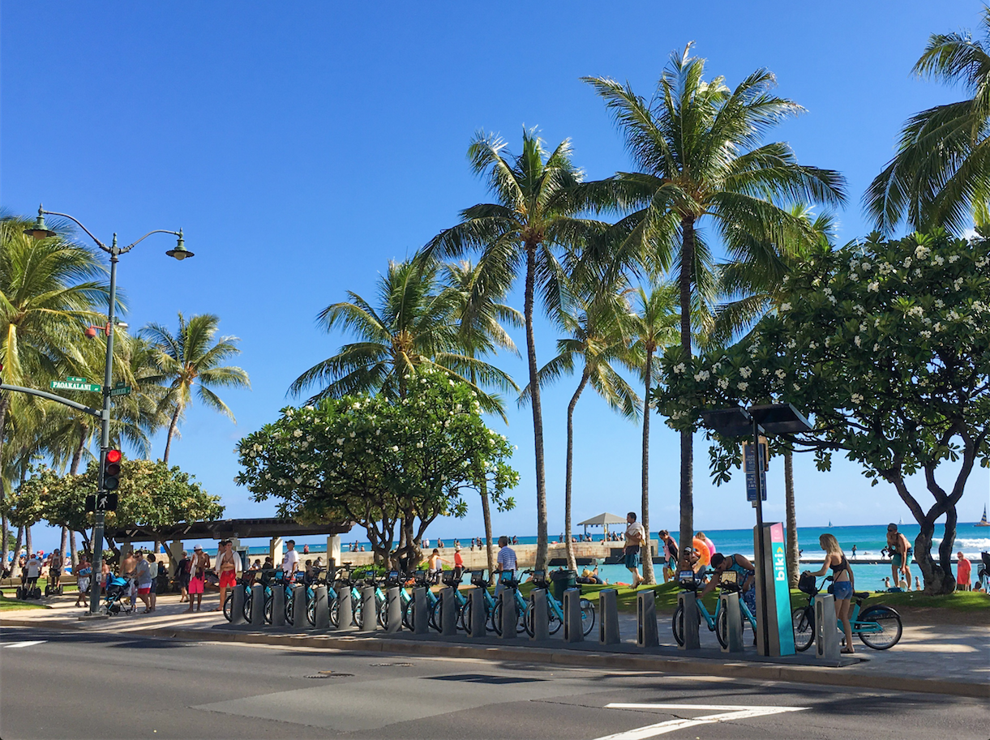 Biki, a bikeshare service, is a good option for students living in the Waikiki to Downtown Honolulu area. 
There are over 130 Biki Stops located around the city. Unlock a bike using a credit card, the Biki Mobile App or a Biki Pass. The pricing options are:
$4 for a one-way ride

$15 per month for unlimited 30-minute trips

$25 per month for unlimited 60-minute trips

$20 for a bank of 300 minutes to be used at any time
Check out for GoBiki.org for more information.
Bike to any other Biki stop and put the bike into a dock to lock it. There are 5 lock stations around UHM's campus for students to utilize.
Below is a map of the Biki stations on campus.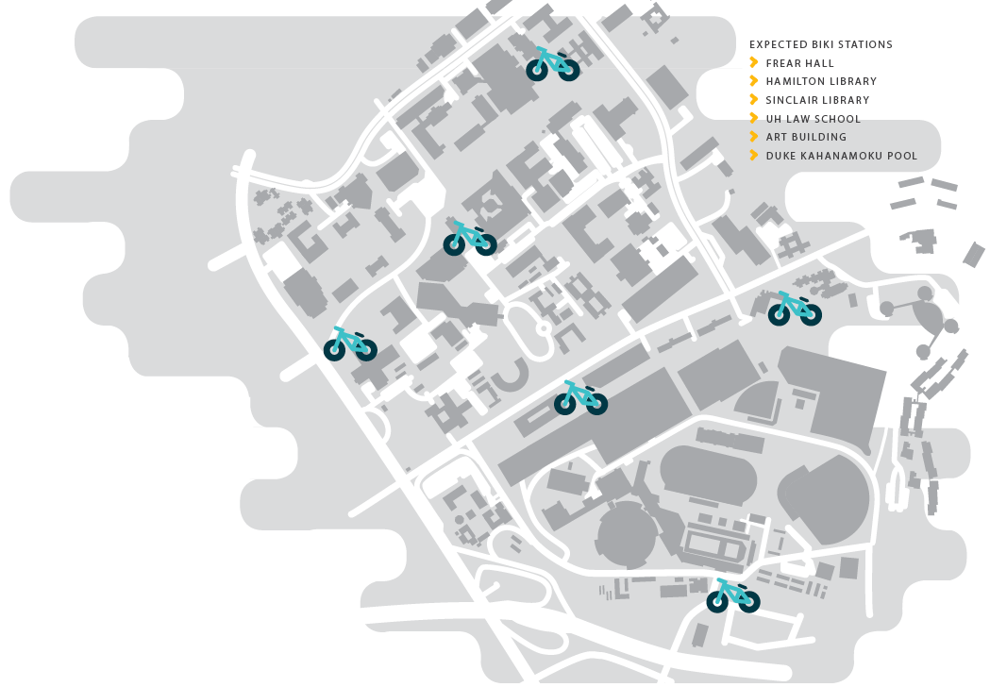 On-Campus Parking Options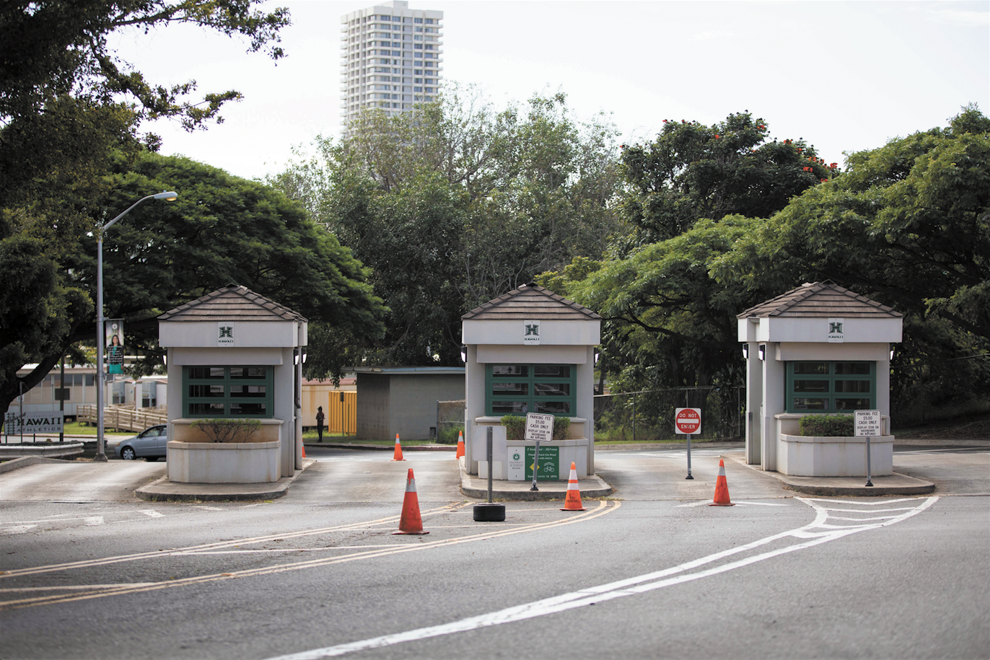 Due to the ongoing pandemic, students and employees now have the option to purchase daily or monthly parking passes, as well as pay a flat fee for Upper Campus visitor parking.
Parking on Upper Campus's visitor green stalls cost a flat rate of $12/day or $3/ 30 minutes. 
The daily parking Warrior Quick Pass (WQP) can be purchased on online or at pay stations located on lower campus by the Music building and Law School, and the Klum Gym lots. The WQC can be used at the Zone 20 parking structure. 
The Zone 20 parking structure is located on Dole Street by the Richardson School of Law. There are no longer parking attendants at the lower campus booths, therefore please use the pay stations. Permit requirements are not enforced on Sundays.
The monthly parking Rainbow Quick Code (RQC) is based on a first-come, first-served basis. This pass will permit parking in certain parking zones on campus based upon availability. Pricing for students, faculty and staff can be found here. 
The Zone 22 parking structure is located on Dole Street next to the Hawaiian Studies building. There is a self-service pay station next to the accessible parking stalls. Those without permits can pay a flat rate of $5 per day and/or $7 per evening. Yellow visitor stalls can be found on the ground floor.
Out-of-Zone parking for permit holders and visitors are permitted on weekdays after 3 p.m. A $7 flat rate parking option is available past 3 p.m. 
The lower campus bike cage may only be used from Monday to Friday, 5: a.m. to 11:59 p.m. 
For updates and announcements, visit the Commuter Services website at: http://Manoa.hawaii.edu/commuter or follow Commuter Services at www.facebook.com/commuteuhm.
4. What's Open? 
Warrior Recreation Center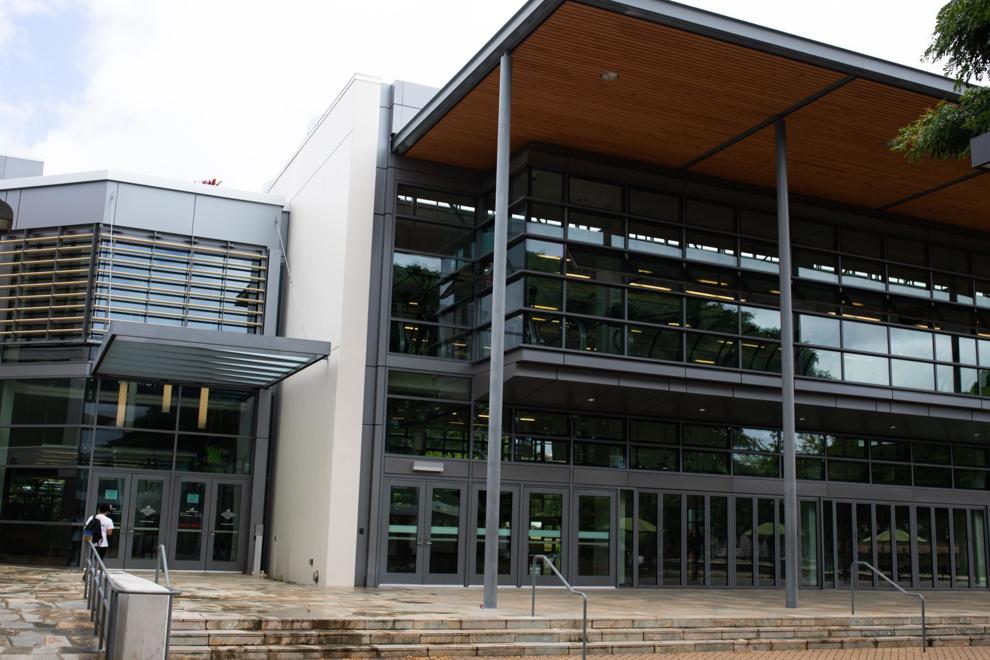 Hours: 
Monday-Friday: 6 a.m. to 6 p.m.

Weekends: 12 p.m. to 5 p.m.

Closed on holidays 
Students can access the recreation center with their Mānoa One cards. 
Any memberships that were frozen prior to March 20, 2020 can be reinstated and will be allowed to utilize the WRC the number of days remaining on their account. Those who reinstate their account may apply for a membership renewal, however all new membership inquiries for non-students, faculty and staff have been temporarily discontinued.  All day, week and companion passes will be discontinued. Lockers and showers will be closed.  
Auxiliary purchases and all outdoor education inquiries will be conducted at the Rental Office located at Lower Campus Student Recreation Services (SRS) Monday through Friday: noon to 3 p.m.
To enter the WRC, you must
Take your temperature with a hands-free scanner. You cannot have a fever higher than 100.4 degrees Fahrenheit.

Present a check-in via the Lumisight app, which should verify that you're allowed on campus.

Present your ID and wear a face mask. 

Scan your ID at the turnstiles. 
Hamilton Library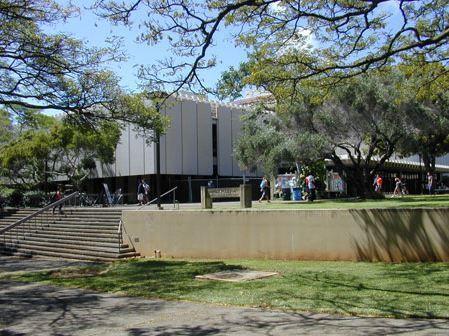 Hours: 
Monday-Thursday:  8 a.m. - 8 p.m.

Friday: 8 a.m.- 5 p.m. 

Saturday: 10 a.m. - 5 p.m.

Sunday: Noon - 5 p.m. 
Physical collections will be closed. 
Request, Sign, Grab, & GO:  Request books through the library's online catalog.  They will be retrieved and brought to the circulation desk for pickup. Turn around time is usually one day.
Books may be requested and retrieved in person at the circulation desk. 
You can also access the library's ebooks, ejournals and databases online.
The library's vast digital collections of e-books and e-journals, and databases can be accessed from anywhere a student is located. This summer the library added an additional 70 million pages of digital journal content.
CLIC Computer lab will be open during regular library hours with social distancing enforced.
Librarians are available via chat or email.
Only the first floor is open for study, with additional space added if needed.  Study spaces are at least 6 feet apart. Only one chair is allowed per table. Students are require to wear masks in the library.
Remote resources can be found here. 
Sinclair Student Success Center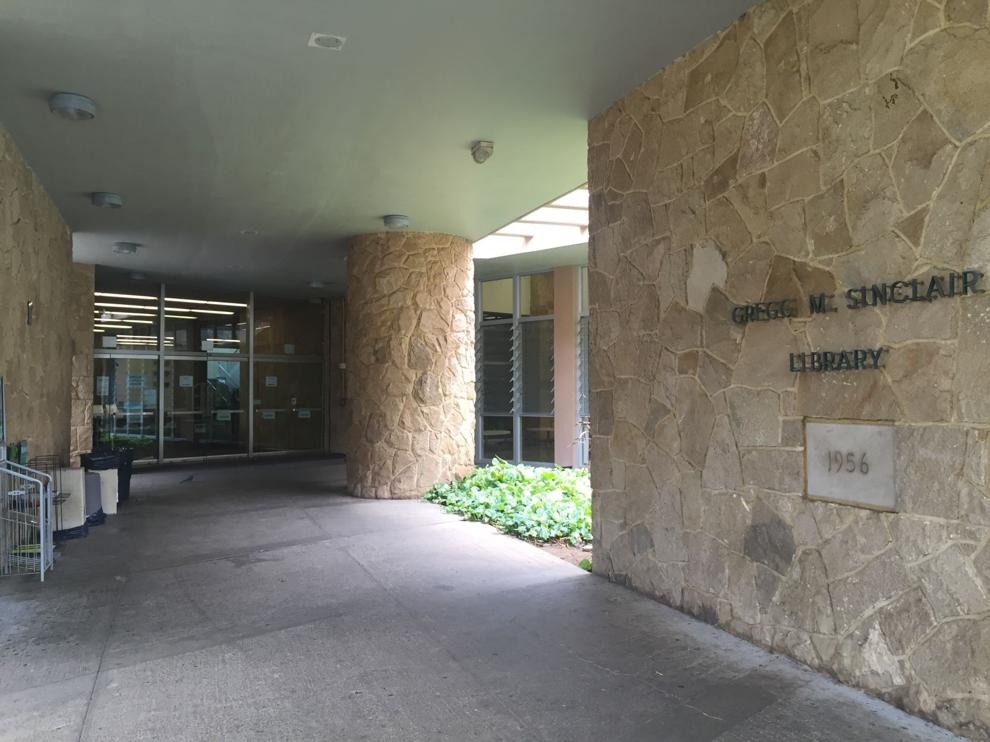 Sinclair Student Success Center, formerly known as Sinclair Library, no longer has books to "check-out." Please visit Hamilton Library for hard-copy books.
Hours: 
Monday- Thursday: 8 a.m. - 8 p.m.

Friday: 8 a.m. - 5 p.m.

Saturday: 10 a.m. - 5 p.m.

Sunday: Noon - 5 p.m.

Closed on state holidays 
When you enter Sinclair and provide your UH ID to the guard monitor, you will receive a 5 inch piece of tape that you will stick on your table.  When you leave, the tape will be removed by custodial staff after disinfection of the area. 
Facial masks are required at all times. 

Hand sanitizer stations will be around Sinclair Library. 

Your UH Mānoa One ID must be presented for entry.

SEED programs such as the Kupuna Program participants are ineligible for entry. 

The 1st Floor is open at the hours listed above

This includes: Heritage Reading Room, Grand Lobby, Study Lounge, CLIC Wong Computer Lab, and Basement Restrooms.

The second floor of the SSS is open Monday to Friday 8 to 5 p.m.
UH Mānoa Bookstore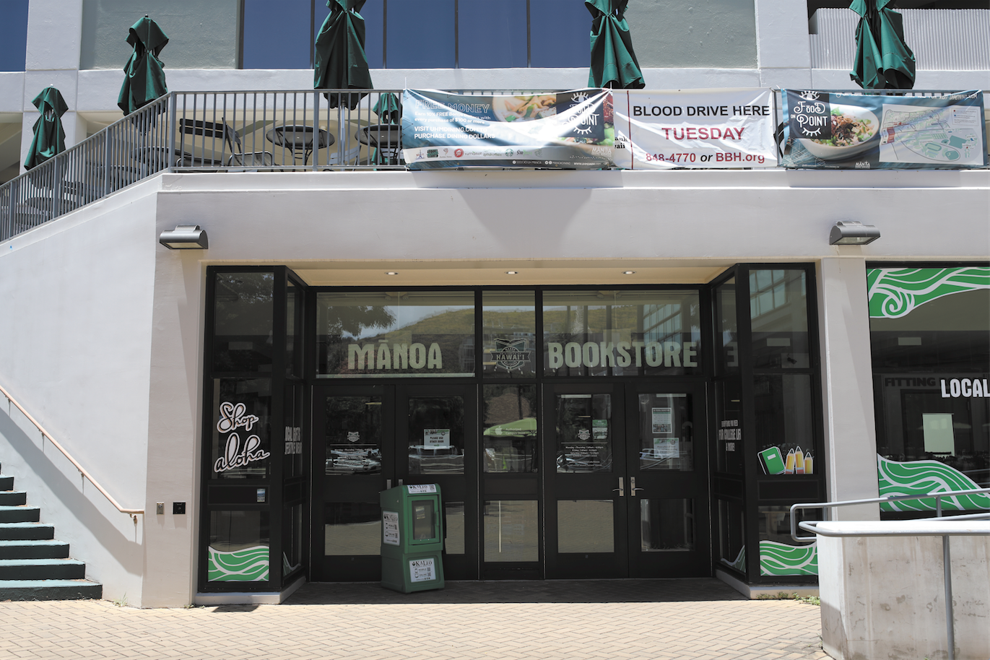 UH Mānoa bookstore's hours of operation are: 
Monday- Friday: 10 a.m. - 3 p.m. 

Saturday- Sunday: Closed
Students, faculty, staff and other customers can shop online at https://www.bookstore.hawaii.edu/Manoa/.
Orders will be available for pick-up, in-store and via shipping. Secure locker pick-up, located in the back of the store, is also offered during hours of operations and can be organized through online ordering. 
For those who are unable to purchase online, the bookstore will be open. Students can schedule an online appointment at www.uhbooks.hawaii.edu/appts.
Campus Center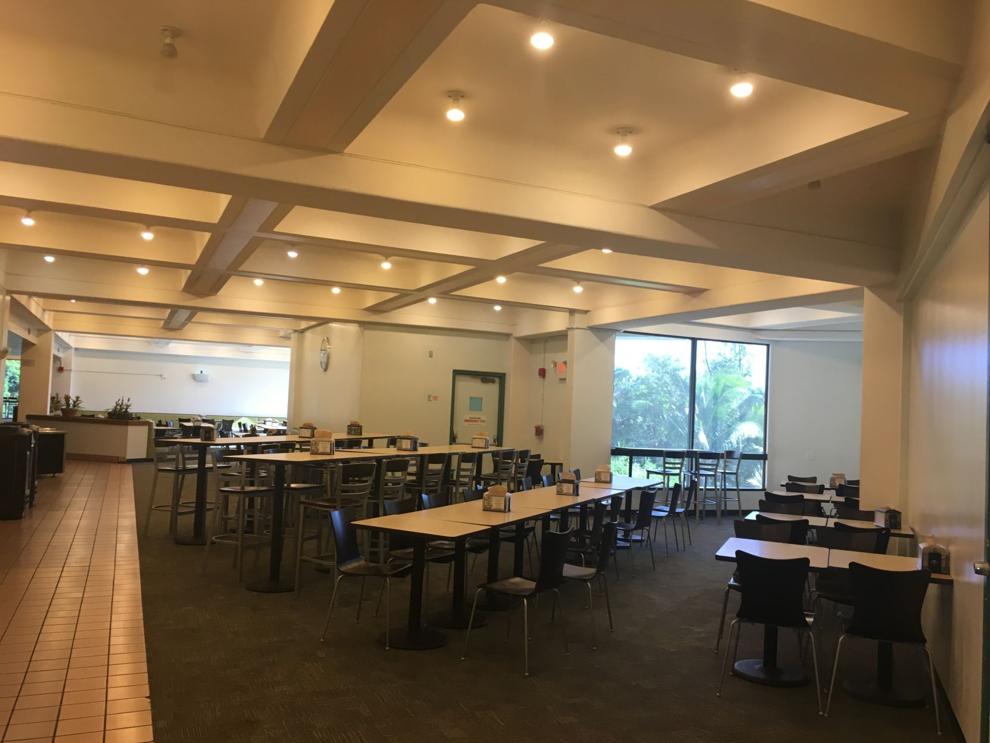 Foodcourt: 
Monday-Friday: 11a.m. to 2 p.m.

Saturday- Sunday: Closed
CC Food Court will only be doing take out and their menu options can be viewed here. 
Starbucks:
Monday-Friday: 11 a.m. to 2 p.m. 
Saturday-Sunday: Closed 
Jamba Juice, Pizza Hut, Stir Fresh, Simply To Go and Ba-le are closed until further notice. 
Paradise Palms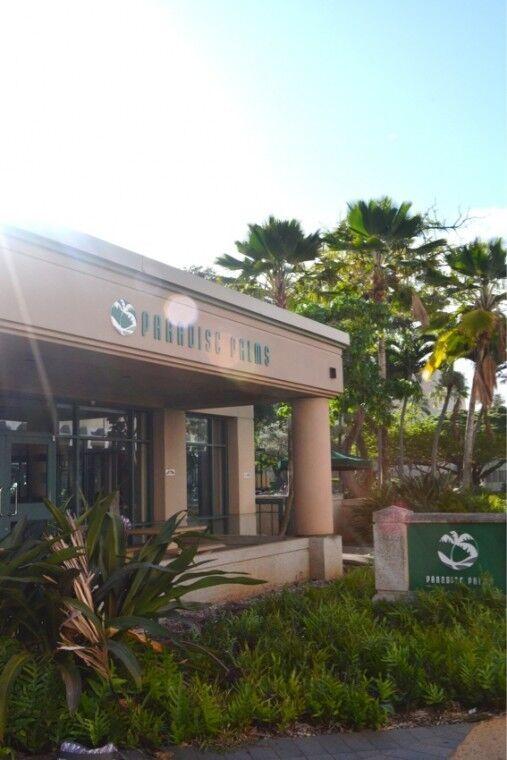 Hours:
Every day: 10 a.m. - 2 p.m.
Panda Express will be the only restaurant open, from 10:30 a.m. to 2 p.m. Online ordering is also available. 
Resident Dining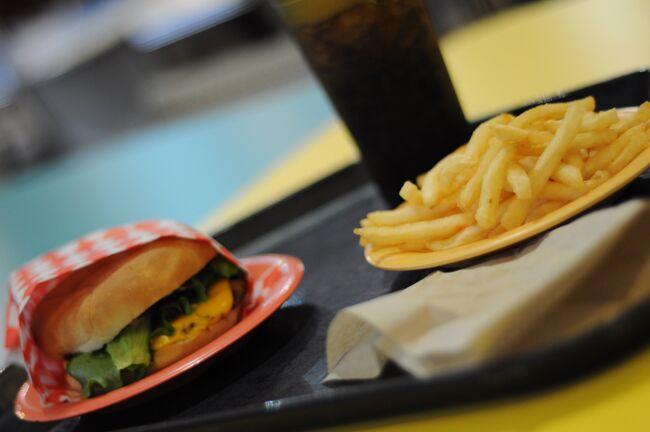 Hale Aloha Hours: 
Brunch:

Monday-Friday 9 a.m.- 1:30 p.m.
Weekends: 10 a.m.- 1:30 p.m.

Dinner:

Monday-Sunday: 5 p.m.- 7 p.m.

10 a.m. - 1:30 p.m.
Gateway Cafe is closed until further notice.
The Market (located at lower-campus dorms):
Monday-Sunday: 2p.m.- 10 p.m.  
5. Important dates of the semester
Additional dates & deadlines may be found on the registrar's website.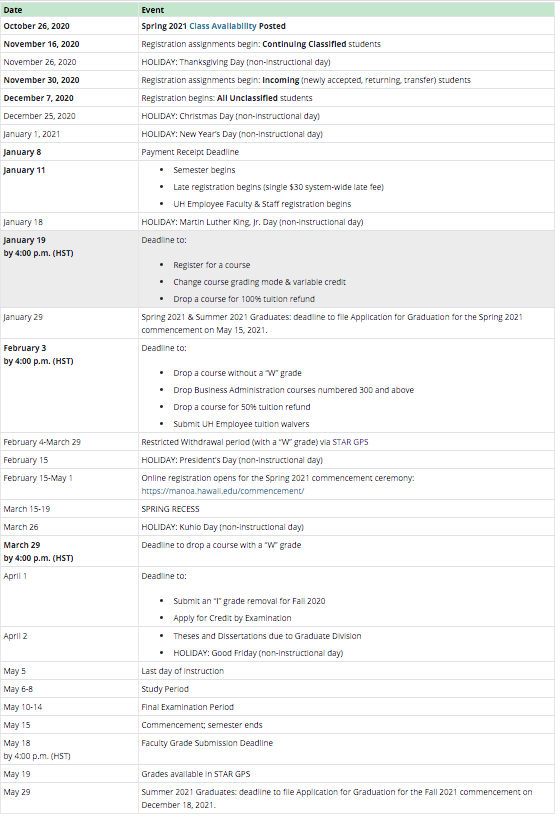 6. Taking care of your mental health this semester should be a priority. Here are a few services offered at UHM: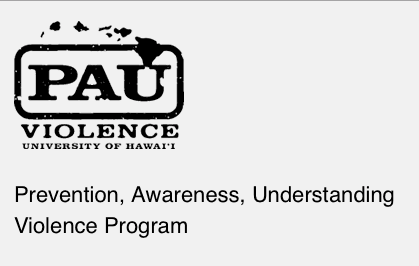 School closures forced some students to silently stay at home in a harmful environment. If you are feeling unsafe at home, please reach out to PAU Violence to receive referral information and support.
The PAU Violence Program engages the UHM community through education and awareness around the prevention of sexual assault, domestic and dating violence, and stalking. If you would like to request trainings/workshops regarding these issues please contact uhmpau@hawaii.edu. PAU Violence offices are closed due to social distancing measures, however they are offering services remotely.
PAU Violence no longer provides confidential advocacy for students experiencing dating/domestic violence, sexual assault, or stalking. To access confidential advocacy services please reachout to Natalia Villegas from the Office of Institutional Equity by calling (808) 341-4952 or emailing her at nataliat@hawaii.edu.
For more information, please visit Manoa.hawaii.edu/pauviolence or visit their Instagram, @pauviolence, for the program's most up-to-date information. 
Caring for yourself is very important. To speak to someone confidentially about new or worsening symptoms, please reach out to the Counseling and Student Development Center. 
Urgent walk-in appointments are available Monday through Friday from 8 am-4:30pm. They can be contacted via telephone at (808)-956-7927. 
Other hotlines the CSDC recommends are:
National Suicide Prevention Lifeline:1-800-273-8255
Student Crisis Line:(808)-832-3100

24 hours a day, 7 days a week 
The Disaster Distress Helpline: 1-800-985-5990 OR text: TalkWithUS to 66746
7. Assistance for those with learning disabilities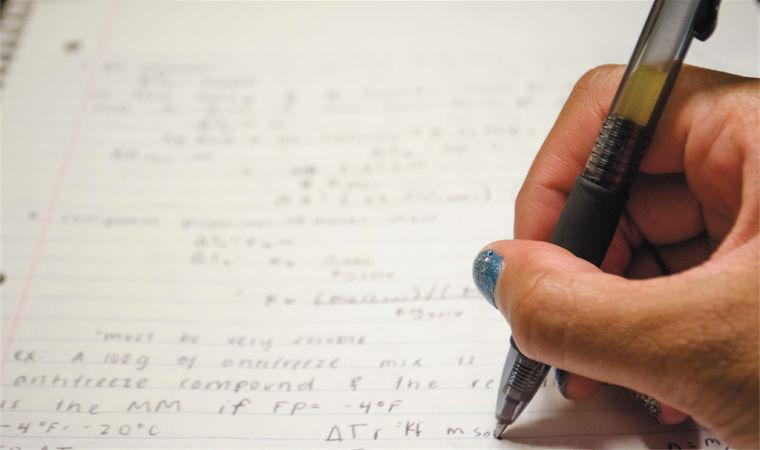 It can be hard to manage existing struggles that have been magnified by this unwelcomed virus, but communicating with your counselor and adviser is a critical step to take as you make your way through academia. To speak to a counselor about these new or existing challenges, contact the Kokua Program to see which accommodations may be available to you:
Extended test-taking time

Note taking services 

Priority Registration

Sign Language Interpreter 
The Kokua Program will be available Monday through Friday 8:00 AM to 4:00 PM. You contact Kokua's main office by calling (808) 956-7511 and (808) 956-7612.
For further inquiries, please contact kokua@hawaii.edu.
Information is subject to change based upon changes to university or government COVID-19 guidelines.