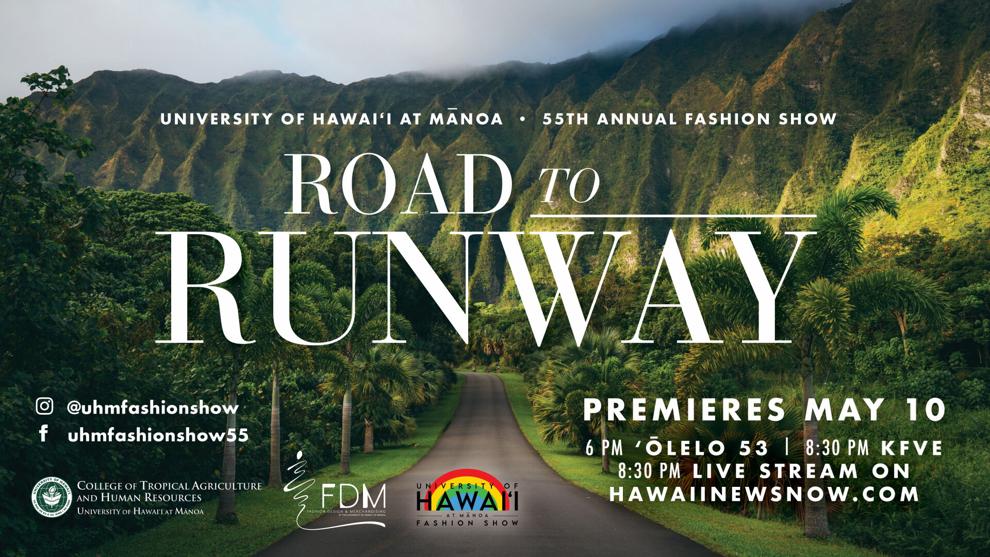 Anyone and everyone in Hawaiʻi with a TV, phone or laptop can tune into this year's fashion show produced and designed by the Fashion Design and Merchandising (FDM) students at UH Manoa. 
Their 55th fashion show, themed "Road to Runway," will be live streamed on Olelo and Hawaii News Now on Monday night, May 10 at 6 p.m. HST on Olelo 53 along with the livestream on Hawaii News Now. 
The fashion show will feature seven collections. This includes designs from current students to include three seniors. The fashion show also includes designs from two 2020 recent graduates will be featured as the production was cancelled last year due to COVID-19.
Viewers can also look forward to nine guest cameo appearances, including UH President David Lassner.
"A labor of love"
Traditionally an in-person event that gathers faculty, staff and students to this sell-out event, there is usually a DJ, emcee and volunteers to put on the yearly production. This year, the fashion production students have navigated and organized this upcoming show to be fully virtual. 
The runway footage was shot by fashion show production and fashion design students throughout various parts of Oahu, all in keeping within CDC guidelines.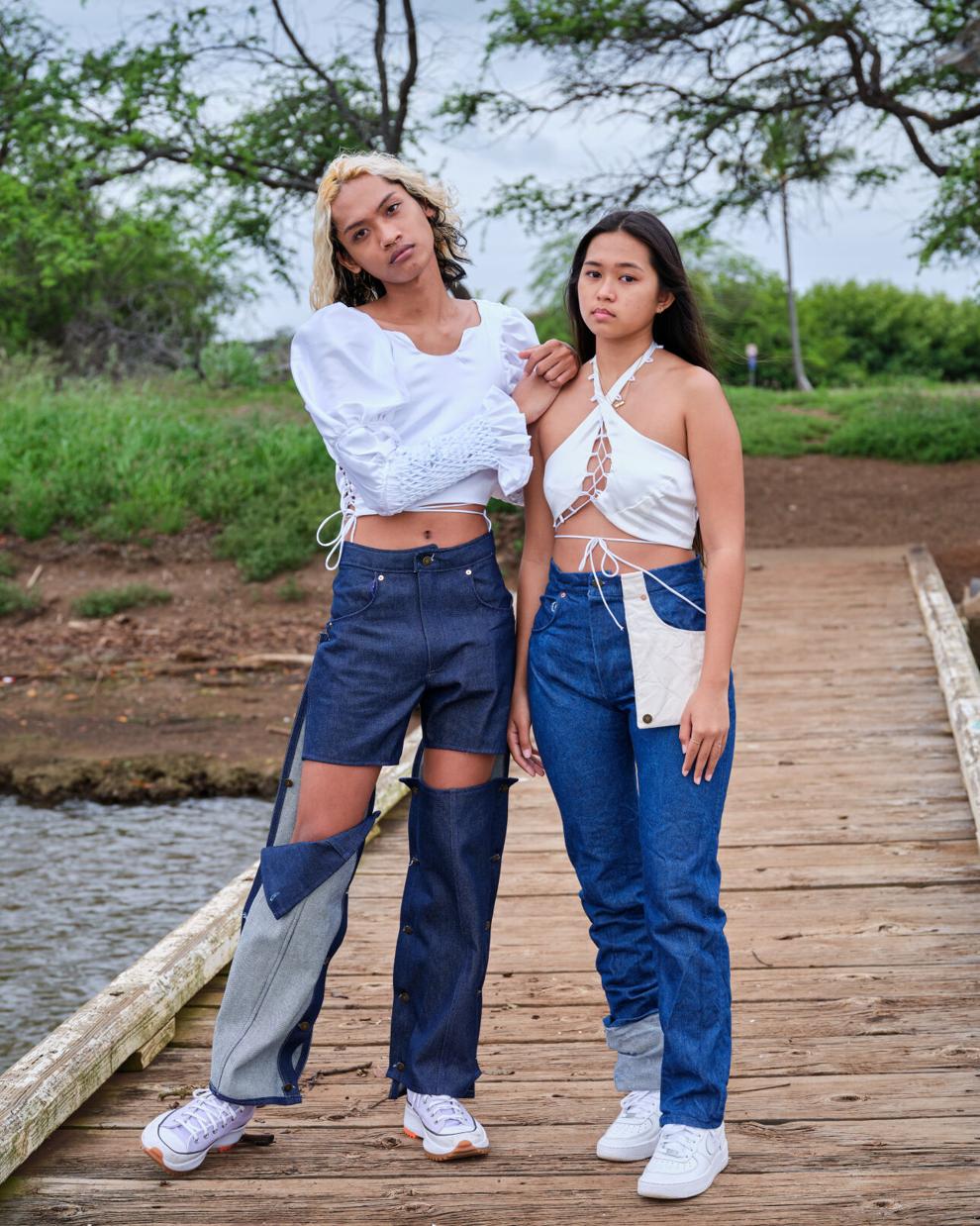 "Being told that the show would be presented virtually almost crushed my spirit, so naturally, I felt almost reluctant to even participate since I knew my expectations would not have been met and I would not get to present my work the way I would have liked," senior fashion design student Aaron Guillermo said. 
Calling it a "labor of love," Amanda Stevens, the Fashion Show Production class co-instructor of FDM 430, says that despite the many challenges and disappointments, "They students were able to pivot amongst many obstacles they faced. Each of them came out shining." 
 The class curriculum included meeting with professionals and well-known designers, doing PSAs and coordinating photo shoots.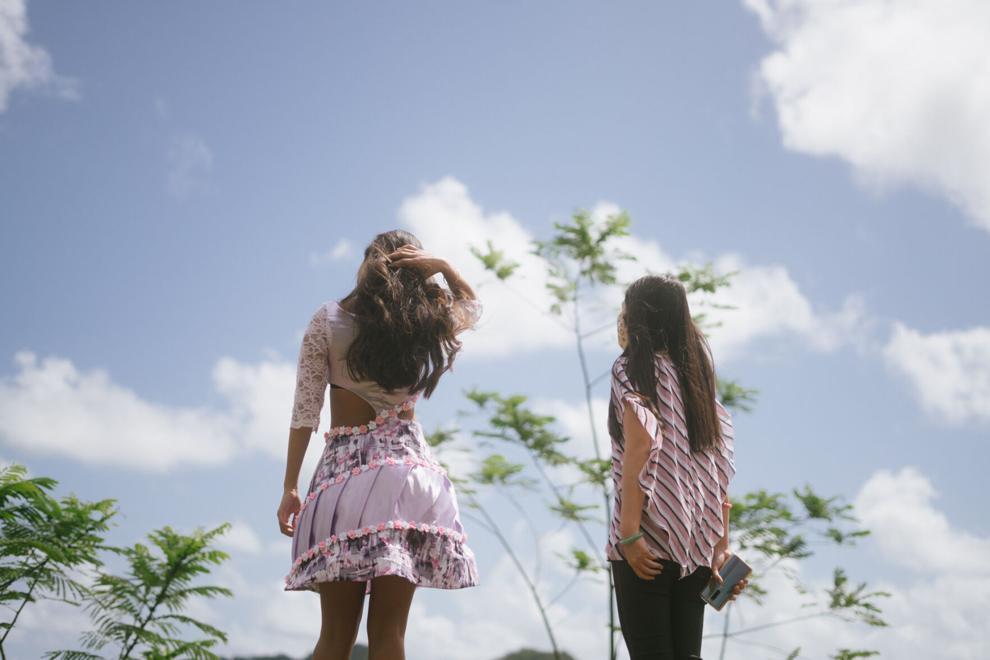 Senior Helen Park says that the virtual show will allow for a digital memory to look back on.  
"I also think being able to look back at the interviews, photos, and show itself will be very rewarding and something I will cherish for a long time," Park said.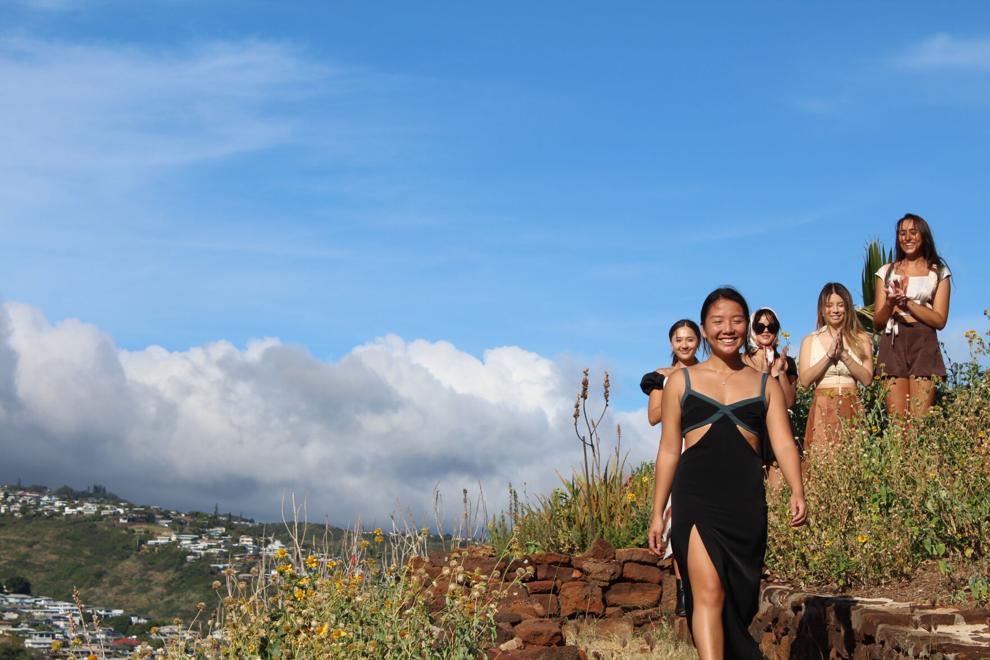 For Jade Young, who will be showcasing their "Dazzling Affairs" line on Monday, the night, it was seeing their designs come to life that made the arduous process worth it. 
"The most rewarding part was looking at all of my finished designs together. It's very surreal to see my drawings materialized especially since, for most of my life, it's always been drawings I've been looking at."
Lynne O'neill: Continuing a legacy
The pandemic also presented a unique opportunity for the FDM students. Lynne O'neill,  a well-known name in the fashion world. O'neill, a local from Hawaiʻi, has more than 40 years of experience in fashion shows and is a well-respected executive producer and director for New York Fashion Week. 
O'neill was the inspiration for the character played by Margret Cho in the iconic episode of "Sex and the City." 
 Stevens says that O'neill has has been committed to the students  and this process "zoom"-ing in from New York late into the evening, and prepping production lesson well into 2 to 3 a.m. in the morning EST. 
Dealing with deficits 
Since the show has been forced to be virtual, ticket sales were non-existent. Normally, tickets would cost $25-$75 depending on the venue and VIP or regular tickets. 
This year, Stevens said they are facing a $5000 deficit. Without a live event, the Fashion Show Production Class is unable to fundraise through ticket sales, therefore donations are being accepted. Checks can be addressed  to Family & Consumer Sciences / 2515 Campus Road, Miller 110 /Honolulu, HI 96822 and made payable to UH Foundation. 
 Stevens and her students hope that a wider audience being able to appreciate their work will inspire spectators to contribute to the foundation which will also help aid future fashion shows. 
"It has been an honor to co-teach this class with Lynne O'Neill who is the best in the business of fashion show production and directing shows. We were able to share our expertise with the students through production meetings and real life experiences in creating one PSA and two television shows," Stevens said. 
More information can be found at https://www.hawaii.edu/news/2021/05/03/students-designs-at-55th-manoa-fashion-show/.