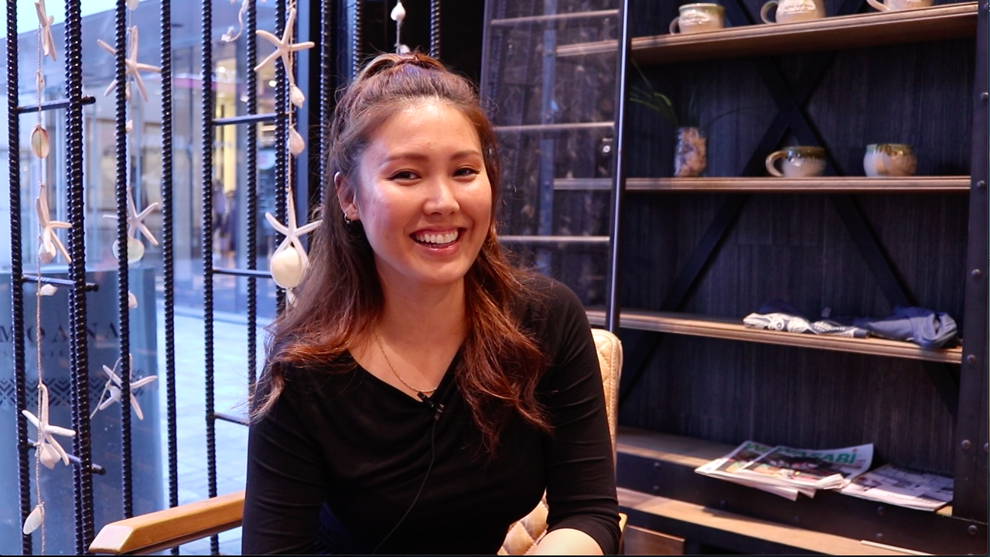 K-pop star Rebekah Kim described her past self as, "just a local girl born and raised in Hawaiʻi."
As a high school student, Kim loved going to the beach and was a part of the Moanalua High School Surf Club. She had dreams of studying Marine Biology in the future and had her eyes set on pursuing it after she graduated high school.
However, in 2009, Kim's life would see a drastic change, as the local girl would soon find herself stepping into the world of K-pop stardom.
Kim was 16 years old when she joined South Korean entertainment company Pledis as a K-pop trainee. A decision, Kim says, that was fully supported by her family.
"My family is very supportive in whatever I choose to do," Kim said. "Whether it be K-pop or marine biology, they would have supported me."
While the company wanted Kim to train in Korea full time, Kim thought it better to complete her schooling while simultaneously pursuing her training.
"On my summer and winter breaks, I would go to Korea and train," Kim said. "I knew that I should finish high school because 'what if?' At least I need a high school degree so I can go to college."
It was as a trainee that Kim met and befriended Son Dam-bi and Park Ji-young, whose stage name is Kahi. They were also trainees of the company at the time. Kahi would later recommend Kim to join the K-pop girl group Kahi planned to help produce.
Kim said her K-pop training consisted of 10- to 11-hour work days, six days a week.
"You're not dancing for 11 hours, but you are studying different types of music, practicing and vocal lessons," Kim said. "There's also dance class and photoshoot practice … they teach you etiquette and tell you take pictures of yourself and have people take pictures of you."
In January 2009, Kim made her debut in the K-pop girl group After School under the stage name Bekah. Her debut was special in the K-pop scene because she was one of very few American citizens working as a K-pop idol at the time, according to Kim.
"During training, it was easier as an American because it was really fun just dancing and singing all day, maybe I'm just being naive, but it was what I liked," Kim said. "I think the hard part about being an American during that journey was that the culture was just so different. It was hard to adjust to the perspective and the mentality of a different culture."
According to Kim, her American background particularly became the focus during variety and game shows.
"Whenever we would be on a game show and there was an 'American section' they would definitely focus on the people who could speak English more," Kim said. "They would be super excited and zoom in on us."
Kim recalled a time when people would be surprised that she could speak fluent English, not knowing she was a Korean American from Hawaiʻi.
As a member of After School, Kim's position was listed as the group's "main rapper" and "sub-vocalist," meaning she was in charge of the rap portion of the group's songs on top of providing some of the vocals. Kim recounted not even auditioning for the role of the group's rapper, but being chosen because of her "American swag."
While Kim was confident enough in her skills as a singer, she recalled feeling panicked at the company's decision.
"On the outside I was like 'oh?' But on the inside I was like 'No way!'" Kim said.
She recalled thinking about what a rapper was like based on her knowledge of music at the time and thinking that she could not successfully portray one.
"I had so many excuses and reasons (not to do it)," Kim said. "But, it worked out. I realized that, besides talking about this and that, it's a skill and I learned how to use it."
During her time in After School, Kim would go on to write rap lyrics for a number of the group's songs including their hit-single "Bang!"
While a day in the life of a K-pop idol may appear to consist of just performing one or two songs on a music show, according to Kim that is not the case.
"When we release a new single, video and everything, we're already going in knowing that we'll be debuting these on a stage and we're preparing for it," Kim said. "The moment (a new song) is released there would be interviews from journalists and from there going straight to major broadcasting stations to perform."
While the amount of work varies each day, Kim recounted sometimes having four or more scheduled events in a day. Starting the day, Kim says the group would be at a salon at 5 or 6 a.m. and be there for around three hours to prepare for interviews and music shows.
"Keep in mind that the night before that we're practicing and getting ready," Kim said. "We'd sleep in our car on the way to jobs."
In 2011, Pledis made the announcement that Bekah would be "graduating" from After School. July of that year marked Kim's departure from the group.
During her time as an idol, Kim recalled fond memories of the impact she was able to make with her fans.
"People know you and you get to know a lot of people too. With that, you can help others," Kim said. "I think that was the biggest thing that I enjoyed about K-pop, the people that you can touch like your fans and how they were encouraged when they were so low even with me just being me. It was really meaningful."
When asked what she found to be the most difficult, Kim laughed, responding that the number one thing was maintaining an acceptable weight for K-pop standards.
"People need to know that the camera adds 10 pounds," Kim said. "So in person, I looked healthy, but on TV..."
According to Kim, this discrepancy warranted her company to ask her to lose more for TV appearances which led her to "yo-yo" for a time. She went on to say that she has since found a balance for healthy eating that works for her.
After leaving the group, Kim said her time was spent soul searching. Often when a K-pop group breaks up, or an idol leaves a group, the next step would be to search for a new company to join. Kim said she had tried that but she did not have the courage to keep going forward in that industry.
"I needed some time to myself, to find out who I was." Kim said.
Currently, Kim's career aspects are taking her down the path of business.
"Deep inside, I'm an entrepreneur."
She began pondering the idea of starting her own business in the future.
After leaving After School, Kim shortly took up design. A venture, Kim said, that was not just for the sake of doing something, but to help her find security in herself and feel confident in future projects.
"Now when I do something, I know who I am, what I want to do and what I don't want to do," Kim said.
In late 2018, South Korean entertainment company JYP Entertainment came to Oʻahu to audition for new talent. As a local and experienced veteran of the K-pop industry, Kim shared her advice for K-pop prospects and emphasized knowing who you are and having a "plan b."
"Know your values, because your values are going to help you decide what to do. You shouldn't say yes to everything and your values will help you make the best decision," Kim said. "And have a plan b. Have a timeline because you can't be a K-pop idol for the rest of your life. There is an expiration date."
Kim also encouraged those interested in pursuing K-pop as a career to finish school first.
"There's a world that's out there that you can't explore right away, but through textbooks you can," she said. "At least when or if you get out of K-pop, hopefully you'll know yourself better to pursue something else."