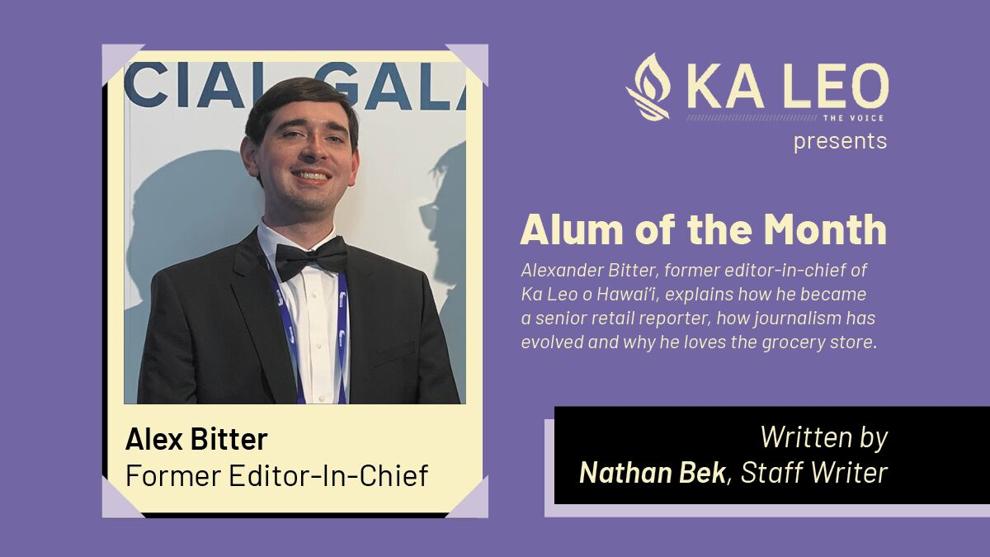 When part of your job is covering the snack food industry, trips to the grocery store can be a highlight. From cases of beer stacked like a Christmas tree to pop-up stands handing out samples — it's where products come alive. 
For Alexander Bitter, current Business Insider reporter and former UH Mānoa student and Ka Leo O Hawaiʻi editor-in-chief, it has been a place of inspiration. As a consumer packaged goods (CPG) reporter, he covers almost anything that's available for purchase there. 
Whether it's a new floor design for displaying products or an upstart mustard brand, there could be a story hidden in every aisle, he said. 
Bitter never thought he would be in the business of covering CPGs. When he enrolled at UH Mānoa in 2012, he was a political science and journalism major. He assumed that would lead to a career in covering the government. But after a series of internships and jobs at financial media companies, Bitter landed a senior reporter position at the retail desk at Business Insider. 
"There are a lot of cases where these companies are doing things that are questionable for society," he said. "I think calling those things out and needling them is worthwhile."
Bitter first developed a passion for journalism in high school, where he was a reporter for his student newspaper. From there, he entered college to pursue political journalism. 
He recalls the moment he found out he'd been voted in for the position as EIC for Ka Leo. He was sitting in a Frear Hall study room with a group of friends. That night, in April, the Student Media Board was meeting to vote on who the next EIC would be, and he knew that the decision would be sent to him that night. 
It was unusually competitive that year, he said. He was competing against someone that had a very different view of how the paper should be run, and she had connections to the board he didn't have.
Then an email came in. 
Gripping the table, he opened it. 
"Congratulations," he read in the email. "You've been selected as Ka Leo's next Editor in Chief." 
Sitting there, somewhat dazed, he reread the email, over and over, to make sure it was correct. It turned out that he did win the vote, 5-4. 
The close victory gave him a slight hesitation. He wondered why the vote was so close, and if they made the right decision. In order to quell those thoughts, he said, he drummed up the confidence to believe in himself, at that moment, and for what came next. 
"Don't think about the four people that voted against you," he said about the experience. "Just charge forward." 
As EIC, Bitter and his team brought Ka Leo to the national stage. In 2015, Ka Leo was a finalist for the Pacemaker award, which honors collegiate newspapers that exemplify the best examples of reporting, leadership and design in the country, according to the Associated Collegiate Press website. 
"Alex was always willing to follow through on a story that he felt was important," Jay Hartwell, faculty advisor at the time, said in a phone conversation. "That kind of leadership is important to a program that is student-led because you can't make them do anything if they're not inclined or not aware."
During that semester, he also applied for an internship through the Dow Jones News Fund. He didn't like his odds, though. This was the mainland, he said, and he would have to compete against students from universities across the country. But he applied anyway. 
After spending hours at Hamilton library working on his application that August, he submitted it. Then, one morning in December, he discovered a voicemail from an unknown number from a caller in New Jersey. 
"I nearly fell out of bed and called her back," he said. 
He was offered a job at The Street, a financial media company started by Jim Cramer. This was not only on the mainland, but at the heart of financial media. He spent that summer in a New York University dorm room, taking the subway to and from Wall Street, which he describes as a "quintessential New York internship." 
Interning at The Street gave him a crash-course in the world of finance. In this position, for example, he learned about mergers and acquisitions, net present values and financial statements, primary and secondary markets. This, in a way, reset his path. It steered him away from politics, and instead pushed him toward a business beat. 
"If you live in a capitalist country like we do, it's no surprise that capital is more important in a lot of cases," he said. "It guides politics." 
By the next summer, he was an intern at theWall Street Journal, where he later got a job at S&P Global Market Intelligence. This gave him access to all sorts of data and analysts that tracked the CPG world, helping him to develop a deep understanding of the industry.
Later on, a friend mentioned a job opening at Business Insider covering CPGs. He jumped on the opportunity, drawn to Insider's advancing position as a multimedia company.
The year Bitter was hired, Insider added 200 employees, 130 of which were in the newsroom. The company now employs about 500 people, the Wall Street Journal reported.
Part of the changes it made to adapt to lower ad revenue spurred by the pandemic was to develop a subscription model, which flourished in 2020 as it nearly doubled its subscriber base to more than 100,000 people. 
"If you get to the point where you build that audience, and they're willing to pay for it — that can be a very sustainable model of journalism," he said. 
So far, he has covered anything from greenwashing frauds to antitrust suits, which he said broke up "big razor." Bitter hopes to one day be an editor at Business Insider.He said he wants to lead a team again, and use his reporting background as a way to strengthen his ability to do so. 
Outside of work, Bitter is an avid coin collector. He spends some of his time off scanning open fields with his metal detector. Over the years, he's been able to collect all sorts of pieces, like relics from ancient kingdoms in Hawaiʻi, and leftovers from the Civil War in Virginia. Each item gives him a connection to the past, he said, like owning a small piece of history.
Bitter also likes to travel. Each year he makes the trans-pacific flight back to Hawaiʻi, when it's safe, and sometimes goes abroad. Like a lot of people, the first place he "hits-up" on vacation is the grocery store. To him, though, it's also one of the most exciting places to go. The selection provides a window into the country's culture, and it shows him what types of products are new and exotic there, while also those that are familiar. 
"What flavor of Kit-Kats do they have here?" Bitter jokes about thinking while looking at products in a foreign grocery store, adding that the CPG companies he covers at home still find a way to reach him abroad because of their global business practices. "What is the local candy bar that Nestle bought?" 
At his home,in Arlington, Virginia, the grocery shopping experience is changing. Part of the reason Bitter moved there in the first place was because there was a Costco nearby, but because of the pandemic, he hasn't been able to experience it like he used to, he said. 
Some of his colleagues are reporting that the market is becoming too familiar with online ordering, and that retail is moving to the internet. Amazon is also planning to move to his city soon, bringing another layer of e-commerce innovation with it.  
"I guess Jeff Bezos will be my neighbor," he said. 
But still, Bitter is holding out hope that grocery stores will keep some of the same brick-and-mortar appeal that inspired him before. He adds that he gets excited about the idea of waltzing over to the nearby Costco again, wandering the aisles and searching for his next story, like one more piece of history to hold on to. 
"It's been torture not being able to go to a Costco in person," he said. "As soon as it becomes an acceptable level of risk, I'm going back to the grocery store."