Hawaiʻi's Raising Cane's celebrated its newly formed partnership with the University of Hawai'i Athletics by serving free food to UH students from 3 p.m. - 4 p.m. today.
"I want these students to have as great of experience as I had when I was a student at UH," UH Football head coach Nick Rolovich said. "And if I could help that, and people could feel like I could be a benefit to that experience, I'm willing to help."
UH students were given a free "Box Combo" meal when they showed their valid student ID at the cash register.
"We are, obviously, so close to the University of Hawaiʻi campus, and it's just our way, we want to make sure that UH students really feel like this is a place for them to come to and a place for them to enjoy the foods," Raising Cane's regional marketing manager Ali Urbick said. "So we wanted to invite them down and serve them a free meal on us."
The partnership includes the support of UH Athletics' 21 men's and women's sports teams.
The multi-year partnership between Raising Cane's and UH was brought together in hopes of bringing more exposure to UH and the community.
"If you dig a little bit deeper, it shows maybe give a little bit of an inside of the direction of our UH community," Rolovich said. "I think it's a brilliant idea by Cane's, I'm happy to do anything that pushes UH forward in development, in exposure."
Rolovich and Raising Cane's firmly believe that the future lies within the students.
"It's not to help UH football, it's not to help Cane's, it's to bring the community together and do something greater with, in my opinion, Hawaiʻi succeeds when people get together for a greater good," Rolovich said.
One of the reasons for this celebration is to recognize all the hard work students put into their school.
"Education is something that is important to Raising Cane's, so we're just giving a shout out to the students who are working hard on their education," Urbick said.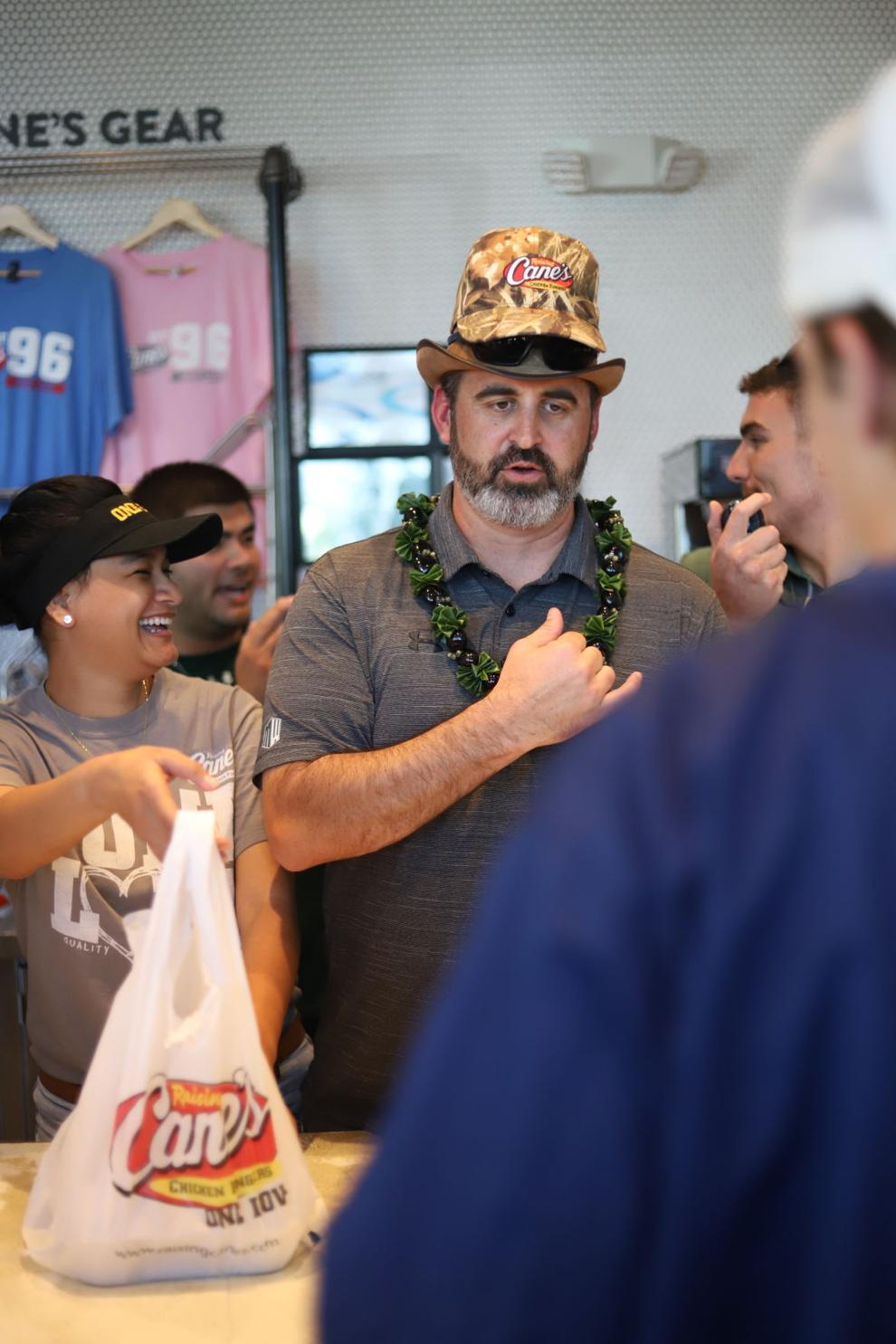 Both Raising Cane's and Rolovich hopes that the partnership grows and is long lasting.
Raising Cane's is on the corner of University and South King Street is the first of its chain to open in Hawaiʻi. They first opened their doors in December 2018, and hope to expand the chain to other parts of the island.