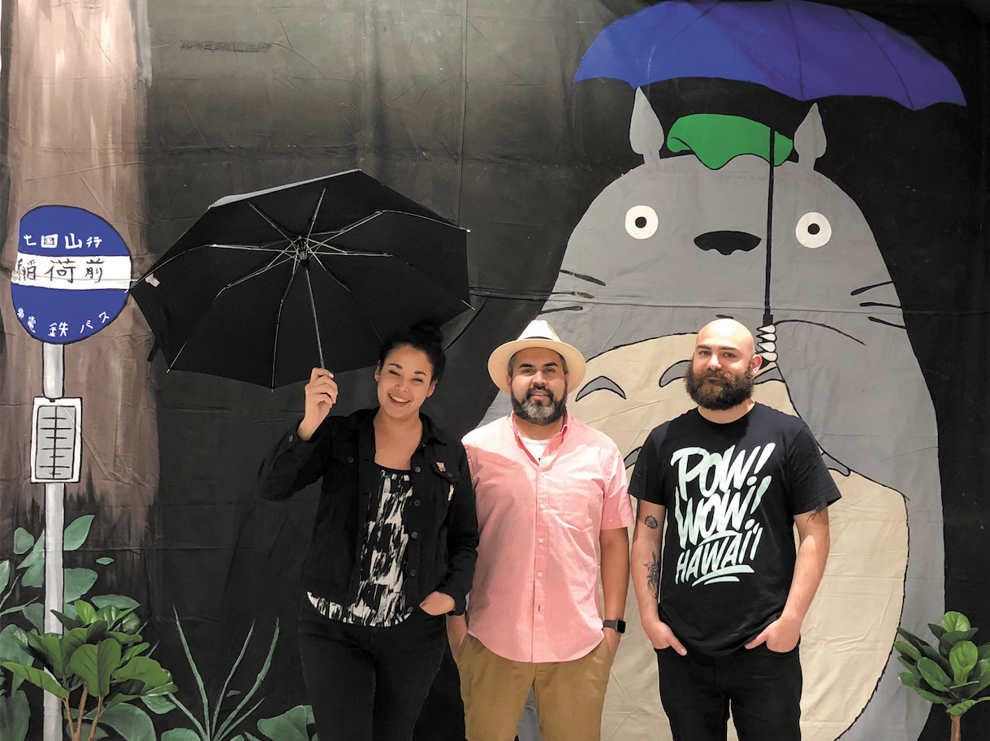 Spoke Art and Pow! Wow! Hawai'i have teamed up to celebrate the creator of Studio Ghibli films.
As a tribute to animator Hayao Miyazaki, more than 150 international and local artists created their rendition of their favorite Studio Ghibli films for this year's theme, "My Neighbor Hayao." 
The art was showcased in an exhibit at Ala Moana Shopping Center from Feb. 13 - 17.
"It started off with 75-100 artists, now, we're over 150 artists included in the show," Spoke Art Assistant Director Raul Barquet said. "All the work is based on the films. It's not an exact copy of the films." 
This is the first time Spoke Art showcased their artists' work in Hawai'i. Before they arrived in Hawai'i, they traveled to New York, Los Angeles and San Francisco. 
Some of Miyazaki's notable Ghibli films are "My Neighbor Totoro," "Spirited Away" and "Ponyo." The films have gained international success, and have inspired many other artists and their work.
"It's got an enormous following kind of globally," Barquet said. 
In the exhibit, some artists intertwined characters from movies that Miyazaki created, while others chose to stay true to the characters from the movies.
"Some artists mixed the films together so they have characters from different films together," Barquet said. "Other ones do a more kind of a faithful representation of the scene from the film and others do kind of a mix of maybe one film with different scenes or, you know, kind of scene that never happen (sic)."
Artists used various media to bring their masterpieces to life. Barquet created a large canvas of Totoro for people to take pictures with.
According to Spoke Art, the exhibit featured "a diverse array of painting, embroidery, sculpture and limited edition paints." Each artist offered a unique perspective and interpretation of the Studio Ghibli characters and themes in the films. 
The common themes that appear throughout Miyazaki's films are nature and adventure. 
"They're great films on the characters, and I think a lot of very prevalent themes of conservation and really strong female characters, a lot of salient lessons in them that a lot of artists resonate with," Spoke Art and Hashimoto Contemporary San Francisco Director Dasha Matsuura said. "Whether or not they work in illustration or pop culture work, it's really cool to see how this one particular artist and director has touched a lot of so many other artists (sic) and inspired them to make other work."
The exhibit showcases a mixture of new and old works.
"We bring some work that hasn't sold back, we bring in new works, so each one is a new experience that people can enjoy," Barquet said. "Each time that we have done the show, we've asked artists to make new work. They don't do the same piece again. Usually they find another movie that they like and do something else. Sometimes the work's similar, but they don't really do the same thing over again."
After the exhibit's stop on O'ahu, the art will return to Berkeley, California and will be available online for purchase on Feb. 21.
For more information on Spoke Art and to see the list of artists that were included in the exhibit, visit spoke-art.com/collections/miyazaki-tribute-show-prints.  
New artists can be found here.