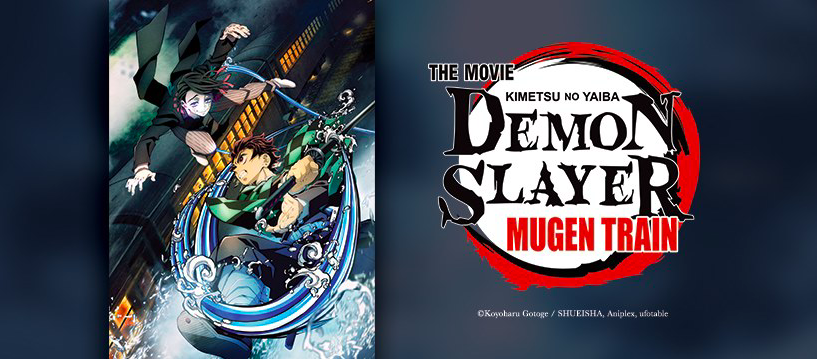 Demon Slayer, the Japanese anime series, loved by UH students and anime fans of all ages, has finally released its highly anticipated movie in American theaters. Despite the pandemic, Ward Theatres was alive with movie-goers throughout the premiere weekend, many sporting the anime's costume themes.
Demon Slayer: Mugen Train is filled to the brim with animated action. Tanjiro, Inosuke, and Zenitsu team up with one of the nine strongest demon slayer swordsmen, Senjuro Rengoku, to take on opponents more formidable than ever before. As the movie plays out, one starts to hope that the team will rise from battle with only wounds, until we remember that audiences in Japan have already warned us to keep our box of tissues ready. 
The Demon Slayer movie picks up where the animation's first season left off. Dissatisfied, Kibutsuji, the lord of all demons, has killed five of his lower six bodyguards. He leaves the strongest alive with the directive to kill the teenage demon slayer wearing hanafuda earrings (Tanjiro). At the strike of a tsuzumi drum, our protagonist has gained a terrifying and formidable new enemy. The three main characters set off to aid Rengoku in a mission to defend a train from demon attacks, unaware of the terrible battle they're about to face. 
The Demon Slayer series is based off of it's manga counterpart, written by Koyoharu Gotouge. The film broke box office records in Japan, surpassing even Spirited Away. It premiered in America on April 23. 
Amid each battle, characters unleash a myriad of different techniques. Each swing of a sword unleashes a new vibrant and colorful animation unlike anything viewers have seen in the first season. Rengoku becomes the star of the show when his awe-inspiring fire techniques are debuted. Viewers will be stunned at the monumental power he has as a hashira, and avid fans will find themselves in nervous anticipation when they realize just how much stronger Tanjiro needs to become before he can avenge the death of his family. 
Graphics and sound effects set this anime apart. The animation is unlike the detailed pictures like those in Makoto Shinkai's Your Name. Instead, the graphics have a manga-inspired feel. Small details make an artful difference, such as the shimmering water Tanjiro stares into that almost gives the impression of a HD recording. These unique animated techniques are subtly previewed in the last episodes of the animation's first season. 
Although the plot is clear enough for someone unfamiliar with the show's storyline to comprehend, having background knowledge enhances the movie experience tenfold. Those interested in watching the first season before purchasing movie tickets can find it on subscription platforms such as Netflix, Hulu, Crunchyroll or Funimation. For those who prefer to read the manga, it's available through a subscription on Shonen Jump.
Between intense fighting scenes and the comic relief that we can always rely on Inosuke and Zenitsu to provide, Demon Slayer will have audiences entirely absorbed, whether they be laughing, gripping the edge of their seats or dabbing at a tear.