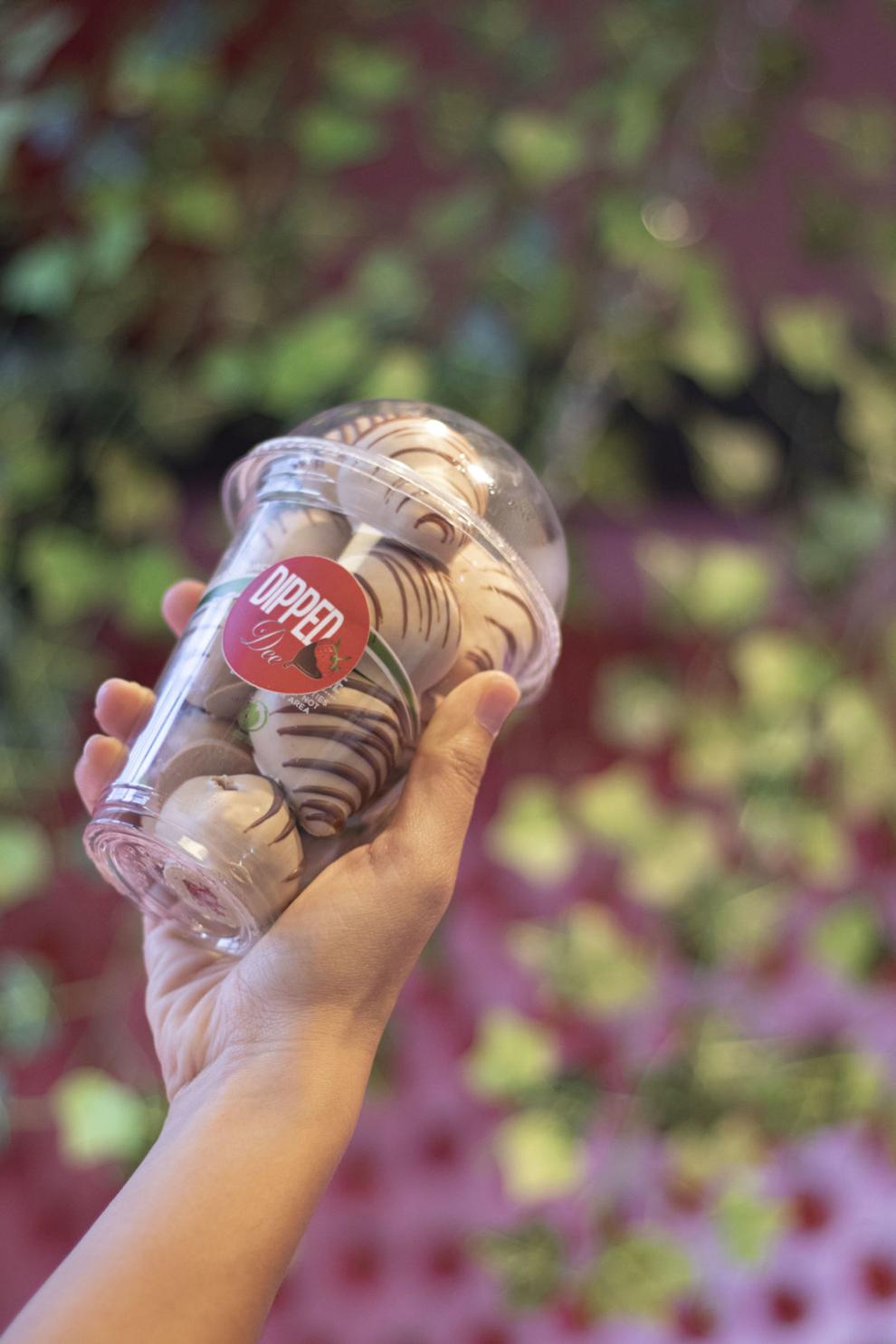 When Daniela Fry started making chocolate-covered strawberries in 2013, she did not think she would be making a living selling them. The excitement she felt when giving the sweet treats to friends and family and quitting her part-time job were what inspired her to create "Dipped by Dee," a local business that prides itself on its fun take on the usual Valentine's Day morsel. 
Founded in February 2019, Dipped by Dee started as a Valentine's Day pop-up. However, due to successful sales throughout the month, Fry decided it was time to open their first location, which was located on Republican St., before finding a permanent spot on 111 Sand Island Access Road. Since then, the business has gained a large following on the island. 
According to Fry, Dipped by Dee, though based on a simple idea, is more flavorful than meets the eye. 
"It's not just chocolate and strawberries, it's a lot more than that," Fry said. "It's flavor, it's presentation. We take a lot of pride in quality and freshness." 
Making the berries
Dipped by Dee offers a plethora of sweet treats, including chocolate-covered strawberries, which can come in "Mini Boxes" or cups, called "Berry Bitez," that are coated in chocolate and a topping, as well as "Dipped Apples," which are coated in caramel before being dipped in chocolate and a topping.
According to Fry, there are about 20 flavors of toppings that customers can choose from, including Fruity Pebbles, Oreo and Churro. Around the holidays, themed flavors are added to this list. They also offer gift boxes and "Dip Kits," which allow customers to get their "dip on" at home. 
Dipped by Dee also accepts custom orders, which is one of Fry's favorite things to do. 
"We also do custom orders, which is one of the things that are really fun because there's an endless amount of possibilities with strawberries," Fry said. "You can come up with any idea at all and we can make it work; we'll bring it to life. It can have chocolate, it can have fondant, edible glitter, edible images - it gets fun and it gets crazy."
To celebrate this year's day of love, Dipped by Dee added a "Valentines Collection" to their menu, which includes pre-designed Valentine's Day boxes, a rose bear and a breakable chocolate heart, which social media influencer Bretman Rock recently featured on his Instagram story. 
Since its opening last year, the demand for Dipped by Dee products has increased. Fry is constantly finding ways to keep up with it, especially during Valentine's Day. 
"We have to do what we can to satisfy the demand. Being the busiest time of the year and the amount of detail and work that we put into our work, it can be difficult to keep up with the demand," Fry said.  "We specifically pre-design Valentine's Day-themed boxes and give our customers boxes to choose from. If we know exactly how many berries, size and which flavors there will be, we can make a bigger batch of that, then put it all together instead of focusing on one specific box and one specific design. It allows us to bring out a lot more products and keep up with demand." 
Fry mentions that creating these treats is no easy feat. 
"[The process of making the products] is a lot more than people think. We get anywhere from 10 to 25 cases of strawberries delivered to our store every single morning," Fry said. "The first thing that we do is sort our berries by size. We also take out anything that is not up to par, so if it's mushy, slightly damaged or a completely crazy shape because we do get every type of berry - we will take those out and will either return them to our supplier for credit or we will wash them, dry them, bag them up, sort them so the customers can enjoy them. We call them the 'Reject berries.'"
After prepping the chosen berries, they are coated with chocolate and one of the available toppings. The apples undergo the same process, but with caramel added to the mix depending on what flavor you order. 
Using strawberries also presents a unique challenge for the business: quality control. 
"It's not easy working with strawberries because although we are able to get strawberries all year-round, there's always a difference. Whether it's a different brand, different quality, size, shape, color - it's never the same," Fry said. "Some of the customers that come regularly will get the biggest feel for this, but the strawberry always tastes different. Sometimes they're sweet, sometimes they're sour, sometimes they're more firm. It's a never-ending changing game for strawberries."
The girl behind the dip
During her undergraduate years, Fry studied international management and attended business school; however, she did not expect to become an entrepreneur. 
"I did not think I would run a business. My initial goal was not at all business-oriented. It really just happened," Fry said. "I finally graduated from college and when I moved out here, I had a lot of time on my hands and I got to be a lot more creative with it.  No one has taught me anything that I know; I have learned everything on my own. It's all been trial and error." While in college, Fry competed in many business plan competitions, where she faced obstacles and a lack of support. 
"I had investors and business people who doubted me. I competed and sat in front of all the judges; I only had one person rooting for me," Fry said. "They asked me, 'How do you think you'll make a living making chocolate strawberries?' Everyone else was telling me that 'brick and mortar' was a failure, that I was in over my head thinking that what I'm doing now will ever work." 
These obstacles were what pushed Fry to continue toward her goal. 
"I didn't listen to them; I didn't care what they had to say. I knew I could do it. I didn't know how but I could figure it out." 
Becoming a business owner has also helped Fry overcome personal obstacles. 
"I've had to completely change my personality. Not be someone who I am not, but be someone I never thought I would be: someone that people look up to, someone as a role model," Fry said. "I began to realize that people look up to me and I am an inspiration to people. I've had to ask myself: who do I look up and how would I want them to act? That mindset has completely changed as well and has an effect on how we run our business." 
Fry is grateful for her business partner, who helps with the "business side," including payroll, taxes, contracts and watching the business' margins, as well as her husband, who serves in the U.S. Navy. 
"When he's on-island he'll work very early, he'll get off very late and he'll still come to the store and help close. We're very lucky to have him help us out and support us, him being a face of the company, as well," Fry said. 
Fry is especially thankful for the community support.
"Our consumers: my friends, my family, or people who purchase from us, they create the demand. They are the ones that keep us going."
For students who wish to become entrepreneurs and start a business, Fry has some advice:
"There's a lot of people who try and start new businesses but get discouraged. There have been so many obstacles, so many setbacks in many different ways, whether it be negativity or people who don't believe in you, people who want you to fail - you can't let any of that hold you back. You can do anything you want to do as long as you set your mind to it and you put work into it. It's about having the motivation and perseverance to actually do it."