A member of the Korean boy band BTS, Suga's mixtape is topping the iTunes charts despite being released nearly two years ago. "Agust D" is a self-titled mixtape named after his stage name as a solo artist. Inspired by old-school hip hop, his personal life and journey, the mixtape's earlier version consists of 10 tracks while the newer one consists of eight tracks.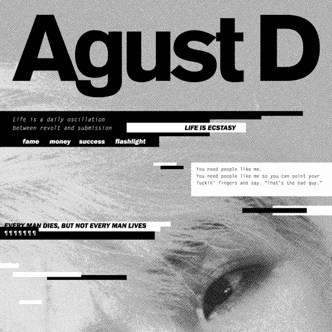 As a member of K-pop group BTS, who recently swept the American music scene in 2017, Suga, whose real name is Min Yoon-gi, is one of the group's prominent producers and lyricists. When the stage name, Agust D, is flipped backwards, it stands for Daegu Town (DT), his hometown on the southern part of South Korea, and Suga, his BTS stage name.
Throughout BTS' discography, its diverse genres include pop, rock, R&B, ballads and neo soul, to name a few. But Suga expressed that his work in BTS and his mixtape are very different and separate. In an interview with Marie Claire Korea, he said his mixtape is written truthfully regarding how he feels, which is the reason why he released his mixtape under the pseudonym Agust D. The mixtape was entirely produced and composed by Suga himself.
Inspired by his underground rapper days in Daegu, "Agust D" is filled with intense rap lyrics in an old school hip hop beat. Although the mixtape is entirely rapped in Korean, it still dominated charts in mainly English-speaking countries.
In August of 2016, the mixtape was first released for free on SoundCloud and cloud sharing sites. The title track's music video was also uploaded on YouTube and garnered 2 million views in less than 24 hours according to AllKpop. It is a 10-track mixtape with an intro and a title track which sample James Brown's "It's a Man's Man's Man's World," and was recognized in Fuse's "The 20 Best Mixtapes of 2016."
On Feb. 21, 2018, "Agust D" became available on iTunes and Spotify without any prior announcements and, despite being a Korean hip-hop album, quickly peaked at #3 on the US iTunes Album Chart, #9 on the Australia iTunes Album Chart and #11 on the UK iTunes Album Chart. Two days later, it reached No. 1 on iTunes Worldwide Album Chart, according to CelebMix. It is, however, missing two tracks featured on the album's first release on SoundCloud: the intro and the title track.
In order to enjoy "Agust D," you must listen to it chronologically. The mixtape consists of old-school style beats with a few slow songs, using tempo to effectively tell his story. Suga expressed himself truthfully in this mixtape. The lyrics talk about his identity and mental health — something you would not typically find in a K-pop song.
The eight-track mixtape starts off with "Give It To Me," a high-energy diss track targeting those who said he will never be successful. The second verse pretty much sums it up:
"I'm still not sure about the secret to success/ But I think I know the secret to failure/ The secret is to play the fool just like you/ And keep blabbing your mouth/ But I wouldn't live like that even if I had to die."
This song is followed by "Skit," an audio recording of Suga telling his older brother how his support helped him to be the artist he is today. "724148" and "140503 at Dawn" are simple hip-hop tracks which detail his transition from being an underground rapper from a province in Korea to a K-pop idol trainee in the big city of Gangnam.
The mixtape reaches its climax with the "The Last," his most personal track, in which talks about dealing with depression and the cost of fame. It also details how he fully accepts the "K-pop idol rapper" title despite the stigma surrounding it.
"I've denied my nature many times/ My address is idol and I won't deny," Suga raps.
"Tony Montana," featuring Yankie, is a Scarface-inspired feature track that talks about how success and happiness are not the same. The fictional character has similarities with Suga, having started from the bottom and worked hard to be on top, but Tony Montana became someone who only chases money.
"I want the money to chase me but I hope/ I don't become the monster chasing only money," Suga raps.
"Interlude_dream, Reality" introduces the closing track of the mixtape, "So Far Away," featuring indie singer Suran. The closing feature track has a dreamy feel to it and combines Suga's rap with Suran's fascinating vocals to convey the song's message to keep moving forward.
"Dream, you will fully bloom/ After all the hardships/ Dream, your beginnings will seem humble,/ So prosperous will your future be," Suga raps.
With its catchy choruses and appealing beats, the self-titled track "Agust D" and "Tony Montana" are the songs that will definitely hook you to this mixtape. Other than the fact that the choruses of these songs are in English, "Agust D's" fast rap in verse three can catch some off guard.
The autobiographical track "The Last" stands out because of its truthfulness and execution. It is a song that tells a story. Even if you do not understand Korean, the beat and tone of his rap can tell a lot. The beginning starts off slow and deep, as if he seems to be struggling or hiding. As the song progresses, Suga seems to loosen up and raps more confidently. When listening to the song for the second time with the English translation in hand, the first half of the song is about the lowest point in his life, while the second half is about acceptance and moving forward.
"140503 at Dawn" is the simplest track in "Agust D." When compared to the rest of the mixtape, its clean beat and steady rap flow is lacking. But the short, slow-paced track is a good way to transition to the powerful track, "The Last."
As a 2-year-old Korean hip hop mixtape album, "Agust D" managed to peak in English and non-English speaking countries. What makes it so unique is that different people from different parts of the world resonate with his music. Suga's storytelling execution in the music he creates tears down the barrier of censoring and sugarcoating. "Agust D" is straight to the point. With a simple Google search of English translations, it is not difficult to relate to his music anymore.