"'Sewa fare' is a Susu term meaning 'joyful celebration,' that name is befitting of us because the group is dynamic. They're from different backgrounds and many different professions. We just welcome everybody to come out—you don't have to be a 'master dancer'—you can be [any level of dancer] and the class is open to all."
These are the words of Marcia Howard—a member and one of the founding officers of the Hawaiʻi African Dance & Rhythm RIO at UH Mānoa. 'Sewa fare' is the cultural heritage this organization thrives on. The RIO's leader, Liza Simon, a graduate student at UH Mānoa, illustrates that rhythm and dance are inseparable from everyday life in West Africa and has instilled community and affirmed identity in Africans and their descendants, who in turn have exerted profound influence on dance and music across the globe.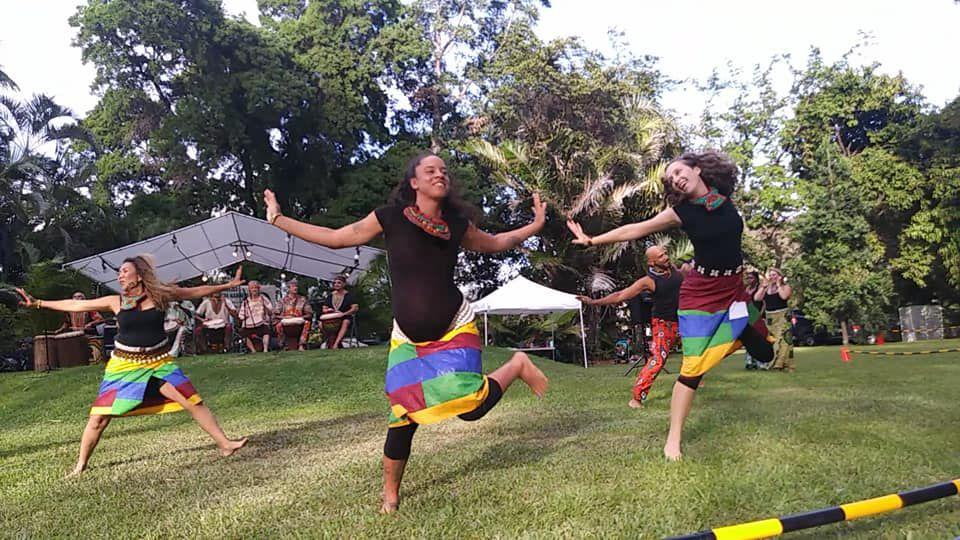 The RIO provides a community for UH students to discover their own "happiness, passion, and cultural" exchange in learning through African dance and rhythm. Star Anastasio from Kentucky and Moussa Bangoura, a drummer from Guinea in West Africa from 2001-2002, founded the RIO.
Bangoura's nephew, Seikou Camara, has taken his place in the RIO and brings opportunities to the other members such as teaching more individualized drum lessons outside of the RIO. Camara also offers cultural exchange opportunities by bringing the organization's members to the heart of West Africa—where they are immersed in the place where the drumming and dance culture of the RIO originates from.
In addition to meeting twice a week for classes, the Hawaiʻi African Dance & Rhythm RIO performs in many local community events such as the Martin Luther King Jr. Day Parade. Howard also brings members to perform at schools she teaches at to show local students the cultural diversity in the Hawaiian Islands.
"There's a thread of similarities between all cultures, and I hear it specifically in the drumming," Howard said.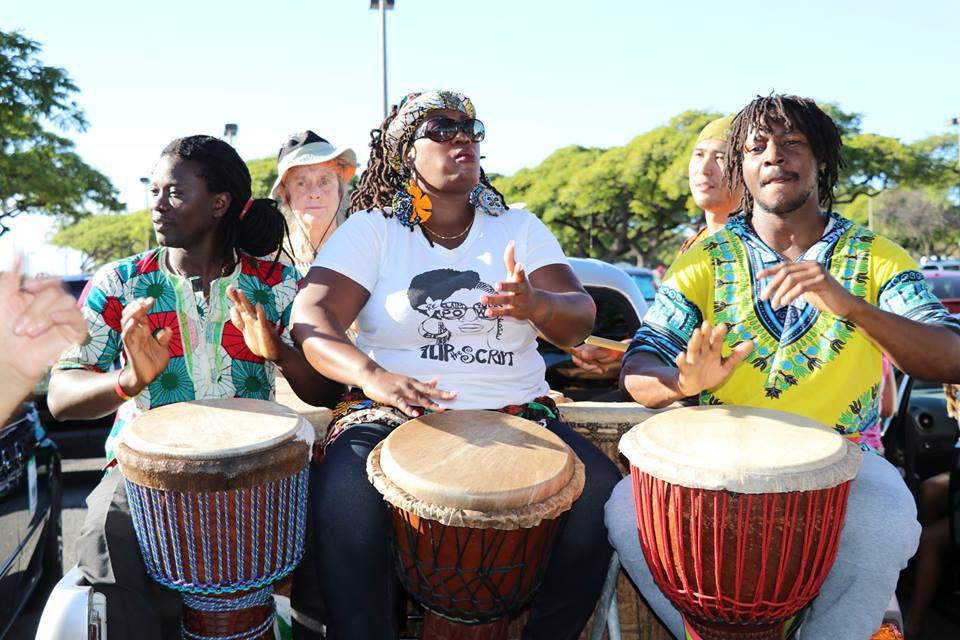 Member Testimonies
The organization's lead drummer, Camara, explained that whether it is West African drumming or not, music makes people happy. He has students who drum with him because it brings excitement and happiness to their routine lives. He encourages anyone and everyone to come try out any of the organization's regular classes or his own to "be immersed in beautiful music and happiness".
"I've played music my whole life [and Guinean heritage, music has been my life]. My whole family [is comprised of musicians]," "When I play music, [I am] happy. [You could] see how much energy [all of us drummers] had [during class], music is our lives," Camara said when asked about his contributions to the RIO and how it has impacted his life.
Ahmad Xallen, a full-time undergraduate student at UH Mānoa, said that the RIO gives people a space to dance and express themselves and to reflect upon their culture. "A lot of different groups from around the world never get the chance to dance, so [I come here] to release in a social setting. I'm not dancing for anyone but myself, the people dancing with me, the drummers, and my ancestors—that's what this is about, and it's a good place to steward that," Xallen said.
When asked what he wanted other UH students to know about African dance and drumming, Xallen said, "It's a lot harder [and more fun] than you'd think. It's community based and it's not what you've seen on TV—this is real— ... using all of your body, mind, and spirit ... and the most important thing is that you're connecting with everyone."
After Dr. Uribe had finished teaching, she was asked what she would like others who may have never experienced or seen African dance and drumming, let alone heard of the Hawaiʻi African Dance & Rhythm, to know about the organization—she responded, "I think that [this organization] is a great way for people to understand that Africa is a [continent, not a country]. Usually what people know about Africa is very [negative and] very little—war, famine, and things like that—the majority of Africa is not like that, but that's what they see on the news, so this is a great opportunity to understand the basis of African culture and [its] positive aspects."
Uribe emphasized that the organization is open to everyone. Uribe then stressed that the organization's dance classes are unique because most other dance classes dance solely to recorded music, and that it's, "such a shame because [students] are missing the connection that was there before—which is with live music—you can't connect with an iPod like you can with musicians ... that [rich] human imperfection of just being slightly off. There's a symbiotic relationship between the person playing the music and the person dancing to the music ... folk dancing [preserves] that aspect."
As its members have encouraged—"anyone and everyone" is welcome to dance and drum in their weekly judgement free oases and learn more about community and African culture through music and dance.
According to Simon, "dance is a way of communicating across borders of geography, race [and] time. The essence of African dance here in Hawaiʻi, to me, is that it [gives people the opportunity to] be part of something larger than themselves and to feel absolute joy."
The RIO can be reached through email or Facebook for inquiries regarding upcoming events and other information.