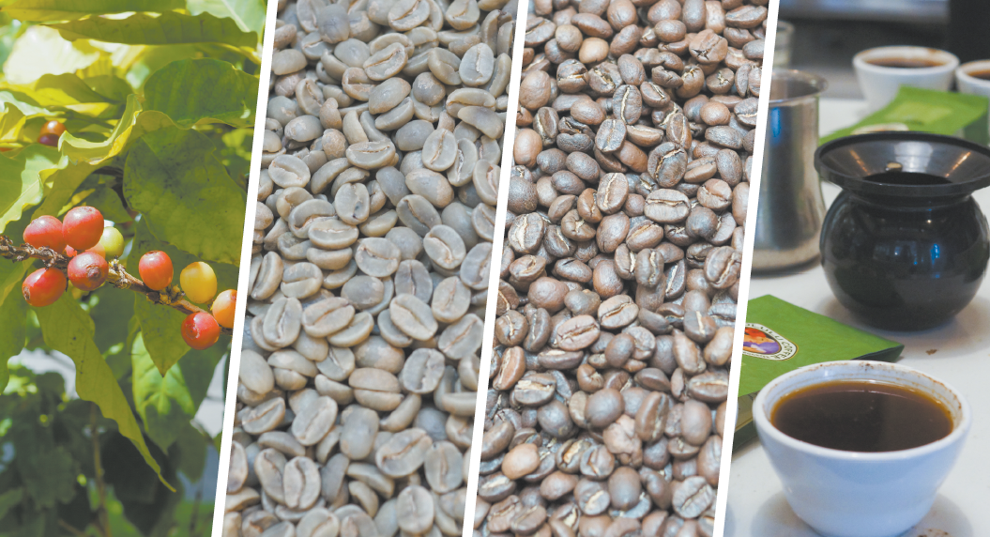 Thomas Keisling washed dishes at the Moana Surfrider and did not know a thing about coffee when he was 20 years old. One day, he decided to go for a career change. 
He has spent the last 10 years trying to perfect the art of coffee. He is now the head roaster of Honolulu Coffee, where he tests, roasts and prepares coffee at work everyday. 
Like wine, coffee has different grades and quality. Keisling and Tyler Zimmer, owner of Honolulu Coffee, often test coffee from around the world for its flavor by "cupping," a process where graders slurp (sip) each batch of coffee loudly to determine its quality. 
Keisling explained the loud slurping helps to engage taste buds and sense of smell. 
Some coffees have different taste at different temperatures, so the graders go around the table and slurp the same coffee three times, to determine the coffee's quality and value. 
Zimmer is also a Licensed Q-Grader with the Specialty Coffee Association of America, which means he knows the "coffee language" - what good acidity, body, flavor, aftertaste and sweetness in coffee should be. He explained the grading scale is out of 100. Coffee scored above 84 is "good coffee" and anything above 90 is truly special.
"For us, it's to produce the best and control factors going into that. We think we can grow the best Kona coffee. That's our incentive to do it so we can say we have the best," Zimmer said. 
Honolulu Coffee was founded in 1992 but did not grow and roast its own coffee until 2012 when they started a 75-acre farm in Kona on Hawai'i Island.  The company recently bought 125 additional acres north of its current location.
Twenty percent of the company's coffee comes from Kona. Zimmer explained Kona is the perfect location for coffee cherries to grow because of rich nutrients from volcanic soil along with ideal light conditions and moderate rain.
The process of supporting local is not cheap. Zimmer said the company spends 30 percent more to grow their own coffee beans instead of purchasing from other coffee producers. 
Keisling said everyone in the company takes pride on the extensive control they have over quality through the entire process, making them stand out from coffee giants like Starbucks. Even harvesting is done by hand. He said experienced pickers can pick up to 300 pounds of coffee cherries a day.   
Honolulu Coffee has seven locations on O'ahu. It also has an experience center at the old Hard Rock Cafe location on Kalakaua Ave. and Kapi'olani Blvd., where visitors can sit at a bar and watch an industrial coffee roasting machine produce up to 1,000 pounds of coffee beans a day.