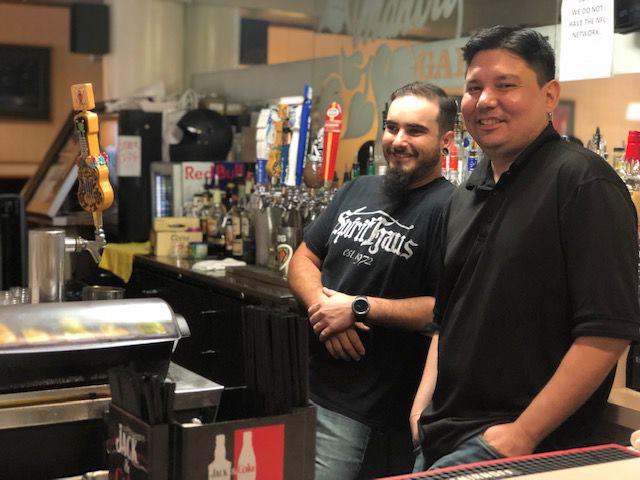 French bread sandwiches, pad thai noodles, pho and macaroons are a few eats that come to mind when thinking of Ba-Le Sandwich Shop. Another treat that comes to mind would be Mānoa Gardens, University of Hawaiʻi at Mānoa's on-campus tavern.
Professors and students are seen here daily, tucked away inside Hemenway Hall, catching a sports game, doing some light studying and just talking story.
If you are grabbing a drink after class, two familiar faces you might see at Ba-Le are James Whitten and Tristan Hussey-Burdick, otherwise known as the bartenders.
When people think of a worthy bar to frequent, an important characteristic is good service.
"With good service, comes a good atmosphere and a good atmosphere also has good company," UH Mānoa music lecturer William Watson, a Ba-Le regular, said. 
Being an on-campus watering hole can be complicated and requires level headed bartenders that know how to keep a calm and collected space. Like all bars, "regulars" are also part of the aesthetic.
"Between the hours of operation and the sense of campus community it naturally lends itself to an easy going, positive environment," Whitten said.
While some students could find campus to be a rigorous place of learning and studying, others would tell you that sitting at the Ba-Le bar counter and enjoying a cold brew takes the tension off.
"It's cool how students and teachers alike have a place to unwind," Hussey-Burdick said.
Ba-Le is a "cafeteria-style" food option, which allows you to buy a sandwich and walk over to the other side to grab a drink and chat with colleagues. The outside courtyard hosts events such as poetry slams, live music and science talks which creates a diverse scene of people.
"I could be sitting next to a new student or sitting next to a tenure professor sharing a drink with them," KTUH radio host and regular at Ba-Le Taylor Fujimoto said. "Conversations can be really compelling and stimulating."
After ten years of working at Ba-Le, Whitten says Ba-Le has more regulars than most bars, given the location, and that a number of them have become his friends.
Once the last call drops, the bar of choice for Whitten after work is Anna O'Brien's, a local pub located in Mōʻiliʻili. Anna's is also where Hussey-Burdick bartends when not working at at Ba-Le.
"Anna's and Ba-Le can overlap," Hussey-Burdick said. "People that frequent at Ba-Le can also be found at Anna's and the environments are a lot different which is nice to change up."
Ba-Le's Mānoa Gardens is a day bar on a school campus while Anna's is a local night bar off campus.
When Whitten and Hussey-Burdick were asked of their drinks of choice, both said whiskey.
"Tristan is the pickle back to my Jameson," Whitten said comically. "We have our fun, but one of the things I most appreciate about Tristan is his willingness to pitch in and help out."
"Things run a lot smoother when we're both on shift," Hussey-Burdick added.
In any setting, coworkers who work well together can create a flow that is noticeable to people who enter the establishment. The Ba-Le bartenders are known to work well together and keep the bar atmosphere comfortable for scholars and the university staff.
"The bartenders certainly make this place home," Watson said, "They're very witty, they make good conversation, they have great memory, they know who you are and what you want to drink. They're always very personable."
Small but important things like keeping the room well lit and the music volume at a low level help to maintain the comfortable work-style atmosphere. Along with serving drinks, Whitten and Hussey-Burdick keep the Ba-Le ambience going for all to enjoy, including alumni visiting their alma mater.
"I still enjoy stopping by Ba-Le to catch a game and have a drink with old professors," graduate Mark Lavender said. "It looks like the exact same, but that's what I enjoy about it."