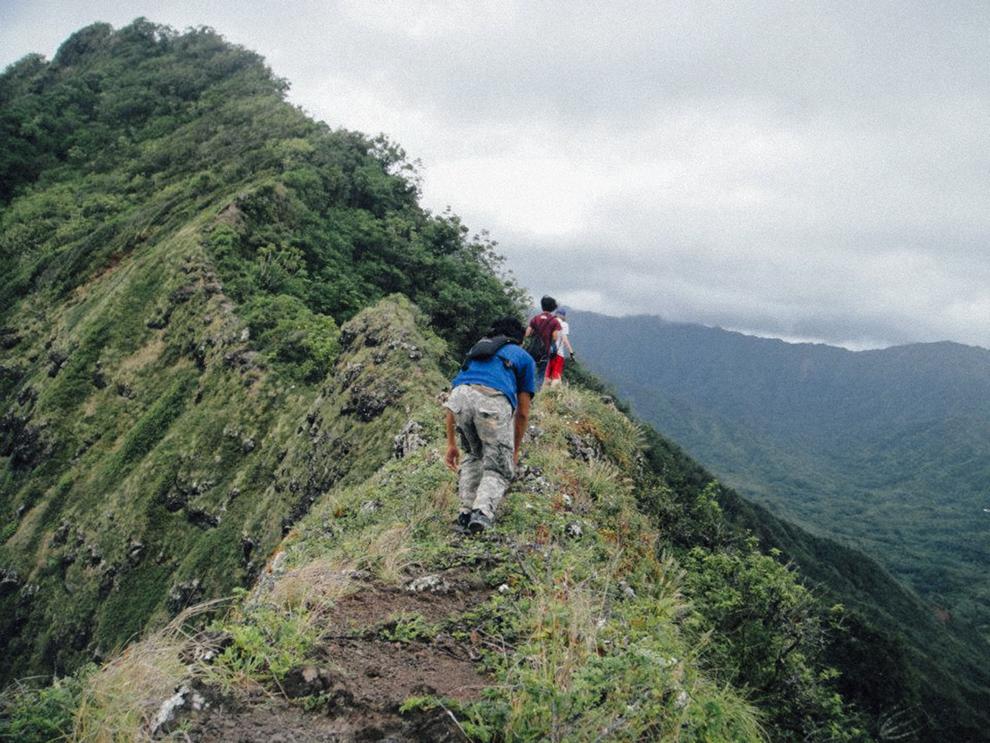 If you're looking for a blood-pumping, heart-racing start to your spring break, here are some ideas to keep you on your toes. Note that these six hikes range in difficulty from beginner to advanced, so be sure to pack your best hiking shoes, sunscreen and plenty of water. 
Waimano Falls and Pools
If you're looking for a place to take a refreshing dip and are willing to stray away from the usual beach setting, this is the hike to try. It is great for beginners and is about 1-2 miles long and takes 1-2 hours to complete. Located in Waimano Home Road in Pearl City, this freshwater pool waterfall hike can get muddy – wear proper hiking shoes and carry mosquito repellant. Parking is available in the residential area. Also remember: before entering any body of fresh water, be sure that you do not have any open sores or cuts. Any open wounds will put you at risk for getting leptospirosis, a bacterial disease.
Kuli'ou'ou Ridge Hike 
Another great hike for beginners is a ridge hike located at Kalaau Place in Hawai'i Kai. It takes about 3-4 hours to complete and is 4-5 miles. You can expect to encounter many different terrains on this hike, as it varies between forested and rocky. The view overlooking Hawai'i Kai makes the hike worth it. The beginning starts off as a valley trail, and you can later decide whether you want to only hike the valley trail or continue to the ridge portion. There are some slippery areas in the middle of the hike due to scattered pine needles. The end of this ridge trail is like a second Koko Head and will give you your glute work out for the day. 
Wa'ahila Ridge Hike
Wa'ahila Ridge Hike, also known as Mount Olympus, is located at Wa'ahila Ridge State Recreation Center, which is about 10 minutes campus. This ridge hike is 3-4 miles long and can take up to 3-4 hours. This hike is intended for intermediate hikers, as the path has a lot of up and down weaving as well as steep inclines. When you get to the top, you will get to enjoy a view of the Windward side of the island. 
Ka'au Crater Hike
For intermediate hikers, this waterfall hike located near Wai'ōma'o Road, will blow your mind. It extends from 4-5 miles and takes about five hours to complete. This hike can have muddy and bushy surroundings best suited for long pants and long sleeves. There are ropes and flags that will guide you to the waterfalls. Along the way, there are three waterfalls, a view of Ka'au Crater and, if you decide to hike all the way up the summit, there is a magnificent view of the Windward side of the island. 
Pu'u Manamana Hike 
Attention advanced hikers, only: you have not done it all until you've completed the Pu'u Manamana Hike, also known as the "Crouching Lion." Located in Ka'a'wa near the Trout Farm Road, this hike extends out 3-4 miles and takes five hours to complete. Be mindful that this is an advanced hike. Do not bring dogs, children or inexperienced hikers, as the trail can become narrow. Be especially cautious when going down, as the trail is also steep in certain sections. At the top, you can expect a breathtaking view of Kahana Bay. 
Pu'u Ohulehule 
This ridge hike extends out for 7-8 miles and can take up to seven hours. This hike is not for the inexperienced faint hearted. Bring full water bottles and wear your best hiking shoes, as you need to be fully prepared to take on this hike. Located in Kahana Valley State Park, this mountain has slippery rocks, steep cliffs and can get humid. Pack bug spray and wear pants, as some parts of the trail are not well maintained. When you reach the summit, you are rewarded with a view that overlooks Kualoa Ranch and Pu'u Kanehoalani.
DISCLAIMER:
These hikes and many others on Oʻahu and in Hawaiʻi, although scenic, pose many hazards. Many trails on Oʻahu closely follow cliff edges, are unstable in multiple places, require rock climbing abilities, are muddy and slippery (especially after heavy rainfall) and pose a variety of other dangers. Prior to undertaking any hike on Oʻahu, do your research to determine whether you are capable of completing the hike. Websites like Yelp allow people to post reviews of trails so you can read comments from multiple people with different skill levels who have attempted the hike you are considering, so you can get multiple perspectives on how challenging a hike will be. Be aware that different people will have different perspectives on what constitutes "easy," "intermediate" and "hard" difficulty levels.
If you do decide you are able to hike a particular trail, be sure to bring good hiking shoes (preferably hiking boots), sunscreen and more water than you anticipate needing (at least two to three liters). Tell at least one person who isn't coming with you where you will be hiking and when you expect to return, so that if you do not return at the expected time, that person can contact authorities to come and find you. Take a cell phone with you, but remember that you may not always get reception on Oʻahu trails. Do not leave the trail for any reason - there are often unseen dangers. If you begin a hike and realize you are not capable of continuing on, either because you are not feeling well or because you are not confident in your abilities on the terrain, turn around. If you are with companions, do not be afraid to tell them you are not comfortable continuing, and either request that they return with you, or offer to wait for them in a safe area until they complete the hike. Prior to leaving on the scheduled day of your hike, be sure to check weather conditions in the area you are hiking in. If it will be raining while you are hiking, or if it has recently rained, consider rescheduling the hike for another day, especially if the hike you are attempting is steep and/or muddy.