Every day, for 20 hours a week, all Lalelei Mata'afa had been doing was the same movement, the most-basic type of water polo training: egg beating and legging up to pass the ball to a teammate. But suddenly, something felt strange in her right knee. "At that moment I didn't even feel any pain," she recalled, "but I knew that I couldn't feel my leg." 
The Big West Conference Championships were just two weeks away, and the University of Hawai'i center forward feared that her season was over. Or maybe worse. 
"I tried to shake it off," she said, "because I've had moments before where something had gone wrong, and then I was completely fine. But this time I knew something was wrong." And she had something to blame: The COVID-19 pandemic, which had kept her from staying on her usual training regime for nine months.
The athletic trainer for the UH water polo team, David Krukemyer, said that the pandemic may not be the reason for the number of injuries seen during the spring semester at UH and across the country but might be a reason for the types of injuries seen. 
According to Krukemyer, there "have been more overuse-type injuries, or more of the injuries we see from de-training, where an athlete's body is not able to handle the stress of the season at that point."
Krukemyer has seen both physical and mental issues arise in UH athletes during the pandemic. "The hardest thing for athletes is thinking you can get right back into the same level, no matter how much time you have taken off." He added that an athlete's fitness naturally decreases after months of reduced activities. 
"Without proper conditioning," he said, "you're not in the best place to compete at the level expected." This discrepancy in training load and preparation has created the risk for more injuries, in the sense that athletes are less prepared for such large training loads, which are standard requirements of university-level competition. 
Mata'afa recalled that all she could think about during the pandemic was how long she had been wanting this championship. "I had been wishing for a season for months and finally I was there," she said, "and then this happens just two weeks before." 
She recalled that the injury was "pain I've never felt before." She acknowledges it could have been a freak accident, but she also wondered if having nine months off regular training, because of the pandemic, might have weakened her knee. She added, "It could have been because I hadn't been using that muscle." 
Because the pandemic is still raging across the world, and few sports teams have returned to full competition, there is a lack of evidence on the long term impacts that the COVID-19  pandemic (and forced isolation periods) has had on athlete's bodies and minds. 
But the research studies have already begun, and the early results are concerning. For example, in the article "Case Report: Return to Sport Following the COVID-19  Lockdown and Its Impact on Injury Rates in the German Soccer League"published in February by the Frontiers in Sports and Active Living journal, a group of scholars analyzed recent injuries within the Bundesliga, a professional associated football league in Germany, to compare injury rates experienced by Bundesliga athletes before and after the COVID-19  lockdown.
They found that players had a 3.12 times higher rate of injury when controlling for games played compared to injury rates pre-lockdown. They also found about a 1.5 percent increase in the total number of athletes who were injured.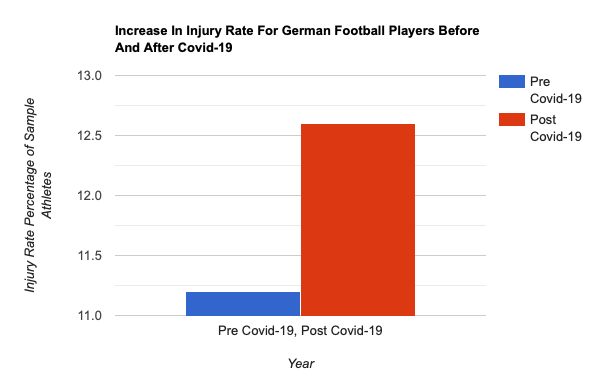 The case study noted that "while the overall injury rate both pre- and post-lockdown in the Bundesliga was relatively low, the data does provide professional and collegiate sports teams information to guide safe RTP protocols to mitigate injuries manifesting from over- or under-training." 
Before her injury, on March 12, 2020, Mata'afa suffered another kind of a setback. She was standing at the edge of a cold pool, blissfully unaware that it was to be the last time she would have to dive in for a pre-game practice for 10 months. 
She acknowledged dreading that plunge. It had been a cold California morning, and there had even been steam wisping over the surface of UC San Diego's pool. Mata'afa had no idea that in as little as five minutes, she would have done anything to dive into the cold and play the sport she loves. 
Just as she was seconds away from building up the courage to take the plunge, the head water polo coach, Maureen Cole, broke the silence and called her team into a huddle. 
Coach Cole passed on the news that the Big West Board of Directors had moved from the decision to "indefinitely suspend" to "cancel" all Big West spring conference and non-conference competition for the 2020 season. 
Mata'afa understood that it made sense — even the NBA had suspended its season the day before — but it still came as a shock. Wimbledon followed on March 13, and the announcement that the Tokyo 2020 Olympics were to be postponed until 2021 came a couple of weeks later on March 24. Athletes all over the world — from amateurs to Olympians — were being pulled from their performance spaces by the pandemic. 
"This could be the last time we practice together; let's make the most of it" were the words Mata'afa remembers Coach Cole uttering that morning in March 2020. There were exchanged expressions of shock, and then tears, on the faces of both her teammates and coaches. 
The UH water polo women could see the home team, UC San Diego, hugging and crying inside their pool complex. They, too, had received the news. Mata'afa reminisced about the unlikely scene — rivals crying and comforting one another — separated only by a glass door. 
"People were asking what 'postponed indefinitely' actually means," Mata'afa said. "There was definitely an element of hope and uncertainty," she added.  
In honour of their lone senior at the time, Samantha Malouff, the UH team decided to practice together one last time. Mata'afa described the airy awareness that it could be their last time together. It turned out that it would be their last practice for ten months, and for some, forever.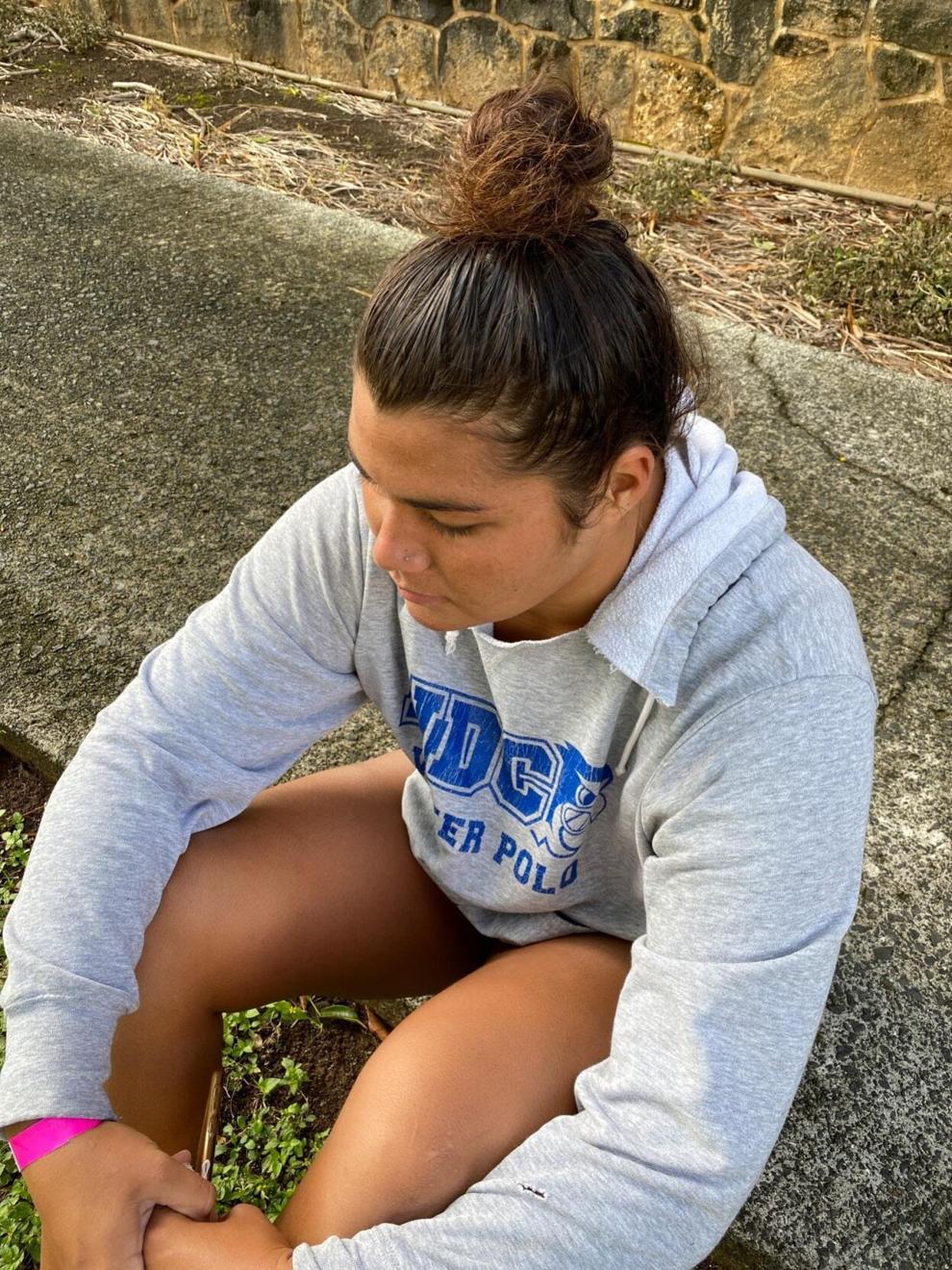 After the announcement, the UH water polo team returned to Hawaiʻi on March 13, 2020, after their short, 18-hour trip to California. Within three days of arriving back on the island, the overseas athletes were booking flights to return to their respective home countries. 
Mata'afa recalled, "Everything was moving so fast. All my friends were just leaving." The idea that Hawaiʻi was a place from which all her friends were escaping was tough for Mata'afa to process. 
She had grown up on Maui and on Oʻahu. She said, "Hawaiʻi is a place of work and play for many people, but for me, it's home."
The cancellation of a sports season brought a sense of loss that can perhaps only be understood fully by the players, who were up at 5 a.m. for practices that last at least three hours, followed by gruelling weight room sessions and video study of opponents and their strategies.
Mata'afa explained that what gets an athlete through all that — other than sheer discipline — is teammates. "They're your family," she says. 
COVID-19 didn't just disrupt the season itself, but it forced the sudden dispersal of 24 members of Mata'afa's sports family throughout the world. 
The increased number of COVID-19 cases in the United States meant that social distancing, cancellations of events, and mask wearing were to become a part of everyday life for the coming months. 
Mata'afa struggled with these changes. She found that her summer did not bring precious memories made with friends, but rather time spent pent up inside her house in Maui, anxious and depressed. 
Finally, on Jan. 29 the Big West Conference announced the return to play under new protocols in the sports of baseball, softball, men's volleyball and women's water polo. 
Despite being allowed to play, two of the six water polo teams in the conference didn't return. CSUN withdrew due to players opting out over COVID-19 concerns. UC Santa Barbara also dropped out, following multiple positive COVID-19 cases in their team. There were as many as 10 positive cases reported within its program. 
The rest of the Big West water polo teams competed in conference and non-conference games from January through May, with Hawaiʻi winning the regular season. When preparing for the championships, UH did not see any COVID-19 cases emerge, but Mata'afa's knee injury added another disappointment to an already difficult season. 
Mata'afa had scored 10 goals in the eight games UH had played during the season. Fearing the worst, a meniscus tear, Mata'afa was facing a possible premature end to her season. After MRI results were read, she was told that there was nothing seriously wrong with her knee and that she would recover. Mata'afa explained that despite this positive prognosis, "I was doubtful I would make a return so soon."  
Mata'afa went on to practice through the 10 days before competition and managed to get back into the water in time for the Big West Championship. "I rehabbed and took it step by step," she said. "I was taking it slow and not forcing myself to push limits I wasn't ready for." 
Mata'afa overcame the fear of using her knee again. "When the whistle blew I was just ready to play," she said.
In the Big West championship game on May 2, UH was down 5-2 in the third quarter but came back to win the game 9-8 against rival UC Irvine.  
Playing through her concerns, Mata'afa scored the crucial winning goal, putting the Wahine up for the first time in the final minutes.
"We worked so hard for it," she said. "Being able to be in there at that moment when the week before I wasn't able to walk was just amazing."
"You never know what challenges are going to come your way," Mata'afa said, "Having faced all the challenges of the year previously, working step by step, trusting the process is all you can do."
In the end, the consequences of COVID-19 managed to build an even stronger and more resilient Maui born athlete, who added, "I learned to trust the process and do what I can in those moments." 
In poetic fashion, Mata'afa and her teammates took home the Big West Championship at UC San Diego, at the very same pool that took away their 2020 season dream. 
Mata'afa described it as a "surreal feeling." "Everything just came into play."