University of Hawai'i football head coach Nick Rolovich first built a name for himself with his ability to scout and coach football talent, and now he adds beer connoisseur and inventor to that list; His latest scouting report has put Beer Lab HI on the map. We talked to one of the three co-founders, Nicolas Wong, to find out why.
"Our brewery is built on the concept of constant change, experimentation and small batch brews," Wong said, referring to Beer Lab's prolific microbrewing philosophy. "We release about one to three new beers a week." 
In 2016, Beer Lab opened its doors in Hawai'i, inviting fellow beer lovers in for a memorable experience. Thanks to some inspiration from Dogfish Head Brewery, their beer labs were designed to do exactly that. According to their website, their seven-barrel system gives their master brewers an opportunity to "create unique brews with varying malt bills, hop profiles and specialty ingredients" freely and constantly. Over the years, their customers have been spoiled expecting and often getting new brews every visit. 
Live Pono, Drink Ono
The market for beer and football has thrived in Hawai'i. However, the people of Hawai'i have long looked elsewhere to source this tradition. The way Wong views it, importing beer is just "shipping water across the ocean," as he'll be quick to remind you that beer is 95% H₂O. But thanks to the innovative work of local craft brewers and coaches, the market is quickly growing domestically.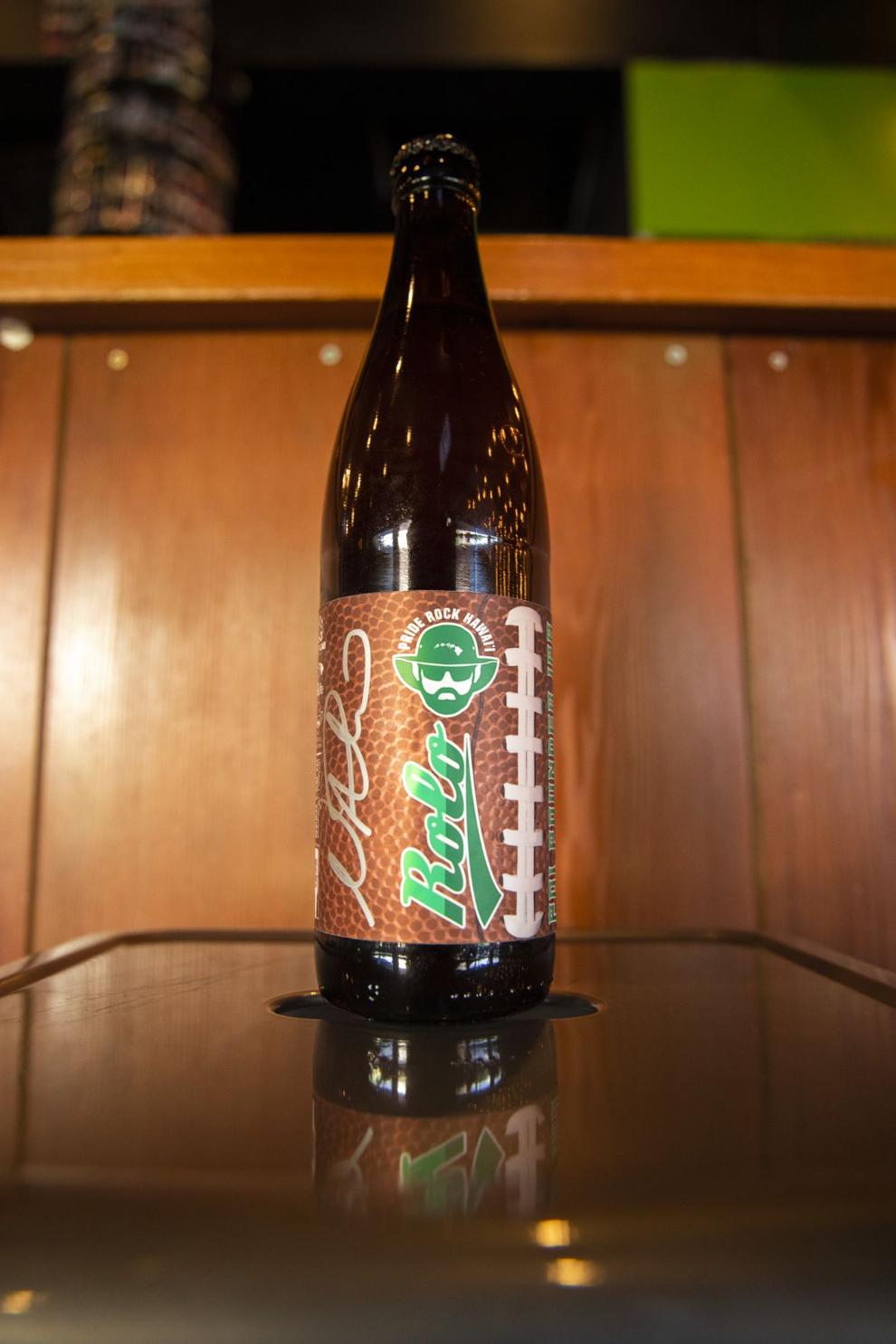 Three juggernauts of the movement — Wong, Kyle Shimabukuro and Coach Rolovich — teamed up to create a beer that tells that story. They call it the "Poi Pounder." 
"Beer has historically been hyper local as every culture has its own tastes and styles," Wong said.
According to Wong, the Poi Pounder was created to celebrate that. 
Rolovich attributes a lot of his on-field success to the community support he receives. As an ode to the community, he and Wong created a beer that local players and fans can be proud of and enjoy. They decided on a craft beer inspired by the staple Hawaiian dessert Kulolo. The beer's ingredients closely resemble the delicacy's recipe, using ingredients like local taro and coconut to go along with its vanilla, hops and barley. 
Wong called on fellow local entrepreneur Shimabukuro, founder of HiLife, to mock up the bottle's branding. The designer decided to use the iconic "pride rock" head, the mad Beer Lab scientist and signature HiLife logo to permanently stamp the collaboration. 
The beer, to say the least, has been a success. At the time we visited, just one bottle remained, which was heavily guarded by Wong at the university pub. Luckily, the Poi Pounder is on tap at every location.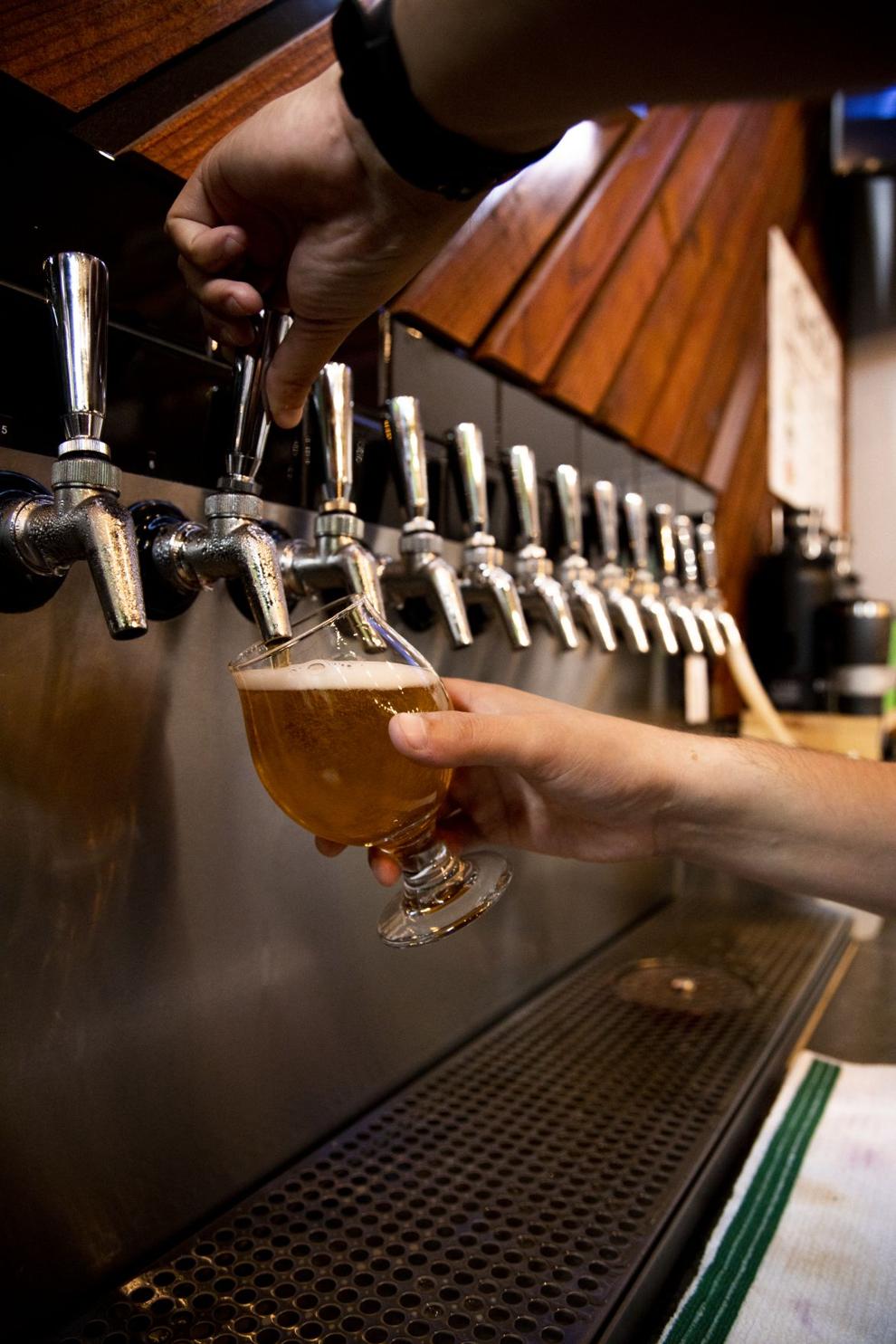 "Build it and They Will Come" 
Chances are, you will never find one of Beer Lab's creations in the store now or in the future. The beers crafted in the Beer Lab are made for Beer Lab. While there are many batches, each beer is meant to be enjoyed in the aura that the pubs create because the beer is only one part of the overall experience. 
"We wanted less of a destination and more of a home," Wong said, describing the setting they strive to achieve at every location. 
For Wong, the experience starts with the employees.
 "We work hard to ensure our beer tenders love their jobs and are stoked to be working! Beer tastes better served with a smile and by people who love what they are serving." 
Although the menu is always evolving, three staples have managed to stick around: the Ko'olauloa, the Omakase and Pansan brews. The Ko'olauloa is a hazy IPA that combines fruity aromas with hoppy bitterness. The Omakase is a play on the "catch of the day" menu item that most restaurants feature and is simply the bartender's favorite for that day. Finally, the Pansan brew is not only inspired by the Philippines, but also designed to help sustain the country's oceans — all proceeds from the beer are donated to the Pride 4 Philippines foundation.