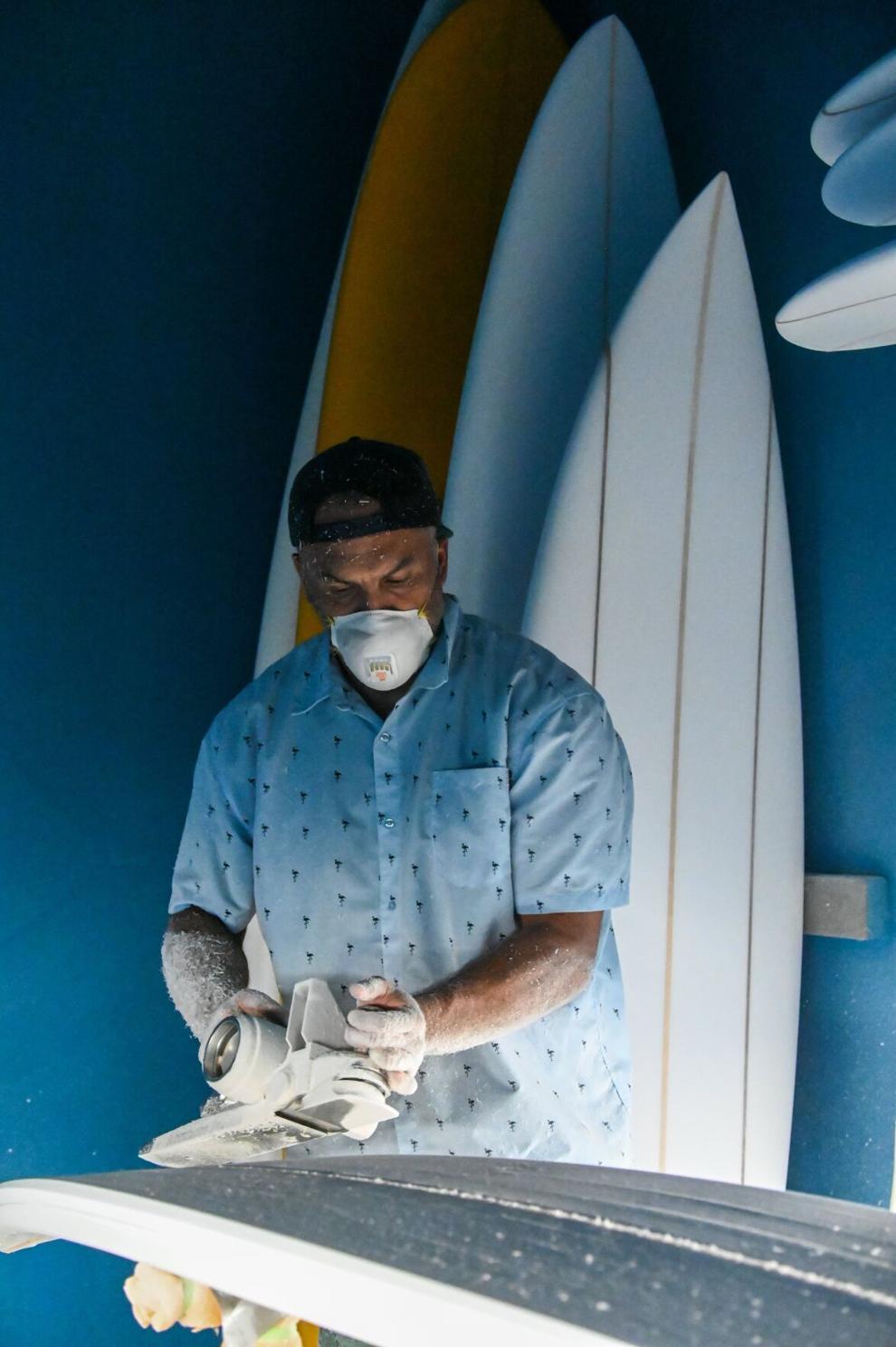 In the course of an hour and a half, surfboard shaper Lyle Carlson performed a magical transformation. He turned a block of foam that looked like a jumbo styrofoam cooler lid into a sleek, hydrodynamic, monster-wave taming vehicle, completely freehand. The board was for Emily Erickson, one of the world's preeminent female big-wave surfers.
Carlson, who's in his early forties, is currently one of the top shapers in the game for big-wave surfboards. In addition to Erickson, he's shaped for big-wave standout Lucas Chumbo, and the most progressive big-wave surfer in the world right now, Kai Lenny, among many others. He makes boards for shortboarding, longboarding, and everything in between. He's also a 10-year student of 20th-century shaping legend Dick Brewer, a pioneer of the industry who, from the 1960s through the 2000s, made boards for some of the biggest names in the sport and created innovations such as the first "shortboard" in 1967.
Most non-surfers don't realize how surfboards are made. An exacting science, the art of surfboard shaping is practiced by hand by skilled surfer-craftsmen the world over. The ability to create a good, or even 'magic' board is the trait surfers seek in the person who makes their boards. It's the board that does exactly what the body wants it to and makes the surfer 'one' with the wave. The Waialua Sugar Mill on Oahu's North Shore is a hub for practitioners of this art, where the abandoned warehouses have been filled with surfboard showrooms and small rectangular studios that are specially designed for hand-shaping boards. That's where Carlson is setting up shop. Though he may not yet be as well known as his neighbor around the corner, Jon Pyzel, who makes boards for two-time World Champion John John Florence, or the one up the road, Eric Arakawa, shaper to multiple World Tour surfers and household Hawaii name in surfboards, Carlson deserves a spot in the storied location—his street cred in the world of surf is considerable. He's surfed the most terrifying big waves in the world—Jaws on Maui and Mavericks in California and he has 10 years of apprenticeship with Brewer on his resume. He also gives back to his community—he's making native-style balsa boards for a native surf project, he's giving pro bono shaping lessons to the 11 year old son of a friend of his, and he hosted 25 UH students earlier this year for a shaping demonstration.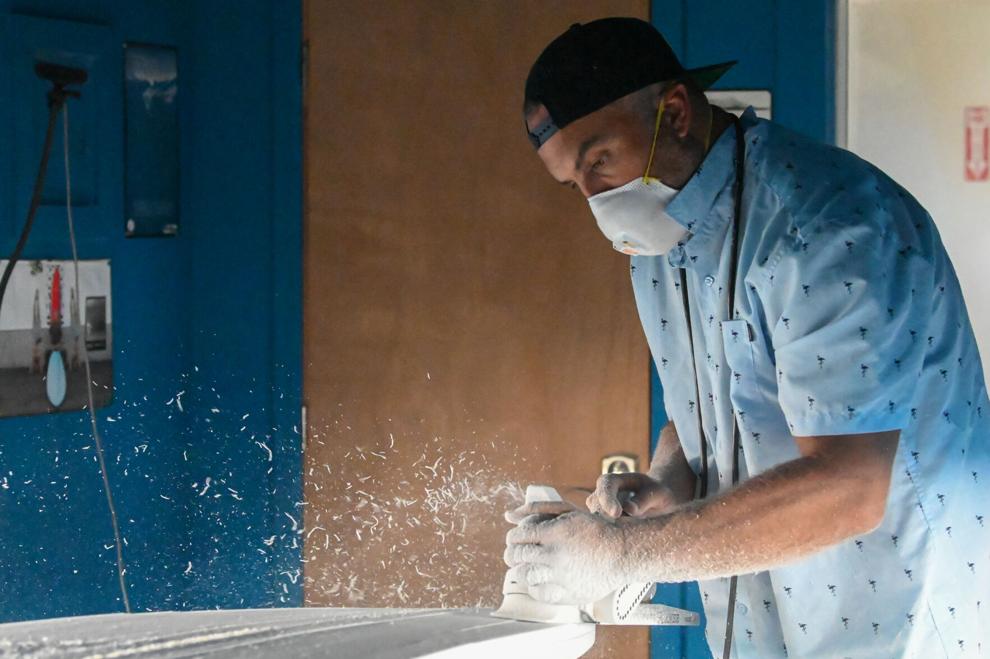 How did this military brat who grew up following his father's military career around the world grow up to become a big wave surfer and shaping expert?
Carlson described the moment when he was a teenager that he realized he wanted to shape. It happened at almost the same time he started surfing. He had grown up using tools on a family farm and watching his uncles build model airplanes, so arts and crafts came naturally to him. When he was spending summers on Maui with his family, he bought his first surfboard from an old-timer shaper named Bob "'Ole" Olson. Watching 'Ole shape, Carson realized that the graceful cruising performed by the locals in the water near his house was done on boards that were made by hand from foam, not so different from his uncles' model airplanes. 
"Wow! You can do that?"  he thought. "I didn't even know it was an option to make your own surfboard," he said.
He read and learned more about shaping and started to experiment with it as he continued to surf through his teens. Then, in his mid-teen years, big wave surfing fell into his lap by accident.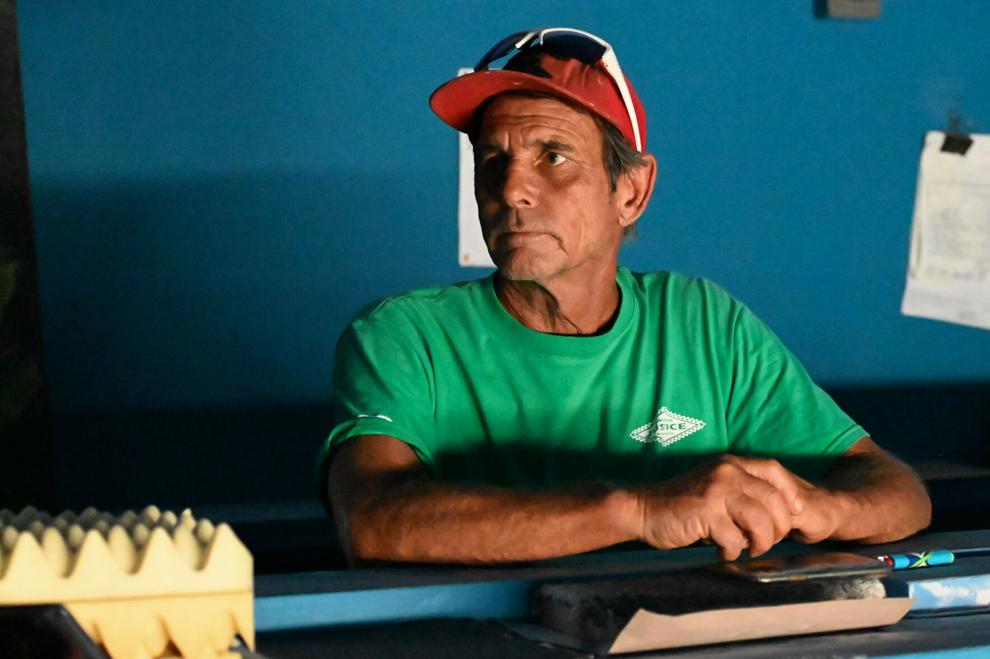 It was at Honolua Bay, in Maui, in 1996. 
Carlson had arrived at the horseshoe-shaped bay that contains a legendary right-hand wave, where the women's Surf Championship Tour event of the Maui Roxy Pro is held each year. Carlson was, at the time, a self-described, "very inexperienced" surfer. When he'd scrambled down the rocky, green bluffs to the water, he was greeted by picturesque four to six foot swell lines that peeled down the point, backdropped by the veined mountains of Molokaʻi island. 
He caught a few waves, but before he knew it, the waves were getting bigger. 8 to 10 foot sets of swell had begun to roll through. Then, 10 to 12. The swell was building fast, as the energy of some monstrous storm event in the Northwest Pacific Ocean arrived at the island all-of-a-sudden. 
Carlson had never surfed in waves like these. Rattled, he found himself paddling further and further out to avoid the impact zone as the bulging, aquatic mini-mountains heaved plunging lips of water down into the lineup.
The waves were reaching 20 feet. Some waves were actually breaking outside the bay and rumbling into the lineup in the form of great freight-trains of whitewater, instead of breaking diagonally along the reef.
Carlson's friends, all better, more experienced surfers than he, had all managed to catch waves as the first big sets rolled through. Only Carlson, unseasoned and terrified of the huge crashing lips, had continued to paddle farther out. 
One specific wave approached. It was three times bigger than any wave he'd ridden in his life. On the inside, his friends and mentors were paddling back out towards him, looking at him and the wave. 
"Go!" one shouted. 
"Paddle!" another screamed. 
"Go, go, go!" said the third.
They were all on the inside and he was there, in position. The wave was for him. Feeling he had no choice, he turned and scratched for shore, using every ounce of energy. He took a blind, elevator-drop down three stories of water and somehow found himself still standing at the bottom. He made the screamingly fast bottom turn and nestled his board in the raging pocket of the monster—not in the tube, but tucked perfectly in the power source of this blasting mass of northwesterly swell energy. 
After that magical, long ride, Carlson was addicted. The adrenaline, the power of the wave beneath his feet, the flow-state achieved in that moment, and the serendipity of the wave being for you and no one else—he had to keep surfing big waves. 
His commitment to shaping and surfing grew, and he became a regular at big-wave spots such as Waimea Bay, Jaws (Pe'ahi) on Maui, and Mavericks in California. While studying at the University of San Francisco and surfing Mavericks regularly, Carlson began to reach out to the big-wave "shaping guru" himself, Dick Brewer. 
Carlson began peppering Brewer with letters, asking for shaping advice. 
His chance to work with him finally came in 2003 when Brewer received an order for 100 surfboards from a non-profit that was awarding them to generous donors to a hospital. Brewer, who was already in his sixties, asked the young big-wave surfer and aspiring shaper who was stuffing his mailbox to help him make the full dollar's worth of boards. 
"He didn't pay me, but he said he'd teach me," said Carlson. They built the 100 boards and then Brewer hired Carlson as his assistant, where he stayed for the next 10 years. 
Reminiscing on times with Brewer, Carlson and his business partner, Darrick Doerner, a famous big wave surfer himself and longtime friend of Brewer's, as well as one of the first to pioneer big-wave tow surfing with Laird Hamilton, had no shortage of things to say. 
Doerner recalled how Brewer had immersed himself in surfing's rock-n-roll party culture in the '60s and '70s, a positive for his creative capabilities but of detriment to his health.
Carlson said that by the time he knew Brewer, the legendary shaper had become a student of Zen meditation. 
Carlson described an occurrence when Brewer's wife had travelled overseas for two weeks and Brewer decided to take a vow of silence for the whole two weeks. "So for two weeks he didn't talk the whole time, so I didn't talk either," Carlson said, implying that though he didn't understand his mentor's choice, he wasn't surprised by it either. "And after a couple of weeks he was finally like, 'Oh man, it's such a relief to take a break from talking. Cause why talk, you're just here working.'" 
When asked, "What kind of guy was he?" Carlson replied: "He was super mellow. He was from Long Beach and he was really into souping up cars and watching Daytona." He liked making surfboards better, though, because he had creative control over the whole process, from start to finish.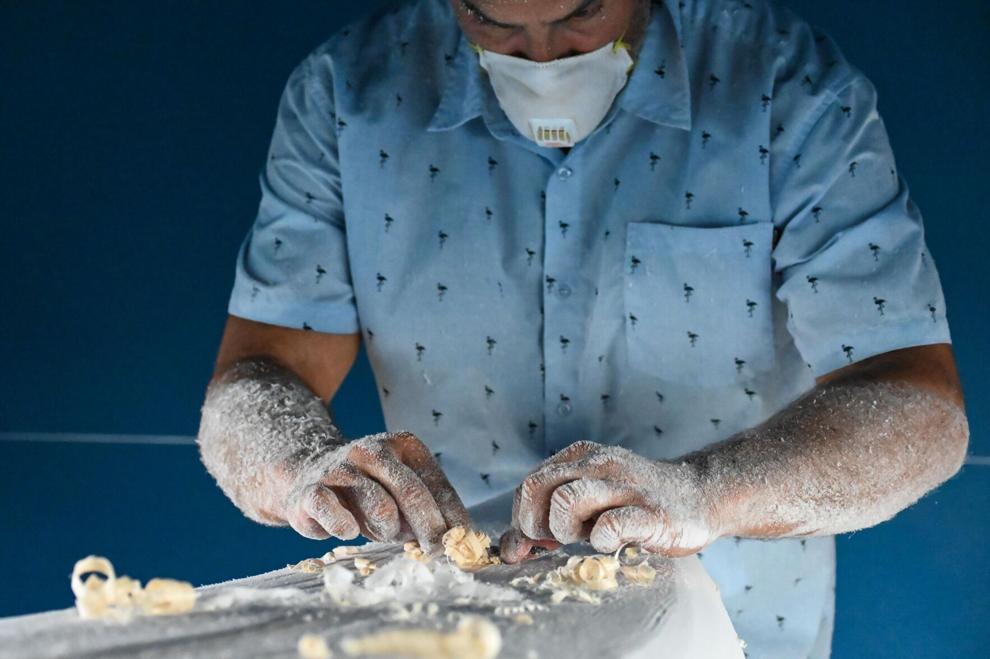 All the while that Doerner and Carlson talked, Carlson was shaping. 
He had started with a rough, yellowed block of foam, a 'blank'. Slowly, he worked the block over, freehand, with his tools. Soon, a beautiful big-wave board made for Emily Erickson to tackle giants with sat on the stand--a handsome, hydrodynamic, bright white piece of art and a vehicle of stomach-churning function. 
Carlson explained his shaping process. First, he traces and saws out the basic outline from the blank—thick in the middle, with the traditional taper in the nose and tail. From there, it's all about foam distribution-determining how the thickness of the foam will vary through the board, it's "flow of thickness" as Carlson calls it. He starts with the 'rocker', the board's nose to tail plane, shaving away the foam to give the board the exact curve and thickness he envisions.
Then he turns it over on it's side and shapes out the rails, the two parallel edges of the surfboard. He chooses if they are to be thick and full, or thin and knife-like, or some combination of the two. A round of fine-tuning and sanding brings the board to completion, ready to be coated with fiberglass by the glasser. It's a nuanced art. Every ounce of foam's location and shape changes how the board rides and moves through the water.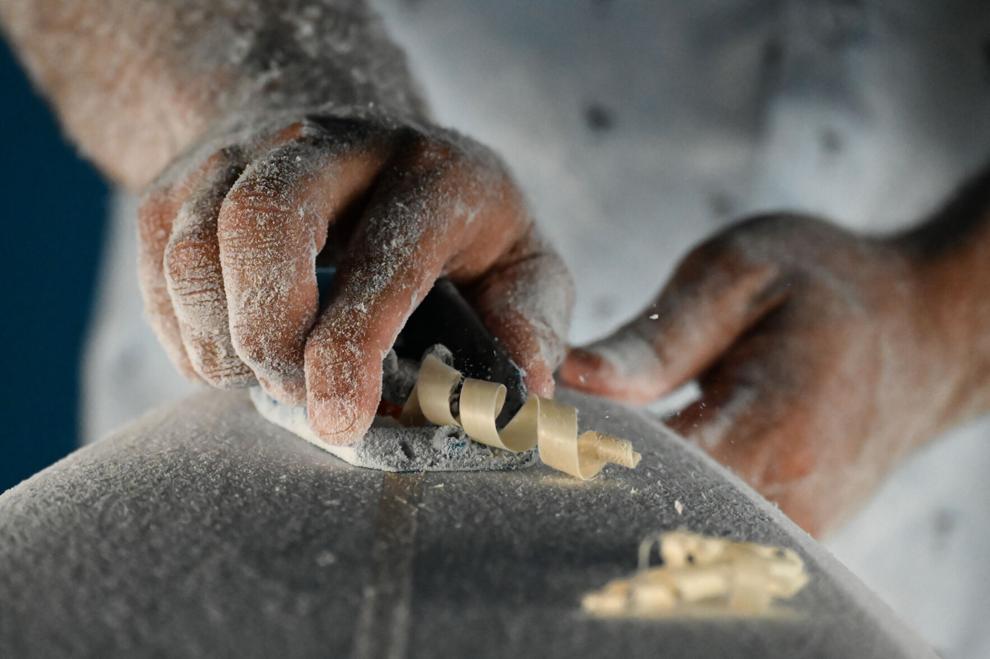 Learning to speak this language of flow and foam takes years of practice, Carlson said. By the time Carlson managed to convince Dick Brewer to take him on, he had already shaped hundreds of boards. 
"Don't give up," Carlson said. "You get some haters anytime you're learning something new. People are willing to help you, but once they see you as competition then you find out who your friends are. You've got to endure that. And it hurts your feelings, you know. That's the case with anything you're starting."
Finding his mentor was key to giving him confidence, though, "It's great if you've got Dick Brewer telling you you're the man. It's not like anyone else's opinion matters, they don't do it," he said. 
Lyle Carlson earned a spot in the Waialua Sugar Mill thanks to Doerner and they're currently working to create a fully-functioning surf shop in the open loft space that Doerner leases. Initially, Doerner had rented the space with the hope of creating a surf museum. He envisioned an attraction where people could learn about surfing and watch an expert shaper at work in the middle of it all. Sporadically, Darrick had had shapers such as Gerry Lopez and even Dick Brewer himself use the space, but the idea of a surf museum never panned out there. Upon seeing and hearing of the quality that Carlson was producing, though, Darrick knew he had to get him in his shaping room. 
"Goddamnit, Lyle! …Git over here!" he said. 
"Lyle, he's got the touch," Doerner said with a twinkle in his eye. 
Carlson heeded the call and began to include Darrick's shaping room as one of his frequent shaping haunts. The pair now look to fully renovate the loft facility into a surf shop and sell Carlson's boards out of it, along with hats and t-shirts. 
But the pair's roots are still a deep part of what they do. On the wall of the big empty room, hangs a big pink flower, a decal that once floated in lineups around the world, with the words, "Dick Brewer Surfboards."