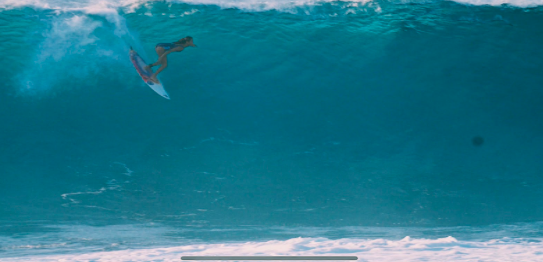 Surfing on North Shore, Oʻahu, especially Pipeline, used to be a feat for only the gnarliest, bravest men.
Almost every surfer all over the world daydreams about getting just one wave at Pipe, causing hundreds of men to flock to this spot every winter in pursuit of the wave of their life.
Many sit on the beach watching the hundred-something guys struggle just to paddle out to the lineup. Within the lineup sits this young girl catching barrel after barrel with ease. 
Moana Jones-Wong, a 21-year-old surfer and North Shore native, says she started surfing before she could walk, competing in her first contest at Aliʻi beach park when she was only five years old. 
"I love surfing, it's part of my life so it is natural for me to pursue it," Jones-Wong said. "What motivates me is the feeling I get when riding a super good wave. It's an addiction to me and I can't get enough of that feeling."
The confidence Jones-Wong demonstrates in the water is striking and apparent to all that witness her surfing. 
When asked how it feels to be the only girl in the lineup at Pipeline, she responded with, "It feels pretty good to me! I love Pipe. It's intimidating and so are the guys that surf out there but I feel like I have a good relationship with the wave and everyone out there so it always feels welcoming to me." 
Jones-Wong pulling into a Pipe barrel. Photo by her father, Dawson Jones.
Jones-Wong was listed as one of the most underrated Pipeline surfers in 2019 and has only stepped up her game even more since then.
Although Pipeline is one of the most sought-after surf spots in the world, it is anything but an easy wave to surf, injuring and even taking the lives of many surfers every year.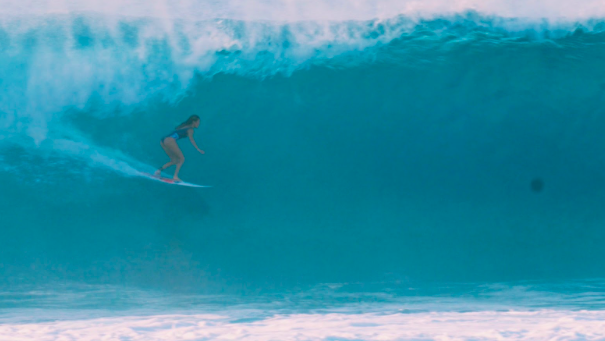 "The scariest moment surfing for me was this winter at Pipe, a 12-foot barreling wave broke right in front of me. I had to bail my board and then got so violently thrown around underwater that the second I came up I had to take my leash off and start swimming," Jones-Wong recalled. 
"My board was dragging me back so much that if I didn't take my leash off I would have gotten caught by the second wave. Fortunately, I made it under the second, third, and fourth-wave, then waited 20 minutes in the channel to swim in. I thanked God for keeping me safe."
When discussing how she handles fear of that volume in the water she attributes her success to her faith.
"I pray to God and ask him to protect me," Jones-Wong said.
 "I always remember this bible verse that says, "I will be with you in deep waters." That verse offers me a lot of comfort when I get scared."
Moana Jones-Wong is redefining the female surf world, inspiring many young girls to get out there and surf with confidence and fearlessness.
Although she is all for girls charging she does advise them to first make sure they have the skill level necessary to surf Pipe and not to surf it on a whim. She encourages safety and respect for oneself, others in the water and the ocean itself. 
"Girls keep pushing it! Be humble and respect and you'll go far," Jones-Wong said.