Inside Ohana Marketplace in Ward, an interesting looking booth has turf for its floors and a fridge filled with shirts rolled to imitate flowers. Next to the fridge are rows of streetwear shirts and hats, printed and embroidered with its brand name, "Sweet Enemy."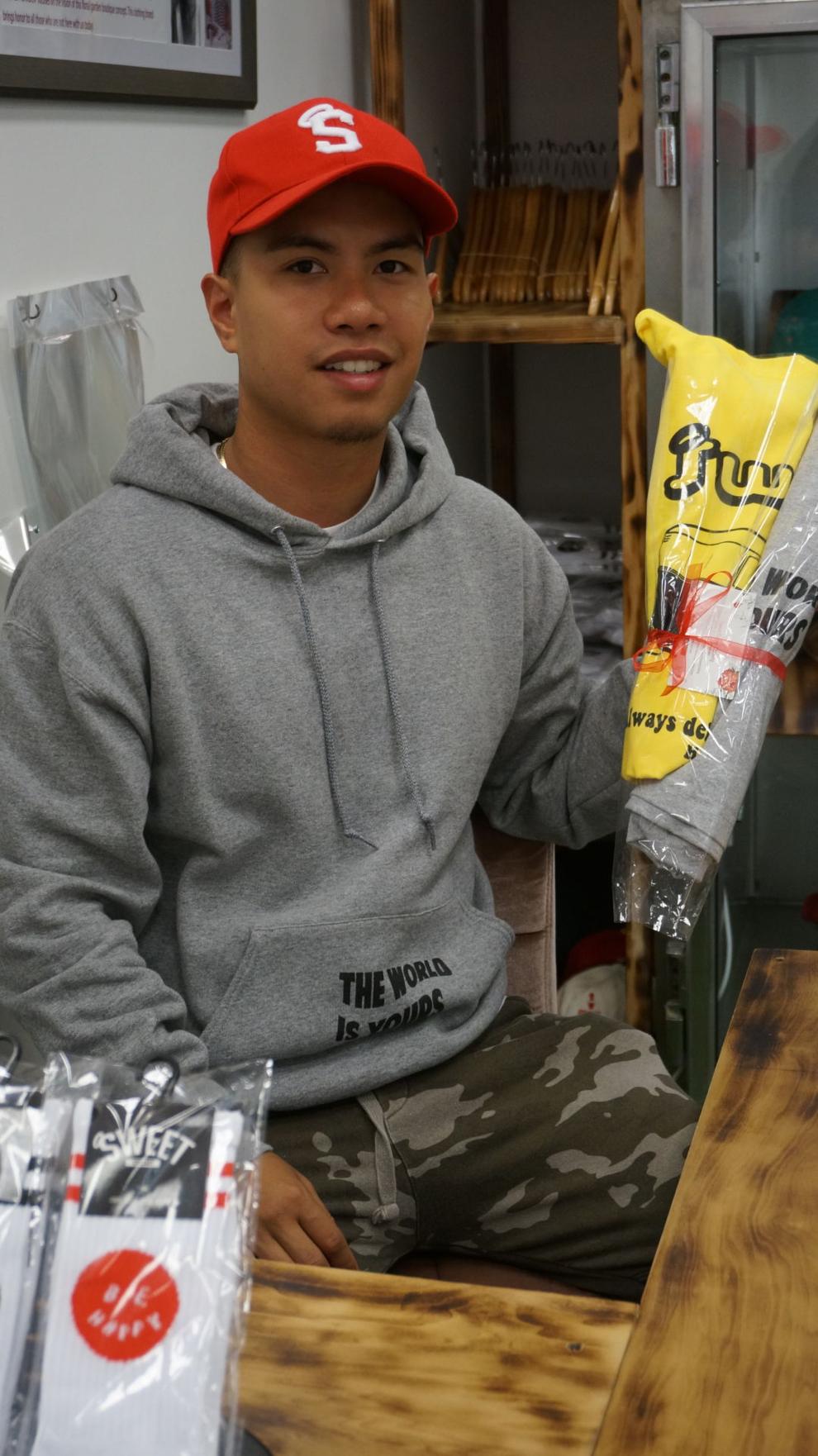 With a flower shop themed streetwear clothing store, owner and University of Hawai'i at Mānoa alumni Drew Honda is always looking at the positive side of everything.
Honda started Sweet Enemy during his sophomore year in 2013 to honor his late grandmother whom he calls, "Grammie."
"I kinda had an idea to start a clothing brand or do something in honor for her," Honda said. "She really had an impact in my life growing up. Every sporting event she was there like from when I was little. She definitely helped me raise me and my sister."
While brainstorming brand names with his sister, they came up with "Sweet Enemy." Although at the time they didn't have a meaning behind the brand name, Honda felt it just clicked with him because it fits with his grandmother's name which was Rose.
"The petals and all that stuff are known for being sweet and iconic for being beautiful. The thorns part is like the enemy," Honda said. "How I relate is like the hurt and pain we go through when we lose someone important in our lives."
As a start, Honda printed 20 shirts and started selling them on Instagram and Facebook. Honda didn't really know how to edit designs in print format at first so he reached out to his friends who were into graphic design to help bring his ideas to life.
"I'm not the best drawer and stuff but I think of a concept and either with a freelance designer or a friend," Honda said. "They help me or I might be able to do a simple one and a friend may fix it."
"HALO S" NAVY BLUE SNAPBACKS NOW AVAILABLE ONLINE AND IN STORE!https://t.co/IOXcz7T4ko pic.twitter.com/NqZzs5MjnY

— Sweet Enemy Clothing (@supersweetenemy) February 21, 2019
The Halo
One of his favorite designs is the Halo S. Honda got the idea when he went to his first baseball game with his father and late uncle, who passed away from cancer a few years ago.
"We went to the Angels game. It was my first baseball game ever," Honda shared. "Remembering going to the game with [my uncle] and my dad ... the two most influential men in my life and [this logo] has a more significant meaning than a lot of people think."
Sweet Enemy just released their Hawai'i collection and Honda said it is one of his favorite collections. It's a first for Honda because he never had a Hawai'i inspired collection before.
"I went to Kamehameha. My grandma's hundred percent Hawai'i," Honda shared. "A lot of support is from the state and as a brand, I should represent where I came from." 
Throughout the years, Honda made sure that Sweet Enemy always promoted positivity. It took him some time to figure out a slogan but he went with "Never Forget The Reason."
And he never did. 
When Honda opened the Sweet Enemy store at Ohana Marketplace in September last year, he made sure that it was unique and different to pay tribute to his late grandmother. 
"She likes to garden a lot at my house and her house. She loved to do that," Honda shared. "Her name being Rose, I thought it would be perfect to make it look like a forest and garden, to package [my merchandise] like flowers [to] be different, you know."
Sweet Enemy constantly puts out new designs and collections for everyone to wear. But in 2015, graduating student Honda had to take a break from Sweet Enemy to focus on his internship, job and occasionally helping out his father. Honda said the brand was constantly on his mind, thinking of new ideas and designs.
With the support of his family, friends and customers, Honda got back up and continued Sweet Enemy.
Jason Muraoka, one of Honda's best friends, saw him build Sweet Enemy from the ground up. Muraoka thought it was a very cool experience to see how Honda revolved the store concept around his brand logo.
"To watch him go from selling a small batch of shirts to friends out of the back of his car to being able to take trips to the mainland to do product sourcing and paying rent at his own storefront is a huge accomplishment and testament to the commitment and hard work he has put into his vision," Muraoka said.
According to former UH football quarterback Ikaika Woolsey, Honda constantly puts out new collections that people can resonate with.
"I'm super proud of Drew especially how far he's come with his brand and I definitely seeing him to continually grow it in the future," Woolsey said.
RECAP of last Sunday! Sweet Enemy "Tie Dye" Shirts Releasing This Friday 6/16 🌹 #sweetenemy pic.twitter.com/2ShXiEcdDp

— Sweet Enemy Clothing (@supersweetenemy) June 15, 2017
In 2017, Honda started The Tie Dye Project to give back to the community. With the help of his family and friends, they raised $1,000 for food, shampoos, towels and shirts to give out to homeless people in downtown Honolulu. 
"There's like a lot of things and goals that I kinda wanna do in life and giving back is one of the big things," Honda shared. "Just using this to inspire through streetwear and all that stuff."
In the future, Honda hopes to open his own Sweet Enemy storefront with a forest garden themed vintage thrift goods section inside. He also hopes to do more tie-dye events in the future.
"My goal is to do more of that this year and upcoming," Honda said. "And to be able to just grow as a person and a brand."