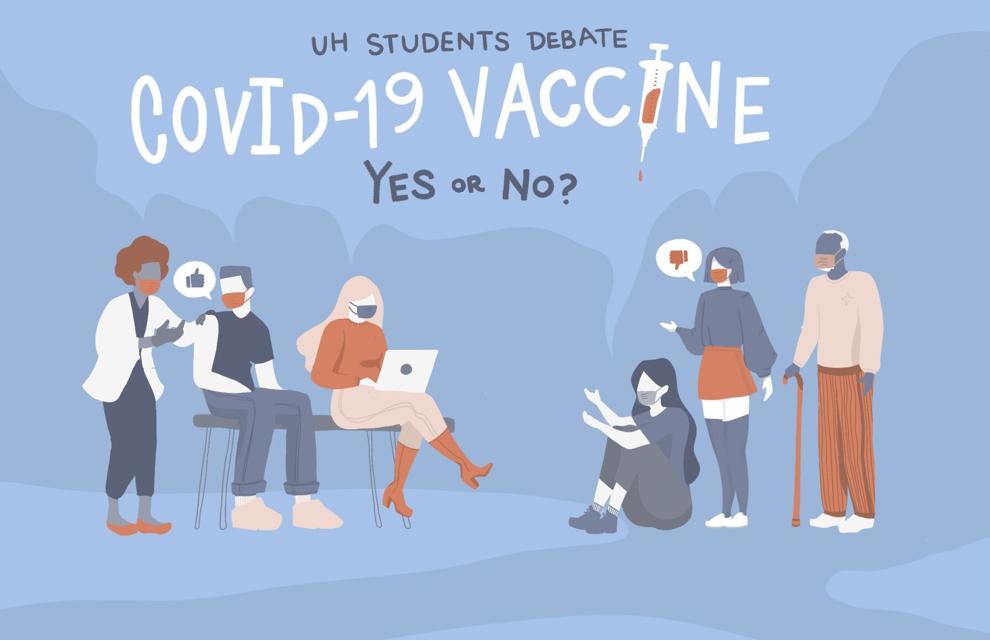 About a year ago, COVID-19 took the world by surprise as everyone and everything went into lockdown. So far 2021 is proving better, and since mid-December, Hawaiʻi and its trusted partners have been giving vaccines as part of a four-phase COVID-19 vaccination plan.
Hawaiʻi just completed the 1-A tier, which covered health care workers, and residents and staff of long-term care facilities. Hawaiʻi is currently in the 1-B tier, which covers frontline care workers and people ages 75 and up. Phase 1-C covers adults aged 65 to 74, people aged 16 to 64 with medical conditions and other essential workers. Phase 2 will cover anyone aged 16 and over.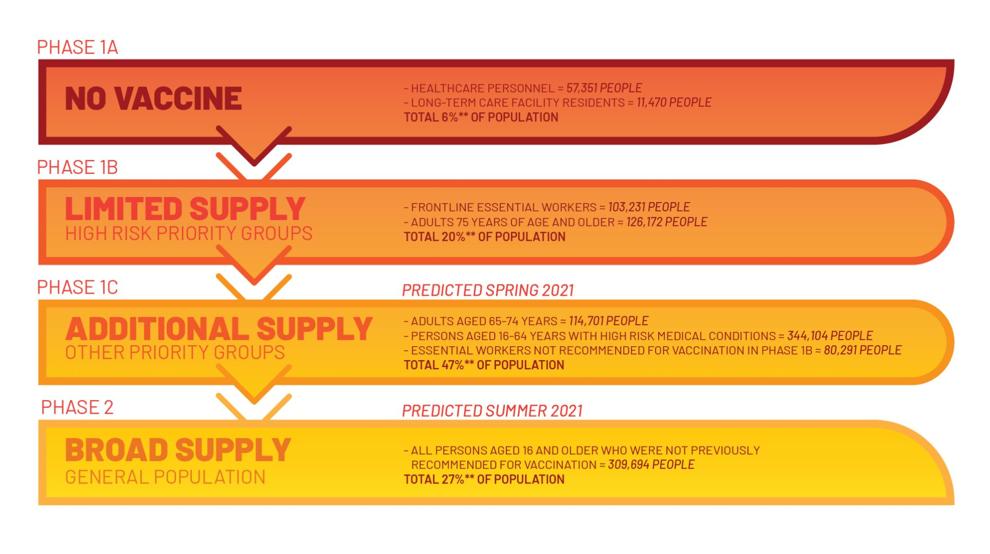 The COVID-19 vaccines are not available for people 16 and under just yet because there is not enough research to prove the safety for that age group.
The two vaccines available right now are the Moderna and Pfizer vaccines. Both of these vaccines contain messenger RNA. 
Messenger RNA is an RNA molecule that complements and does not interfere with one's DNA. Once vaccinated, the mRNA creates a "spike protein," which causes COVID-19,  in the patient's immune cells. After the body recognizes the variant, it builds an immune response to fight against the virus and prevent future infection. 
The Moderna COVID-19 vaccine works in two doses one month apart, and the shot is given in the muscle of the upper right arm. There is a risk the vaccine could cause an allergic reaction within a few minutes to an hour after receiving the vaccine. The symptoms include difficulty breathing, swelling in the face and throat, a fast heartbeat, a bad body rash, dizziness and weakness. 
According to the CDC, common side effects include pain, swelling and redness in the arm where the shot is administered. Body side effects include chills, tiredness and headaches and usually start within a day or two after getting the vaccine. Severe side effects are more common after the second dose. 
The Pfizer vaccine also works in two doses, 21 days apart, and is administered in the muscle of the upper arm and presents similar side effects. 
Med Shadow reported that out of the first 7.5 million doses given out from Dec. 14 to Jan. 18, there were 19 reported cases of anaphylaxis, a severe life-threatening allergic reaction, from the Moderna vaccine. Around the same time period, there were 47 cases of anaphylaxis out of the first 9.9 million doses for the Pfizer vaccine. 
UH students on the vaccine: Yay or nay? 
Makenna Rodriguez is a freshman at UH Mānoa. She plans to take the COVID-19 vaccine to keep her and her loved ones safe. She said that her partner's stepmom, who is a nurse, and her cousin, who is an emergency medical technician, have taken the vaccine, and she knows others who received it and felt fine. 
"I have a lot of immunocompromised people in my family and around me," Rodriguez said. "My boyfriend is immunocompromised, and you know, there's not much that we can do about it right now. But it will give me some peace of mind, not just for them, but for myself personally that once I do have the vaccine, that maybe things will get back at least a little bit to normal."
With more vaccines distributed in Hawaiʻi, Rodriguez hopes to see a return to some sort of normalcy in 2021, as well as people being more cautious of their surroundings. 
On the other hand, Madelyne Harding, a junior at UH Mānoa, has no intentions of getting the vaccine anytime soon. She feels that as long as everyone stays home, especially people that are allergic to vaccines, then eventually COVID-19 would die out.
"I have had reactions to vaccines in the past, like severe allergic reactions," Harding said. "So for me, the little amount of research behind this vaccine is scary because if I'm already reacting to vaccines that have had research, I don't know. I don't really want to put myself at risk for a vaccine that hasn't been widely researched and studied."
Though it would be great for everyone to get vaccinated, Harding pointed out that the choice is up to the individual and what they think is best for their health and safety.
Ebony Salilo Tapasā, a recent graduate of UH Mānoa, is not planning to receive the vaccine either because it is so new and she plans to wait a year or two before concluding whether or not the vaccine is safe. She knows several people that have taken the COVID-19 vaccine and only one of her personal acquaintances had a serious reaction to it.
"So far only one of the people I know personally has had serious adverse reactions to the vaccine and is currently hospitalized," Tapasā said. "She's in critical condition. I've heard of this reaction happening to others as well, I just don't know them personally."
She added that to slow the spread of COVID-19, people should use the same precautions as if they were sick with any illness. Those include washing of hands, sanitizing and complete isolation.
James Esaki, a junior at UH Mānoa who works in custodial services, received the Moderna COVID-19 vaccine on Jan. 16. His side effects (soreness and tiredness) lasted for three to five days and he recommends that everyone get vaccinated for their own health and to protect others. 
"I did feel really safe taking the vaccine. Thousands of people got it before I did, and while there were a few outlier reactions, there hasn't been any legitimate concerns over the safety of the vaccine," Esaki said. "It seems that a good amount of people are more scared of the vaccine than the virus, which is ridiculous considering the results we've seen so far."
On the topic of vaccines that only require one dose, Esaki noted that convenience wouldn't matter if it's not as effective as vaccines with a higher efficacy rate.
"Of course, for convenience's sake, a vaccine with only 1 dose would be better than one with 2 doses," Esaki said. "However, the decision on what is 'better' should be made by looking at each vaccine's efficacy. If the vaccine with one dose has only 50% efficacy while the vaccine with 2 doses has 95%, the second vaccine would be so much better, despite the higher logistical challenges."
These responses don't represent everyone's view on the COVID-19 vaccines, but rather present different perspectives from UH students. 
Achieving herd immunity 
Dr. Sandra Chang is a professor at the John A. Burns School of Medicine in the Department of Tropical Medicine, Medical Microbiology and Pharmacology. She talked about the importance of herd immunity in reducing the spread of COVID-19. 
"Now in the case of vaccination, what herd immunity means is that if a certain number of individuals develop an immunity within a population, it reduces the transmission of disease within that population and essentially protects those who cannot be vaccinated," Chang said. 
When discussing the advantages and disadvantages of vaccines that only require one dose (like the Johnson & Johnson vaccine), Chang said that it would be a good solution for those who are at lower risk for the disease and those who are vaccine hesitant. For people at higher risk, the Johnson & Johnson vaccine wouldn't provide enough protection as opposed to the messenger RNA vaccines like Pfizer and Moderna.
"So the thing about COVID-19 is we're not as concerned about the mild infections, we're worried about the people who end up in the hospital, require ICU care and overwhelm the hospital system. So they can't give sufficient care to those patients as well as other patients," Chang said. 
Chang noted that the Johnson & Johnson vaccine has an efficiency rate of 66% overall and 72% in the U.S., while the Pfizer and Moderna vaccines have an efficacy of 94-95%. Though not as effective in preventing COVID-19, the Johnson & Johnson vaccine is proven effective in preventing severe disease. 
Half a million fatalities
On Feb. 26, flags will be flown at half staff across the country, as ordered by President Joe Biden, in memory of the 500,000 Americans who have died of COVID-19. 
Gov. Ige has ordered both the Hawaiʻi and US flag to be flown at half staff during sunset at state offices and agencies, the State Capitol and at the Hawaiʻi National Guard. 
"This action is being taken today, as the U.S. marks a half-million COVID-19 deaths since the pandemic began. Let us reflect on this loss and the memory of the more than 500,000 fellow Americans – including 431 in Hawai'i –  who have died of COVID-19. Our thoughts are with their families and loved ones on this day," Gov. Ige said in a press release on Feb. 22. 
Currently, O'ahu reports numbers that are in line with entering Tier 3 of the city's four-tier Reopening Strategy, which will allow for social gatherings up to 10 people and increased capacity of 50% at restaurants and other commercial establishments.  
While Hawai'i hopes and shows promise to have everyone vaccinated by the end of the summer, a post-COVID-19 reality is yet to be determined.