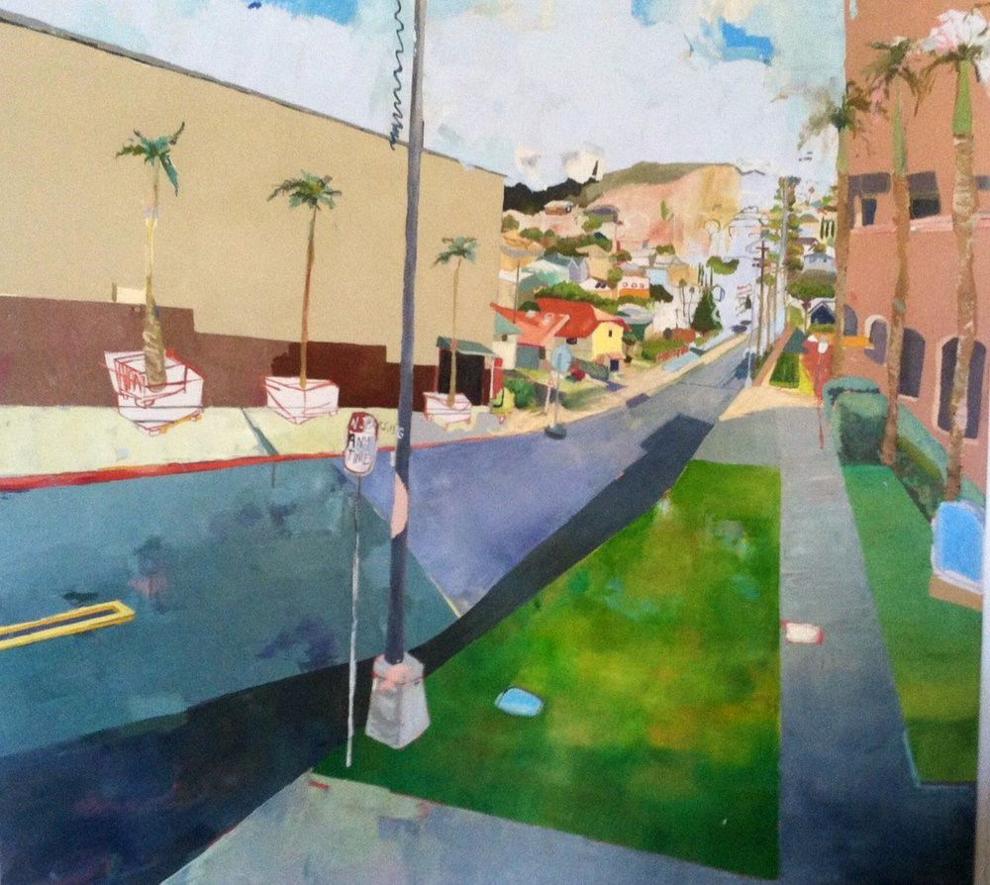 The Honolulu Museum of Art's new show "Abstract Expressionism: Looking East from the Far West" puts Hawai'i on the painting map. In thinking about the exhibition, we must ask ourselves, "How can we create an all-inclusive, yet diverse, place-based community through art?"
With all that is going on, I feel fortunate to be making art in Honolulu and look forward to seeing how the community will change and hopefully grow. There are areas that need improvement, but I notice young artists acknowledging this need by organizing events in the community themselves. Recently, Alina Kawaii, a graduate of the University of Hawai'i at Mānoa, organized a show at ARS Cafe in Kaimukī featuring her work along with that of Andrew Yamauchi, Morex Arai and Russell Sunabe. There is an abundance of talent and a growing number of artists who are motivated to make changes. Creating opportunities for each other and providing support is vital. 
One way that I find a sense of place is through my own art. I painted "Wilhelmina Rise" for the "Maybe Later" exhibition which runs through Nov. 10.  It's a scene in Kaimukī I've walked by countless times. Sometimes it is 5:30 a.m. when I'm on my way to work and the street is still and quiet. The houses and trees stretch back and upward, scattered toward the mountain ridges. In the afternoon, the cars are moving, it's noisy, and the houses up high on the street look blurry.
Through Kaimukī, I connected to a specific place, but I also looked to my fellow artists. "Maybe Later" is a two person show with fellow painter and recent UH Mānoa grad Kainoa Gruspe. It was really fun being able to work with someone whose painting style informs and pushes my own work. Recently, Kainoa's work comments on the conventions of making art and how we value or determine skill. He works in a mixture of styles. He might start a piece by spending time rendering an image or quickly creating an abstraction; showing an attention to detail and skill while also choosing to apply paint on top of the image. This application is often informed by his childhood drawings.
As a current UH student approaching graduation in the spring, I wonder what kind of work I can continue to contribute here in Hawai'i. Stepping outside the umbrella of the University does not worry me as much as it would have a few years ago. Coming to Honolulu in 2011, I did not know much about the painting community. 
Today I find comfort in knowing that students, recent UH alumni, and local artists are trying to form an all-inclusive community. I see a slight resurgence of painting, as well as other art practices. There is an apparent effort to reclaim the idea of what it means to paint here. Considering issues of place, politics, native perspectives, materiality and technology, it may be hard to pinpoint or describe what we should collectively build. We can start by keeping a dialogue open and approachable. 
The University of Hawai'i campuses, including the community colleges, are promoting our local artists more, including older generation painters, such as Satoru Abe, Isami Doi, Tadashi Sato and Tetsuo Ochikubo. Masami Teraoka, known for his contemporary ukiyo-e paintings, is showing his recent work at Koa Gallery at Kapi'olani Community College through December. On the Mānoa campus, the art department will be featuring Hawai'i-based painter Kosta Kulundzic in the Commons Gallery, where he will be doing a live drawing in the gallery for two weeks starting Nov. 5.  Visiting artist Mel Chin, who specializes in environmental and political art, is coming in November as the Dai Ho Chun Distinguished Chair and will give a lecture on Nov. 15 and hold a workshop for interested UH students.
Staying curious and reflecting on how our peers approach making art is important. As a whole, the local scene has a short attention span for painting. Creating more community spaces for collaboration, places where anyone inside and outside the art community can feel welcome to join the conversation, is an crucial part of the work that artists, and others, can do.