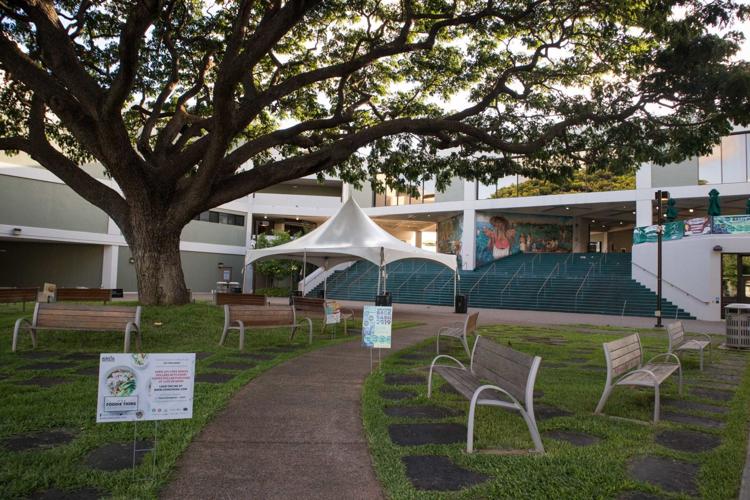 Foreign students studying at universities in the U.S. must choose between enrolling in in-person classes or attending classes online from another country, according to a policy announced this week by the U.S. Immigration and Customs Enforcement.
The news sent Sabina Budhathoki and other foreign students at the University of Hawaiʻi at Mānoa into a panic.  
Budhathoki came to Hawaiʻi from Nepal in January to pursue a masters degree in plant pathology. Under the new rule, if her classes are entirely online next semester, she will have to leave the U.S.
"I'm in the middle of taking data. If I have to go back, my research will go nowhere," Budhathoki, who often wakes up before sunrise to collect data on farms across Oʻahu, said. Her work as a university research assistant has continued throughout the coronavirus pandemic.
She added that traveling through international airports to return home would heighten her risk of contracting the coronavirus.
Tom Iwanicki, a doctoral student in zoology from Canada, said that the choice "basically amounts to deportation or risk contracting COVID in in-person classes." 
"In my view, ICE has weaponized international students' health and immigration status to force universities to open in the fall," Iwanicki said.
If foreign students currently outside the U.S. have online-only classes next semester, U.S. Customs and Border Protection won't allow them to enter the country. 
The new rule impacts at least 984 students enrolled at UH Mānoa on F-1 visas and another 211 newly admitted students who are supposed to begin coursework this spring. The federal government is only allowing these students to take one class, or up to three credits, online. 
All students in the U.S. pursuing academic coursework on F-1 visas and those in vocational training programs on M-1 visas are affected. The university's flagship campus has no students on M-1 visas. 
"It's something we're taking seriously," R. Anderson Sutton, the assistant vice chancellor for international and exchange programs at U.H. Manoa, said. "Not just what the implications of this are, but our university's stance, seeing this (policy) as problematic."
ICE left a loophole university administrations can take advantage of to keep foreign students in the U.S. next semester. 
Like many universities across the country, the U.H. system will offer a mixture of online, in-person and "hybrid" classes, hybrid meaning that content is taught online with in-person components. As long as universities with this model submit paperwork to ICE by the end of the month, affected students only need to take one in-person or hybrid course.
In a show of solidarity, professors from mainland universities have taken to Twitter to announce that they will teach in-person classes for students with F-1 visas. 
But the threat of deportation still looms. If classes go entirely online mid-semester as they did last semester, hundreds of foreign students in Hawaʻii will suddenly be in violation of their F-1 visa requirements. That scenario is the university's biggest concern according to Sutton. 
In the meantime, staff at the university's international student services office, which is short-staffed in the midst of a system-wide hiring freeze, face a roughly one-month deadline to complete a mountain of paperwork.
The workaround does not apply to F-1 students in the university's Hawaii English Language Program. 
Foreign students at American universities have long been required to attend a certain number of in-person classes, but the federal government removed the requirement in March when the coronavirus forced universities across the U.S. to shut down. The announcement this week ends that exemption, which also applied to students taking summer courses. 
"What's been hoped is that (the federal government) will continue the March policy that all-online instruction will be permitted because of the virus," Sutton said.
Newly admitted students still applying for a visa face an added problem. The application requires students to do an in-person interview at a U.S. embassy, but embassies are closed due to the coronavirus, Sutton said. 
ICE did not respond to requests for comments Wednesday. 
"It's felt almost like death by 100 cuts," Iwanicki, who began his program four years ago as President Donald Trump took office, said. Since entering the U.S., Iwanicki said he has faced constant stress and hurdles to maintain his residency status.
Iwanicki sits on the governing board of the Academic Labor United, a group of graduate students employed by UH. The group is hosting an online meeting this Thursday at 6 p.m. at meet.jit.si/aluorg. 
Harvard University and the Massachusetts Institute for Technology sued the Trump administration Wednesday in an effort to block the directive, according to the New York Times.
Most international students at UH Mānoa come from Japan, China and South Korea. 
A study published last year by the state Department of Business, Economic Development and Tourism showed that international students attending institutions across the state contributed $447 million to Hawaiʻi's economy in 2018. 
Graduate students at UH Mānoa who teach classes and do research have their tuition waived and are paid a stipend. If they leave, the research, teaching and other work they do for the university will leave with them.  
"That's going to have broader implications than just their studies," Sutton said.