In the heart of Waikīkī is a hidden gem called Matcha Café Maiko, a shop serving premium Uji matcha from Kyoto's Harima Garden. Their homemade menu offers a variety of floats, frappes, lattes, parfaits and soft serve. Other than matcha, they serve certain items with different flavors such as vanilla, kokuto (brown sugar) and hojicha (roasted green tea).
Matcha Café Maiko is an open door shop located behind Marukame Udon and next to Playbar Waikiki. There is no parking lot, so you will have to find street or public parking. The number of customers that visit the shop varies throughout their business hours, so expect a line, but the service is fast paced and there's not much of a wait time. The restaurant does not offer a formal seating area, but there is some public outdoor seating available.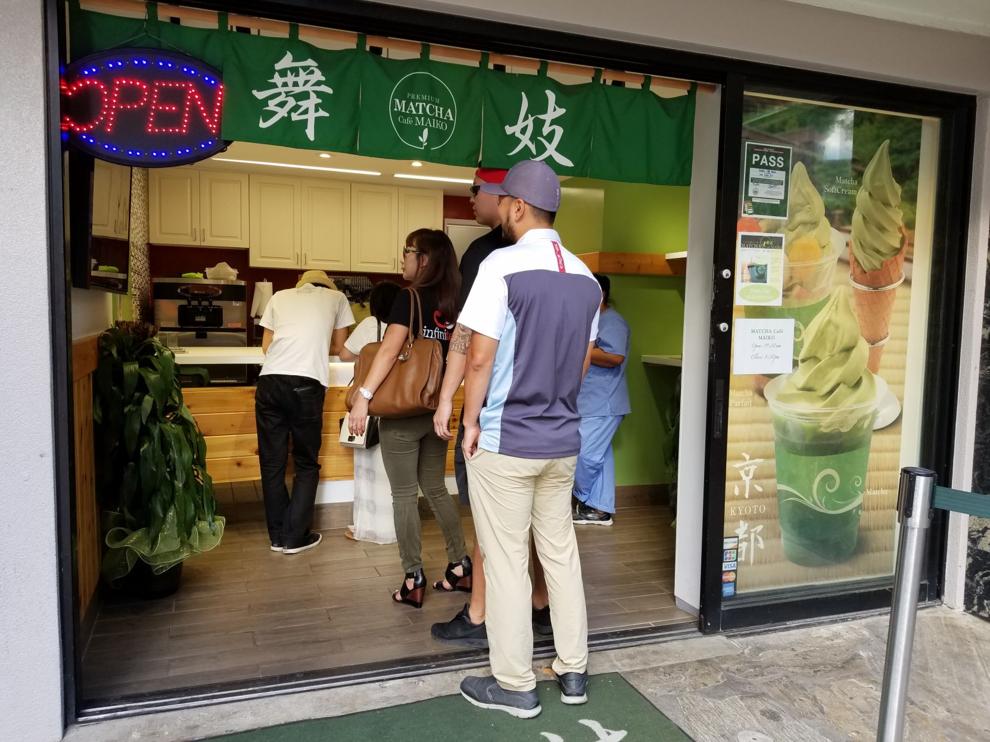 When my sister and I went to the cafe, we were immediately greeted by the cashier. She was friendly and patient with us. She explained the different drinks and recommended the three most popular, which are the Matcha Soft Serve ($5.50), Matcha Maiko Special ($7.80) and the Vanilla Matcha Float (Medium Size: $6.80). We ordered all three to taste the variety.
The Matcha Soft Serve comes in either a homemade waffle cone or plastic cup by request. It has a generous amount of soft serve and is topped off with matcha powder. The soft serve melts on the tip of your tongue and is rich in matcha flavor. But beware, the ice cream melts fast and can seep through the cone. Make sure to have extra napkins to avoid a mess.
The Matcha Maiko Special is a parfait that is served with either matcha or vanilla flavored soft serve. The parfait is prepared in a plastic cup and filled with your choice of soft serve, mochi balls, azuki beans, matcha sponge cake and chestnut. This treat offers an array of textured ingredients that complement each other. Initially, the mochi balls lacked in taste, but when soaked in the azuki beans and matcha soft serve it bursts with flavor. The matcha sponge cake also soaks up the soft serve, which intensifies the matcha flavor as you bite into it.
The Vanilla Matcha Float is a drink topped with homemade vanilla soft serve. To my dismay, the vanilla lacked a unique taste. It is not sweet and did not complement the matcha drink. Sadly, I waited too long to finish the float so the soft serve melted into the matcha drink. This drowned out the strong matcha flavor that I initially tasted. Although I did not like the vanilla soft serve, I really enjoyed the matcha drink.
The Matcha Soft Serve is more than enough reason for me to revisit Matcha Café Maiko. Initially, I had negative thoughts because of the bill total, but after tasting everything I realized it was incredibly worth it. I have tried different ice cream shops that serve their own matcha flavor, but none offer a strong and unique taste like Matcha Cafe Maiko. You can taste the authenticity and quality of matcha flavor in their products. That is what makes them unique.
This little hole-in-the-wall packs in so much flavor in its desserts that it is worth the price and the inconvenience of driving and finding parking in Waikīkī. Once you get a taste of Matcha Café Maiko's delicious treats it will become your new go-to spot for matcha.