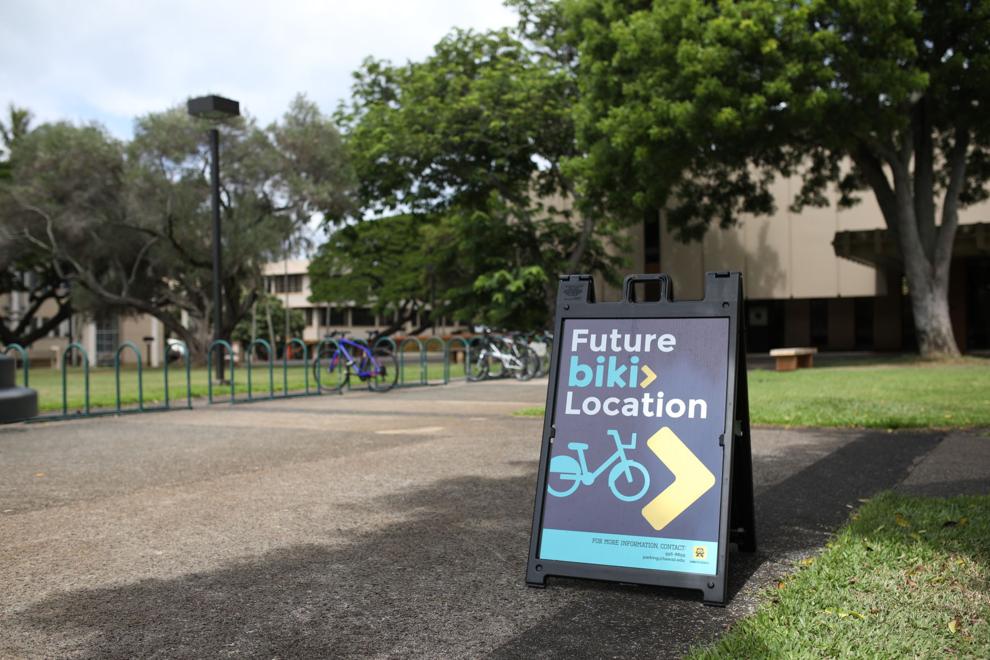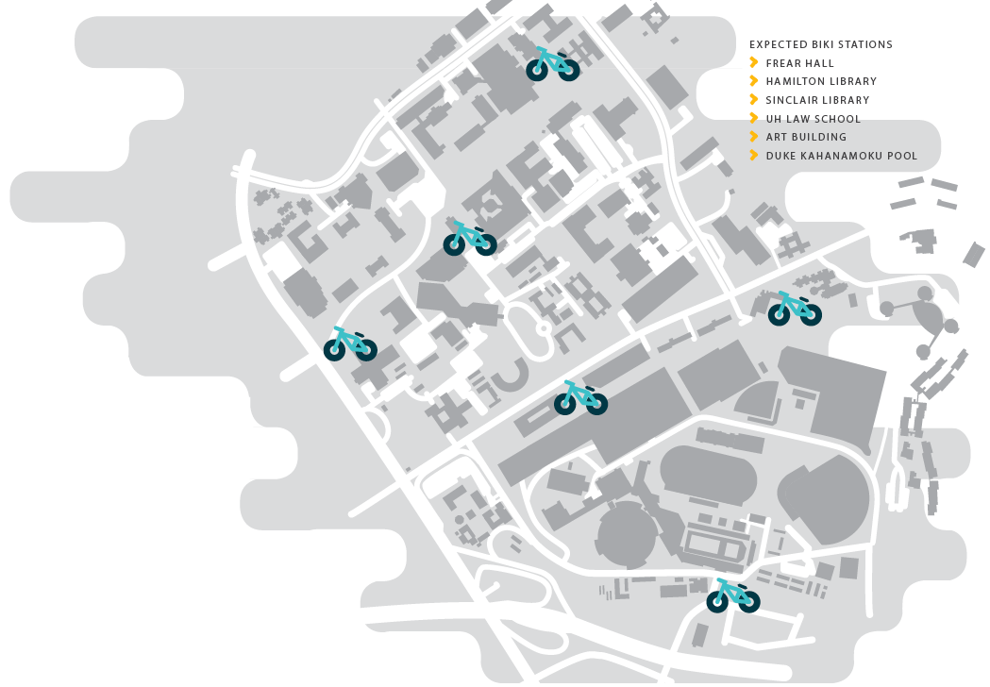 Six Biki stations are coming to the University of Hawai'i at Mānoa campus this fall.
No exact date has been announced, but the bikeshare program hopes to have the stations installed by the end of August or mid-September.
"We're hoping to alleviate some of the stress and cost that UH students, faculty, and staff endure with how they get on and off campus, and we're excited to connect the UH community to the rest of the Biki network that exists between Chinatown and Diamond Head," Justine Espiritu, Biki Grants and Programs Manager said.
UH has been working with Biki officials for about a year to put these stations on campus, Dan Meisenzahl, UH spokesman said. 
"We want to have an environment where people aren't just driving vehicles to campus for a number of reasons," Meisenzahl said. "Parking is one of them, but the other is being good neighbors and living a sustainable lifestyle." 
The planning stages
Biki wanted to start in more urban and populated areas like Ala Moana and Downtown Honolulu before rolling out to further areas at Diamond Head and Iwilei, Espiritu says.
The nearest Biki station to the university is at Puck's Alley; which is near a city bus stop and a Rainbow Shuttle stop.
The Associated Students of the University of Hawai'i at Mānoa (ASUH) has met with Espiritu to discuss the program. The main concerns raised during this meeting were safety and ways to promote it with safety and road etiquette workshops.
Another point of discussion was to implement the Biki pass into UH identification cards, or to possibly integrate Biki fees into student tuition, in a similar fashion to the UPASS. There is no word yet on if this idea is set to be planned.
ASUH thinks bringing Biki on campus is a good idea.
"I think having Biki stations on campus would be a great way to increase transportation options for students to get to local areas such as Waikiki and Ala Moana," ASUH President Jannah Lyn Dela Cruz said. "Students can take a Biki to their off-campus job, or simply spend time with their friends in places where Biki is accessible." 
Finding parking has also been a common problem among students. 
ASUH Senator-At-Large Joshua Kim hopes having Biki bikes accessible to students who live closer to the university will free up more parking spots for those who commute from out of town.  
UH benefits
Students, faculty and staff at UH qualify for a Community Plans discount, which means 10 percent off of a $15 monthly plan that gives members unlimited 30-minute rides per month. The discount will apply to those who auto-renew by Dec. 31.
"Cost of transportation can be a barrier for some students to utilize various modes to travel, especially when they need it," Dela Cruz said. "So while we would gain the option to use Biki on campus, there needs to be a discussion on how we can make Biki affordable and convenient for students as soon as they come on campus."
Currently, there are no plans for the university to receive any revenue from these stations. Biki is offering these stations at no cost to the university.
"We're providing these stations free of charge to the university," Espiritu said. "Because of grant funds, we are able to partner with different institutions or provide these locations."
Most of the funding towards the bikeshare program comes from the Transportation Alternative Program (TAP) grant, which is a federally funded grant that supports transportation alternatives like biking. The grant offers up to $3.8 million and helps Biki expand the system for up to three years. However, that makes up for "80 percent of the project," according to Espiritu.
The other 20 percent includes private donations, grants and revenue gained from ridership.
Increasing the bike culture
UH Mānoa is a predominantly commuter school with 70 percent of the student population commuting from home, according to ASUH Senator Alex Lee. Students use different modes of transportation to campus such as TheBus, the Rainbow shuttle and car. However, bicycling is less used among these different options.
A UH Mānoa Campus Transportation Demand Management Plan reported that 11 percent of campus affiliates used a bicycle as their primary mode of transportation to campus in 2012. 
In a 2018 BIKE UHM Survey, 49 percent of the responders said that not owning a bicycle was the number one obstacle as to why they did not use biking as a transportation option.
Senior Civil Engineering and president of Cycle Mānoa, Herbert Allen, believes having Biki on campus will be good for students as the locations look to be useful. 
Allen has been a "Free Spirit Pass" member since Biki's launch. Despite owning several bicycles, he frequently uses Biki to get around Honolulu. In terms of Biki increasing bike culture on campus, he agrees and disagrees.
"I think more people will ride bikes, but there's also potential person walking/person on Biki interactions that might prove negative," Allen said. "For instance, the official UH policy is no riding on walkways, but is regularly ignored. The location of the stops (and bike racks, and in general, all UH infrastructure) encourages people to ride on the walkways." 
Bicycling is known as a healthy and "green" mode of transportation. Allen says he feels more awake, alert and ready to learn after riding his bike to school.
Biki has plans to add 40 more stations in Honolulu this summer. Aside from UH, stations are planned to be placed at Iwilei, Makiki and Diamond Head.