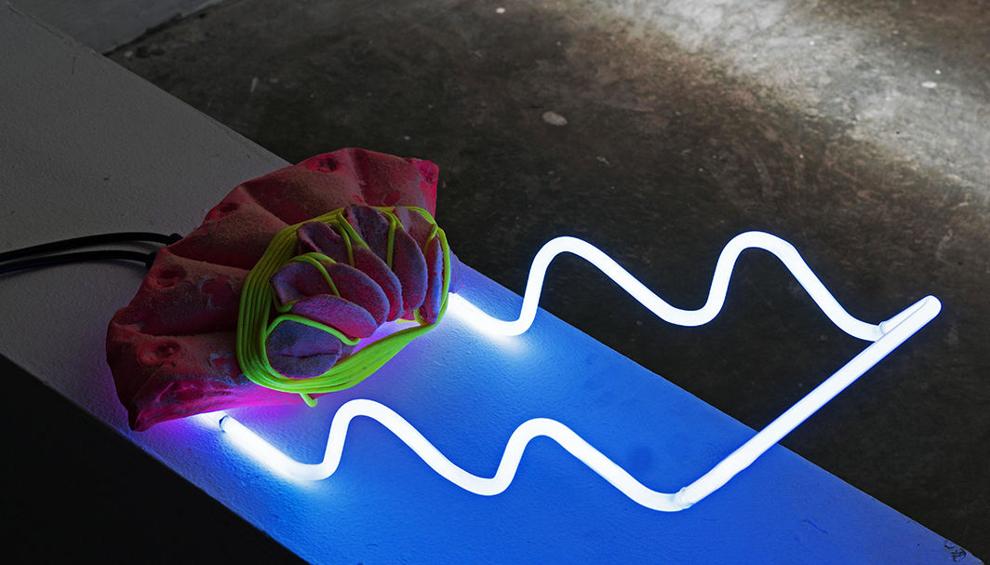 For some, mating rituals bring up memories from zoology or highschool biology class. For second-year University of Hawai'i at Mānoa MFA candidate Jenna Macy, these rituals inspired her to create "Deepest Darkest Seacret: Masterpiece of Love," an interactive art installation at the UHM Commons Gallery. 
According to the UHM Department of Art and Art History, "Deepest Darkest Seacret" first opened on Feb. 24 and consists of "a video documentation of an underwater performance" created by Macy, "a large-scale interactive floor sculpture made of cast ceramic and thermochromatic ink, a sandbox of pink sand, and a tool, 'The Deepest Darkest Seacret Keeper,' (2019)," which is cast in glass and available for audience participation. Admission is free. 
Macy elaborates on this in her artist statement, which is posted in the Common Gallery: 
"My current practice is informed by the dynamic materials I am drawn to such as sand, mood ring pigment, and neon gas mixtures that change color over time. These dynamic and sometimes uncontrollable materials have an affinity to human relationships - a constant and fluid exchange of energy. I am interested in how the body and the subconscious are intertwined, and how the act of making translates the body's memory into the physical realm," Macy writes. "Through interactive installations, talismanic sculptures, and video documentation of performance, I investigate the social implications of these materials, often inviting the audience to complete works with their participation." 
In the video portion of the exhibition, Macy uses "The Deepest Darkest Seacret Keeper" to emulate the power of ocean waves and their connection with the sands below. 
"By embodying the waves with this tool and imposing the physical mark of my voice on the sand at 120 feet while diving, I reenact the way the sand's grooves continually record what I imagine to be the transient frequencies of the ocean's moods," Macy said. "Hacking into this language, I playfully assume that the ocean floor will understand this gesture as a close friend would."
Macy also mentions that the sculptures featured abstract human intimacy "exploring sensory aspects of the body through touch and heat reactive materials."
The meaning beneath the waves
In an email interview, Macy mentions her inspiration for the exhibition. 
"'Deepest Darkest Seacret: Masterpiece of Love' is an installation that compares human intimacy to natural phenomena," Macy said. "I was inspired by the mating rituals of Japanese pufferfish and the way the ocean waves interact with the sand on the ocean floor." 
When asked about her creative process, Macy shared that the push to create "Deepest Darkest Seacret" started with a BBC Earth video called "Puffer Fish Constructs a Masterpiece of Love," which is narrated by English broadcaster David Attenborough; the audio is the soundtrack for Macy's video performance. 
"I often start with things that are a part of my life outside of art, such as SCUBA diving, which I've been doing since I was 6 (my dad is a commercial charter captain)," Macy said. "I also have a background in ceramics which I try to push the limits of, so a lot of things break in the process, which helps me to not be too precious about anything. I then find what materials have interesting conversations with each other, such as cast ceramic forms and neon light, thermochromatic ink or other materials that have a use in the world. It's then just a long process of repeating patterns of making over and over again, a bit like the Japanese Pufferfish does with sand."
The opportunity to have her work displayed helped Macy to focus on her craft as an artist and how she could maximize the space she is given. 
"It made things feel real in a way. It was great to be trusted with the space to display work because it gave me a goal and a deadline, which is helpful when your schedule for art making becomes more independent," Macy said. "It was also so important to have a space where I could envision my work being experienced and interacted with."
For those who aspire to have their art exhibited, Macy offers some advice. 
 "As far as advice I would say make work (lots of work) with your ideal space in mind, even if it doesn't exist yet. Then come up with a way to convey how that work might look in a particular space and propose it wherever you can! Having good images and sticking to your own vision even if it changes, helps," Macy said. "And be nice to people, you never know who might have an opportunity for you. I wouldn't be showing if a few individuals didn't believe in me and my work."
"Deepest Darkest Seacret" will run until March 13.