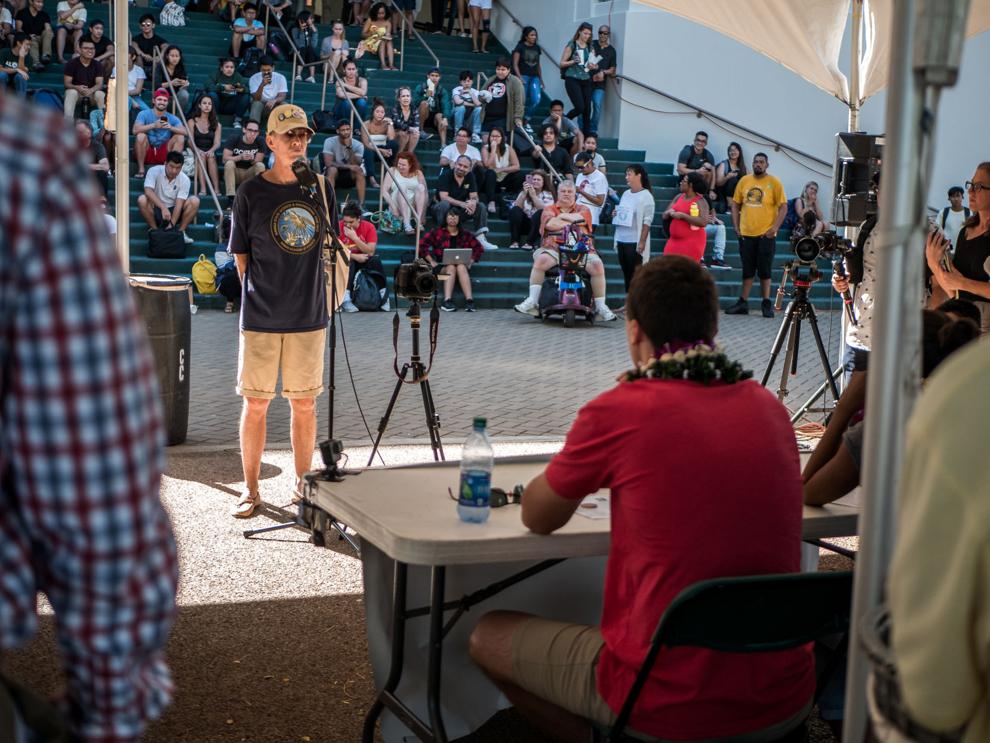 Correction
Ka Leo does not claim any group or individual to be racist or misogynistic. Grove's letter referred to an incident during the Turning Point USA talk in which a woman in the audience interrupted; Ochs posted a video of the incident on Facebook, and Grove considered the description of the video and the comments on it to be misogynistic. The HoaOahu report said an alleged incident on campus involving graffiti of the phrase "Black Lives Don't Matter" was attributed to the Proud Boys, although Ochs has denied the Proud Boys' involvement.
Ka Leo wants to clarify attributions in this sentence from Monday's edition "The Proud Boys have been linked to misogynistic and racist incidents on campus" with hyperlinks. 
The Proud Boys have been linked to misogynistic incidents on campus, according to Grove's 
Facebook post
 on Sept. 24. A Hoa Oahu 
report
 from May, 2018 described in detail of the group's alleged racist incidents. 
---
ORIGINAL STORY
After the University of Hawai'i at Mānoa hosted a week of politically charged events two weeks ago, offensive speech is a hot topic on campus. 
The headline event of that week was on Sept. 20, where guest speakers Candace Owens and Charlie Kirk of Turning Point USA, a "youth organization that promotes the principles of fiscal responsibility, free markets and limited government"  promoted nationalistic and conservative ideologies on campus to over 100 audience members.
The event was split into a talk titled "Free Speech Comes to UH" and a Q&A-style panel called "White Privilege is a Myth: Change My Mind."
Criticisms surrounded Kirk's and Owens's messages and the circumstances that brought them to campus.
During the talk, a group held a sign in front of the Kuykendall Hall auditorium where Kirk and Owens were speaking that suggested that their talk was advocating white supremacy.
Jairus Grove, a political science professor at UH Mānoa who interrupted Kirk during the talk, wrote a letter calling people to support the student-led petition to ban Turning Point USA and the Proud Boys from campus. The Proud Boys is a Western chauvanistic organization with members in four countries. Grove said that their claims are "opinions, without evidence, lacking logical justification, or missing the transparency necessary to be contested."
He compared the legitimacy of Turning Point USA's message to those of the Flat Earth Society or Holocaust deniers, pointing out that neither of those groups are represented on campus and that the university is not looking to do so.
Grove posted the letter on his Facebook page on Sept. 24, where he was criticized for trying to limit the free speech rights of students.
"Are you trying to say they should be censored and you get to decide?" one Facebook user asked.
Grove said a chilling effect, which discourages people to exercise their free speech rights, is inevitable in situations like this but does not equally affect all groups; efforts to minimize chilling should be focused on groups who have been subject to a history of disenfranchisement.
"I think it's not do we chill or do we not chill," he said. "We look at all the different possible chilling effects that will inevitably happen, and we try to minimize them as much as possible."
Kirk and Owens were brought to campus by Nick Ochs, a journalism student and the head of Hawai'i's chapter of the Proud Boys.
The Proud Boys have been linked to misogynistic incidents on campus and Ochs said he has been subject to retaliation because of the reputation he and the Proud Boys now have on campus.
"Faculty, students-My free speech has been trampled upon on a regular basis," he said.
Ochs said he put up flyers for the Turning Point USA talk, but they were taken down within minutes. He said this was also the case when he arranged to have conservative speaker Hannah Scherlacher give a talk on campus in April.
Alex Lilly, a student on campus who served as security for the talk, said one of the problems with the university is that there is only one free speech zone on campus: the Campus Center courtyard.
"It should be addressed that our tax dollars are supporting this institution that stops free speech from happening on campus," he said.
However, the UH system did away with free speech zones on all campuses in 2014. Its current policy permits "non-commercial student speech and assembly in all areas generally available to students and the community."
There might be reason for the confusion. The Washington Examiner reported in March that the Foundation for Individual Rights in Education, a non-profit, non-partisan organization that looks to maintain civil liberties at universities, noticed that UH Mānoa had not updated the free speech policy on its website to reflect its discontinued use of free speech zones.
UH Mānoa's website has since been updated.
On Sept. 17, prior to the Turning Point USA talk, the William S. Richardson School of Law held a panel that discussed free speech at public universities in celebration of Constitution Day. The panel focused on offensive speech and the advocacy of a white supremacist ideology.
"The best and most constitutionally correct response to offensive speech is better speech," Joshua Wisch, the executive director of the American Civil Liberties Union in  Hawai'i and one of two guest speakers on the panel, said.
Charles Lawrence III, a professor at the William S. Richardson School of Law and the other guest speaker at the panel, said the First Amendment's protections at public universities do not apply everywhere on campus: regulated speech is allowed in classrooms, common spaces in dorms and university-maintained sites like Laulima.
"We may prohibit a student from writing the 'N word' on the board, or from displaying a pornographic photograph next to his post on the class web page, or a Nazi symbol... or hanging a noose on another student's locker or dorm room door," Lawrence said. "Other students are a captive audience in these settings and the presence of such language or symbols denies them an equal educational opportunity, or in the professor's case a harassment-free work environment."
UH Mānoa released a statement on Twitter regarding the event, saying it did not reflect the views of the university, but also stated, "UH policy permits diverse and lawful viewpoints to be presented on campus to encourage robust dialogue around disagreements and issues."
The Turning Point USA event was marked by its tension, as there appeared to be sizeable crowds of both those who agreed and disagreed with the messages Kirk and Owens were promoting. 
The event was under constant threat of devolving into shouting matches, name-calling and heckling, if it had not already succumbed to it.
"I'm kind of pissed that I had to leave my house... to come here and debate these a*******," Lenny Linsky, an economics student who attended the Q&A, said. 
The week of free speech rhetoric on campus is over, but it is an issue the university may face again.
"I'm going to," Ochs said about bringing more like-minded speakers to campus. "I'm going to get people they hate more, and I'm going to do this as much as I can."