Dolphins with soda rings around their mouths and seabird stomachs full of plastic might be what comes to mind when you think of marine debris. But the problem goes much deeper.
Marine plastics can also contain organic toxins hazardous to both humans and wildlife, causing decreased water quality and pollution from organic chemicals. These chemicals include PCB's, phthalates and formaldehyde, which can cause cancer in humans, according to Bergmann and their fellow researchers. Another study by Leberton, Greer and Borrero adds that 6.4 million tons of trash are released into the ocean every year, most of which is plastic, and plastic production has increased 500 percent over the past 30 years.
The debris also has untold personal and socioeconomic impacts in Hawai'i. It is hard for people to watch their home become a dumping ground, and tourism is greatly impacted as it depends heavily on world-renowned beaches. These places are being flooded with human-made debris, creating an eyesore and, potentially, serious health risks. One study claims that tourism in Hawai'i provides over 200,000 jobs to residents and produces over $12 billion in annual domestic product [4]. Pollution like marine debris has an effect on the perceived value of nature, as well as the ability to connect people with the natural world.
"Marine debris is a global issue negatively impacting Hawai'i," Blaire Langston, avid surfer and graduate student in the Department of Natural Resources and Environmental Management at UHM, said. "I want to be a part of the process helping to protect the ocean and its beaches for use by both humans and native species."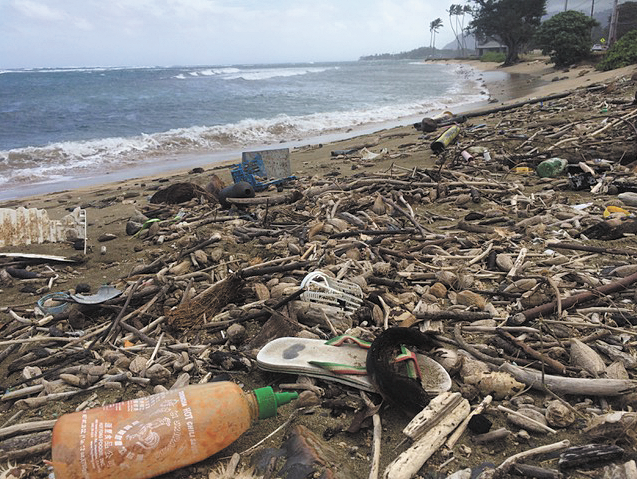 Langston's research targets people through education and awareness to reduce their contributions to plastic pollution, rather than removing plastics from the ocean. She is currently conducting surveys to understand how people see marine debris and communicate the ways people are impacting the marine environment. The goal is to curtail the flow of plastics into the ocean.
Little is known about the psychosocial perspectives of people contributing to the marine debris problem. Langston utilizes a human-centric approach; she focuses on the effects that environmental degredation will have on people. Langston hopes to address the lack of connection between people and place that has allowed the marine debris problem to grow so broad here in Hawai'i and across the globe.
"A great way to improve one's personal connection to the place and the issues is to personally get involved," Langston said.
As a member of the Surfrider Foundation on O'ahu, she encourages people to participate in beach clean-up events held by Surfrider, the Hawai'i Chapter of the Society for Conservation Biology and other groups across the island. 
"Participating in a beach clean-up can really open your eyes to the problems we are facing with human contributions to marine debris," Langston said.
With looming environmental issues like climate change and the depletion of natural resources, the simplest way for people to help improve the state of our beaches and oceans is to make personal changes. Avoiding single-use plastics like straws and take-out containers, Langston said, is an easy way to reduce personal inputs to marine debris. Helping to spread awareness about marine debris issues and voting for legislation like the Honolulu County Styrofoam ban, that limits our overall use of these goods, are other ways to help.
Further Reading
1. Bergmann, M, L Gutow, and M Klagas. 2015. Marine anthropogenic litter. Springer.
2.Lebreton, LC, SD Greer, and JC Borrero. 2012. Numerical modeling of floating debris in the world's oceans. Marine Pollution Bulletin 64:653-661.
3.Cooper, DA, PL Corrcoran. 2010. Effects of mechanical and chemical processes on the degradation of plastic beach debris on the island of Kauai, Hawaii. Marine Pollution Bulletin 60:650-654.
4. Carrier, SD, GL Bruland, LJ Cox, and CA Lepczyk, 2012. The perceptions of coastal resource managers in Hawai'i: The current situation and outlook for the future. Ocean & Coastal Management 69:291-298.