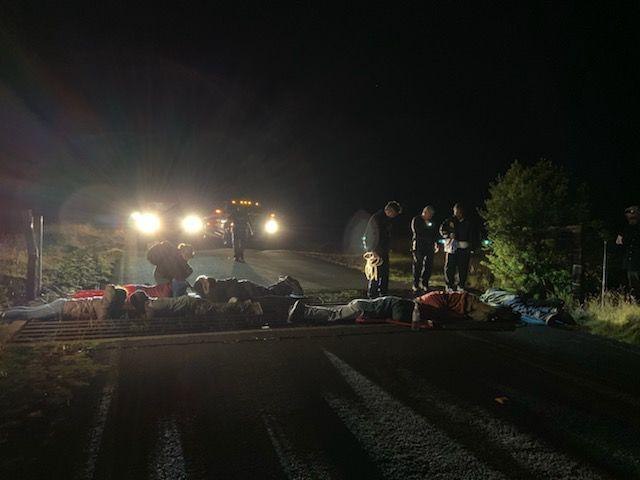 PREVIOUS COVERAGE
With the construction of the Thirty Meter Telescope near the summit of Maunakea beginning on July 15, the state and opponents are anticipating more rounds of legal battles and protests.
"This has been really challenging for the entire community including the University of Hawai'i," UH President David Lassner said. 
UH leadership acknowledged that the construction of TMT will continue to draw different opinions from the UH community. In a statement, UH leadership said that everyone must embrace the opportunities "to have empathetic discussions about our disparate opinions, including those that oppose decisions made by the university and state."
UH developed guidelines for faculty, staff and students with information in the event that they encounter forms of expression that may alarm them or prevent them from accessing or leaving their place of employment on campus. 
"As the flagship of our state's only public higher education system, UH Mānoa has a deep responsibility to provide high-quality affordable education to advance our people, our communities and our islands," the statement said. "That mission requires that we support and celebrate peaceful dialogue, diverse perspectives and critical analysis, as we continue our work in teaching, learning, scholarship and service."
During a July 10 press conference with other state officials, Gov. David Ige announced that construction would begin on July 15. 
"We have followed a 10-year process to get this point, and the day for construction to begin has arrived," Ige said. 
In 2015, construction of TMT was halted because protestors blocked workers from accessing the construction site. Authorities arrested 31 people in April 2015. 
In preparation for construction this time around, Mauna Kea Access Road will be closed at 7 a.m. on July 15, according to the State Department of Transportation. The access road will be closed for a few days to allow heavy equipment to be transported. Additional lane and road closures are possible. 
Department of Land and Natural Resources Chair Suzanne Case said that hunting units A, K and G in the Mauna Kea Forest Reserve area will also be temporarily closed starting on July 15. Altogether, the three areas are approximately 12 miles in diameter.
Both of these measures are being taken to ensure the safety of the public and workers transporting heavy equipment.
Ige also said that the National Guard will be on site to assist with transporting personnel and supplies as requested. 
At a June 20 press conference, Ige announced that the DLNR issued a notice to proceed for construction on June 19. The permit was issued after the DLNR confirmed that the project met pre-construction conditions and requirements in the Conservation District Use Permit. 
With the construction project moving forward, protestors and Native Hawaiian activist groups expressed concern that officials will use a long-range acoustic device, or "sound cannon," against protestors.
According to a letter to the DLNR from the American Civil Liberties Union of Hawai'i, "The LRAD technology concentrates and directs acoustic energy (that is, sound) in a narrow beam at a target, making for an incredibly loud, powerful, and painful sound." 
In the letter, ACLU demanded that the state not to use the LRAD against protestors. 
Ige said that the LRAD will not be used against protestors, but used as a way to communicate with large groups if needed. 
"See you on the Mauna" 
Office of Hawaiian Affairs Chairwoman Colette Machado and OHA Trustee Dan Ahuna sent a letter to Ige demanding a halt to the construction of TMT. The letter highlighted the Native Hawaiian community's concerns over the state's management of Maunakea. 
Many Native Hawaiian activist groups and TMT opponents indicated that they would stand firm in their resistance to the construction. 
"We know that the State of Hawai'i is ramping up for what could possibly be the largest mobilization of law enforcement agencies in recent memory," Kaho'okahi Kanuha, a Native Hawaiian activist, said in a press release on July 13. 
A portion of an essay published in Kanaeokana, a network of 'ōlelo Hawai'i, Hawaiian culture and 'āina-based schools asked if the State of Hawai'i has a clear title to Maunakea and seven legitimate rights to determine who can use it. 
The piece is titled "10 questions about Mauna Kea whose answers might surprise you."
"No. The Mauna Kea summit is ceded land—that is, part of the roughly 1.8 million acres seized from the Hawaiian Kingdom government and Queen Lili'uokalani by a cabal of sugar businessmen and missionary descendants with US military backing—an undertaking that President Grover Cleveland called 'an act of war,'" according to the essay.
Lassner acknowledged that there are divided opinions among the community, and that he feels the frustration of those who oppose the TMT project. 
"There are also many, many people who see the benefits of the project, including many Kānaka Maoli," Lassner said during the July 10 press conference. "Many of whom choose not to speak out in support, but many of whom do want to see this project built for the contributions to human knowledge, for the contributions to education, for the contributions to the economy and the sheer impact of discovery."
Construction of the $1.4 billion telescope on the northern plateau of the summit is expected to last around a decade. State officials said that there are plans to have five of the current 13 telescopes on the summit decommissioned.