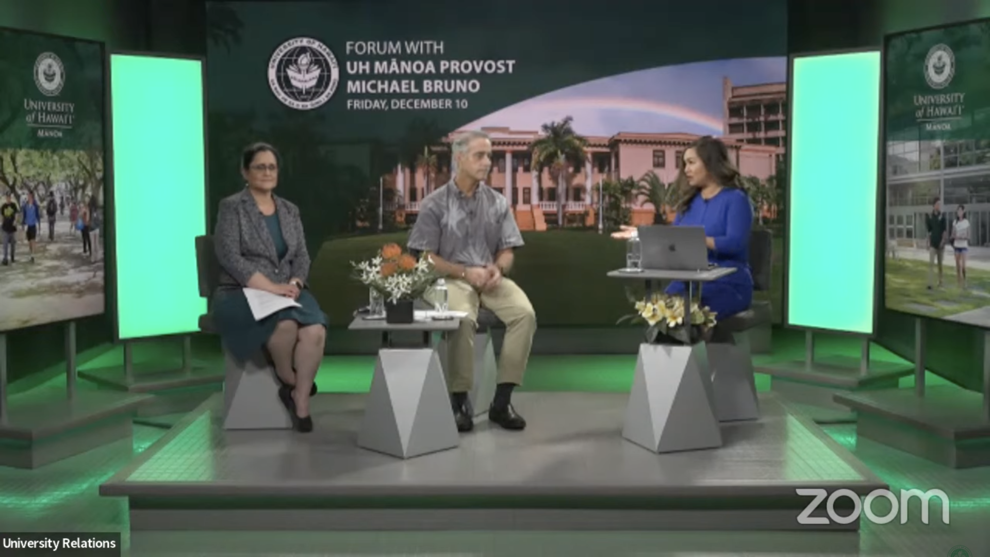 Provost Michael Bruno announced today that the University of Hawai'i at Mānoa is now considered a "fully vaccinated campus" by the Center for Disease Control and that classes will be in person, with masks, starting in the spring.
"Our vaccination numbers are extraordinary. I cannot find a similar rate anywhere else on any other campus," Bruno said. 
Moanike'ala Nabarro, a spokesperson for the UH Communications office, moderated the two-hour virtual forum with Provost Bruno and JABSOM Associate Dean Lee Buenconsejo-Lum this afternoon to discuss the students and faculty's questions and concerns about the new policies.
Bruno also said that the campus is now "fully open" and that the only restrictions that remain for students are completion of the LumiSight App before arriving and that students must wear a mask while indoors. 
"Outside of those restrictions, it's game on," Bruno said.
Bruno said that nearly 14,000 students have registered for next semester, with only 2% of those students having requested a vaccine exemption. 
"Many would be surprised to hear that we have not had a single case of transmission in a classroom since March of 2020," Bruno said.
"In the eyes of the CDC, we are a fully vaccinated campus that provides us with opportunities for in-person learning that don't exist on campuses that can't see the same thing," he said.
Key takeaways from the forum:
Will the COVID-19 vaccination be a health requirement clearance permanently?
"Probably, at least for the next year and a half," Dr. Buenconsejo-Lum said
"I think by sometime middle or late next year, there'll be more information in terms of whether we need ongoing boosters, and things like that. And really until those questions are answered, then I think there's no intention to change the current state law."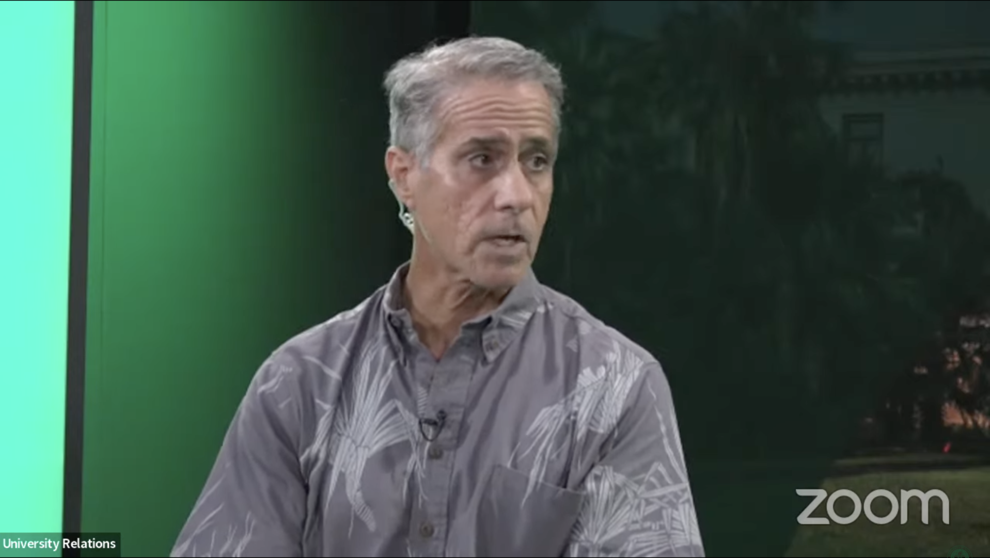 She said that there are other vaccinations required by the university, such as for measles, mumps and rubella, which were all put in place after years of study, so COVID-19 could possibly be added to the immunization clearance. 
How many courses will be in person for the Spring 22' semester?
"The answer is that the degree to which courses are offered in person versus online varies quite a bit from college to college," Bruno said. 
He said that while UH would like to offer both online and in-person options for every class, they are trying their best to accommodate the students' needs.
"I wanted to mention that most of our units have more than 10% of their courses with sections that are either in person or online... Within those courses, you have sections that are online or in person so you can choose, and that to me is a great thing," Bruno said. 
Other hands-on classes such as labs, engineering and architecture will be all in person, he said.  
Will university related travel for staff and students be allowed in the spring? (Research, conferences, etc.)
Bruno said that he has been delegated by President Lassner to approve travel on university funds. He said that he has already approved several requests for travel inter-island or trans-nationally next semester. 
Are third party gatherings allowed on campus and are visitors allowed to use UH's venues (sports, theater, events, etc.)?
Visitors are allowed on campus with proof of vaccination through the LumiSight App, Bruno said. 
"Our staff has been trained to, really kind of detect fake [vaccination cards]. Nothing is 100% but really we trust our community that everyone wants to do the right thing and keep everyone safe," Bruno said.
If students adamantly refuse to wear their masks in the classroom, what would happen? 
"First, I would say I would be shocked if this kind of scenario appears on our campus. If it does, we do not want the situation to escalate between the student and the faculty member," Bruno said. 
He said that faculty should "not have to act like police officers in the classroom." 
"Because that would be a violation, not only of our protocols, but also the Student Code of Conduct. And so that student will be subject to disciplinary action," Bruno said.
Does UH have the legal right to mandate vaccines for students and employees? 
"The university, and this comes from our Office of General Counsel, has the legal authority to require vaccination or testing. That authority comes from, we believe, both state and federal actions and policies that first derives from the governor's emergency order," Bruno said.
What happens if a student or employee refuses to get vaccinated and comes to campus?
Bruno and Buenconsejo-Lum both agree that people may forget to bring their masks and vaccination cards with them at times. 
"We just want to make sure that people are mindful of each other and thoughtful and respectful. Someone might forget to put on a mask when they walk into a building so we can gently remind them," Bruno said. 
Bruno encouraged all students and faculty to contact him if they have any questions or concerns at mbruno@hawaii.edu.