Protestors gathered outside of the Prince Kūhiō Federal Building in Honolulu last Friday to call action against the Navy's recent water contamination.
This event was just one of many protests that have been erupting around the island in response to residents finding traces of fuel in their water systems. 
The Red Hill Bulk Fuel Storage Facility, located near ʻAiea, has been used since the early 1940s to support military actions in the Pacific. The facility can store up to 250 million gallons of fuel. 
The facility has a history of leaks, including an incident in 2014 when a tank released nearly 27,000 gallons of fuel into water due to a contractor's error, according to the Navy Region Hawai'i website. They say that after that incident, the Navy and Defense Logistics Agency began "modernizing" equipment to monitor water quality.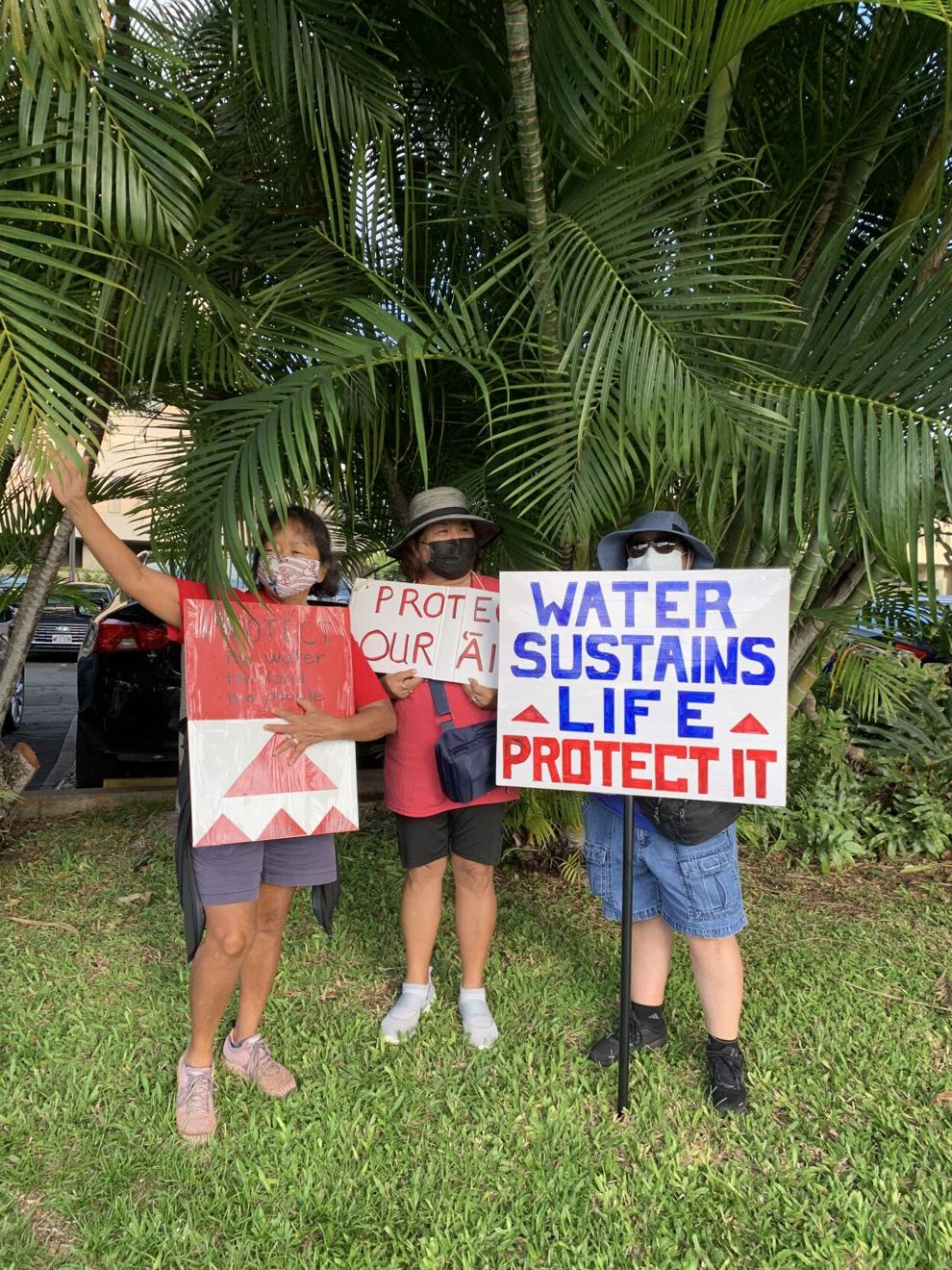 On Nov. 28, 2021, the Department of Health was notified that people using Oʻahu's Navy water system were experiencing fuel-like odors in their tap water. A week later, the Navy released a statement showing traces of petroleum in its Red Hill well water and advised the approximately 93,000 residents in the area to avoid using water until the levels are back up to the Environmental Protection Agency's health standards. 
The Navy continues to temporarily suspend its fuel tank operations, including the recent closure of the Halawa well, which serves a large part of South O'ahu. Gov. David Ige issued an emergency order on Monday urging the Navy to submit a plan within the next 30 days assessing how to safely defuel the storage tanks. 
Residents voiced their concerns in the recent protest on Dec. 3. 
"I am here to protest the illegal dumping of fuel into my neighborhood water supply. I live in military housing with my family and as a native Hawaiian we understand that water is life. E ola i ka wai. Water is our livelihood," Maikapuaihilani Meilinhall, a protester at the event, said. 
Meilinhall lives in the Ohana Navy Communities and said that she complained to the housing department several times that she smelled an odor coming from her tap water. She said that they told her there was no indication of fuel in the water and that it was okay to drink.  It wasn't until Dec. 3, when the Hawai'i State Department of Health announced that there was evidence of trace amounts of heavy oil in the water samples, that Meilinhall knew she was right.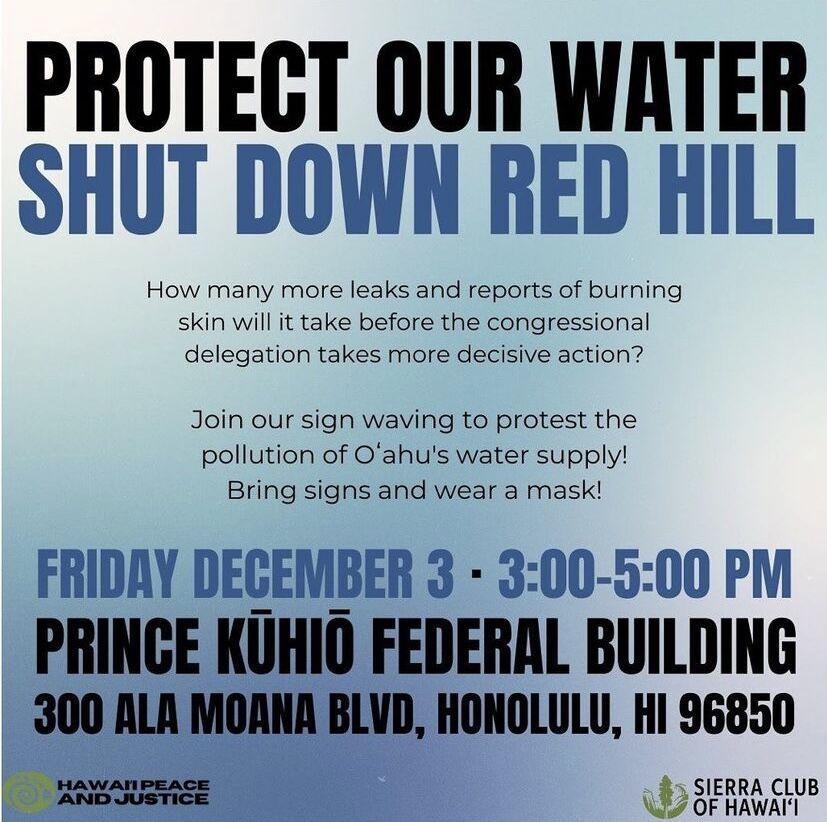 "To have sickness in my family from drinking tainted water is painful and hurtful and it needs to stop," Meilinhall said. "To be told to our faces that the very people that my husband signed up to serve and protect this country for were lying to us is hurtful."
Many protestors claim that this issue is not a new one, but one woven far back into the history of the Hawaiian Islands.
Aree Worawongwasu, a member of the Oʻahu Water Protectors coalition and University of Hawai'i graduate teaching assistant, said that it is impossible to talk about climate justice without discussing decolonization in Hawai'i as well.
"The U.S. is illegally occupying Hawai'i so if they're claiming to serve and protect while contaminating the water, that's not only in this really central aquifer but also has the potential to seep into all the other water sources in Oʻahu, we really have to consider what genuine security looks like," Worawongwasu said.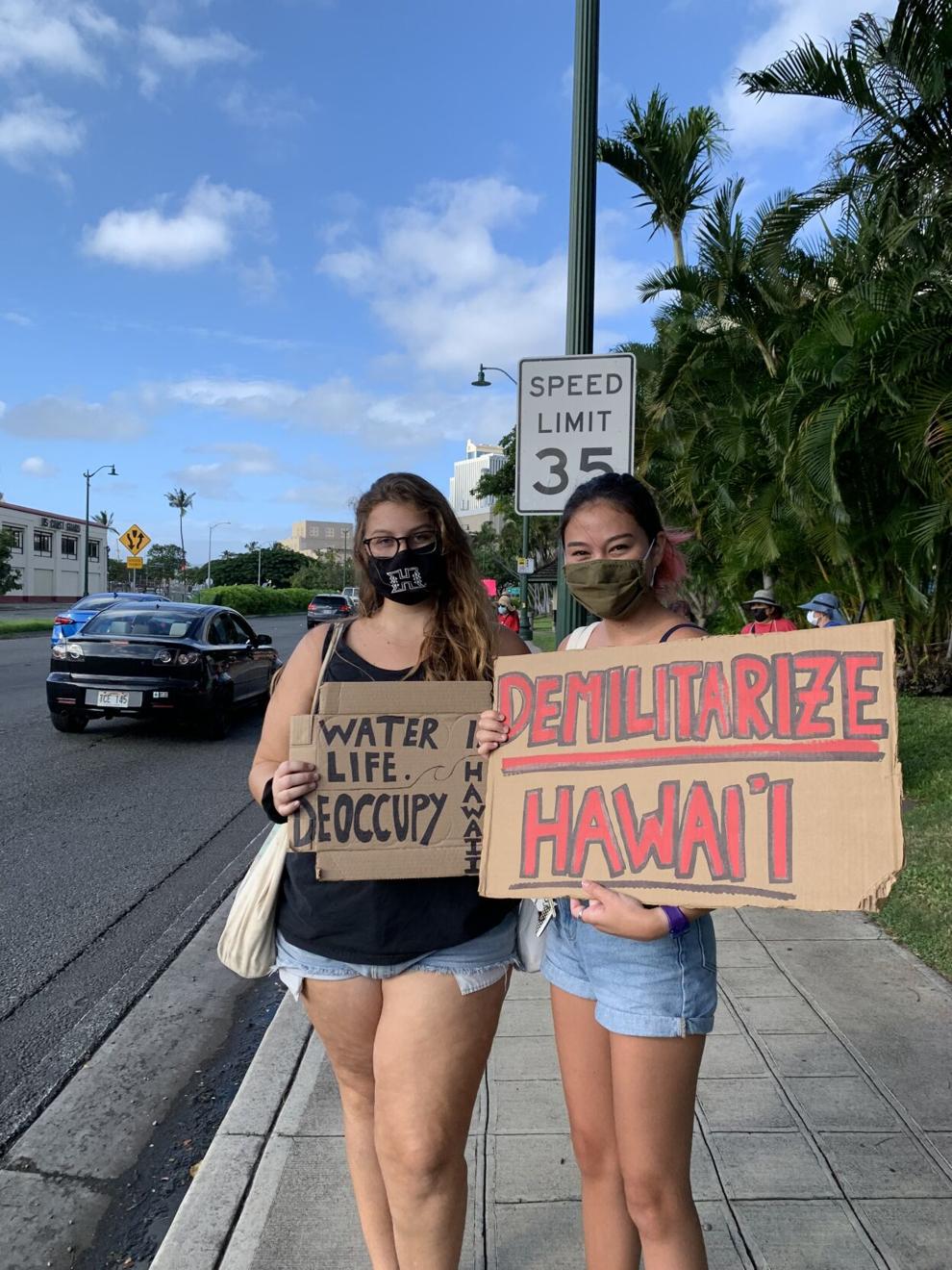 Daniel Kauwila Mahi, another protester at the event, said that he fights for this cause because he doesn't feel that anyone else will fight for the water rights of future generations if the public doesn't take action. 
"The reason I'm passionate about this is the same reason we all should be which is this water is what sustains life for everybody in Honolulu, not just kānaka maoli, not just the U.S. Navy, and there is a genealogy of the U.S. Navy in particular damaging Hawaiian waters," Mahi said.
Kalehuakea Kelling, a UH alum and protester at the event, said that the U.S. military has a long history of extracting resources and not cleaning up the messes they make. "Water is such a precious resource that we have. It's essential to everybody. You know they have no regard for 'āina and the resources that they use and they really have no reason to be here,'' Kelling said.
Kyle Kajihiro, a board member of Hawaiʻi Peace and Justice and professor at UH Mānoa, urged community members to write to their elected officials and to call on all levels of government to act urgently to resolve this issue.