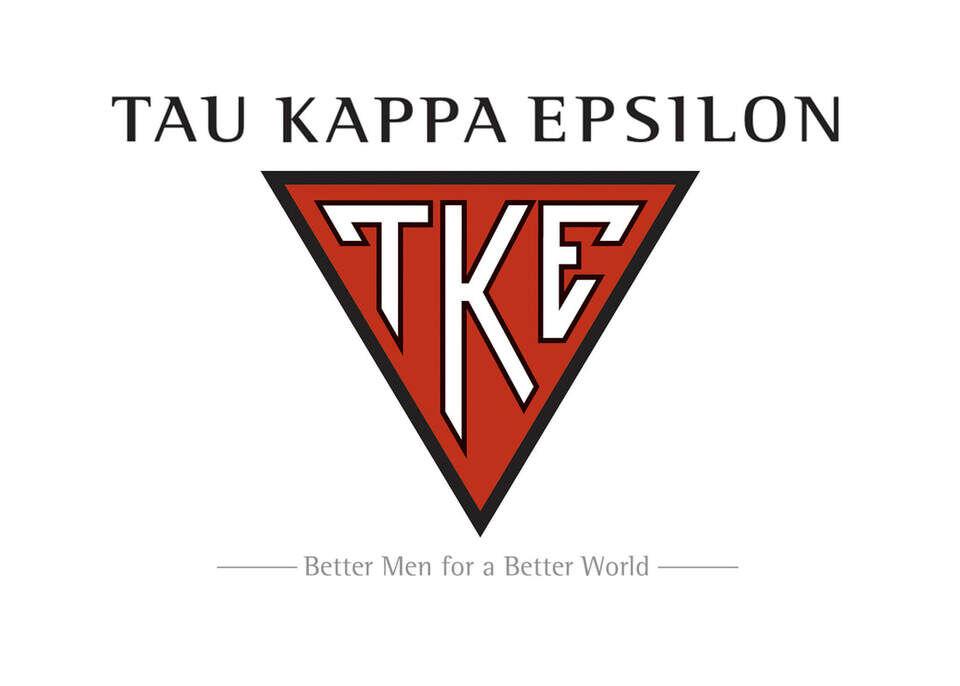 Tau Kappa Epsilon (TKE), a fraternity of University of Hawai'i at Mānoa students, has received several accusations since Tuesday, Nov. 3 after at least 15 women are said to have been "roofied" by TKE members since the beginning of the semester. 
TKE's statement was posted via Instagram the following day, and received a majority of negative feedback in the comments section: 
"We hear you. The Tau-Epsilon chapter of Tau Kappa Epsilon has been made aware of recent allegations of misconduct regarding our fraternity, and would like to offer our full support to anyone who has been a victim of such behavior. We have a zero-tolerance policy regarding any form of sexual misconduct, and hold all brothers and potential new members accountable for their actions. At this time, we have not received any information regarding the identity of the individual(s) involved in these misconduct allegations. If you or anyone you know has experienced harm, please contact the Honolulu Police Department immediately. If you have any helpful information, please feel free to reach out to us via DM or e-mail. In that way, we can be of assistance in dealing with any and all accusations of misconduct within our fraternity. Our goal is to create a safe and welcoming environment in the local community, and any threats to the safety and well-being of our community are taken very seriously. We are working with our national fraternity executives to ensure proactivity in this case for the individuals who have fallen victim to this tragedy." - Statement via Instagram (@hawaii_tke)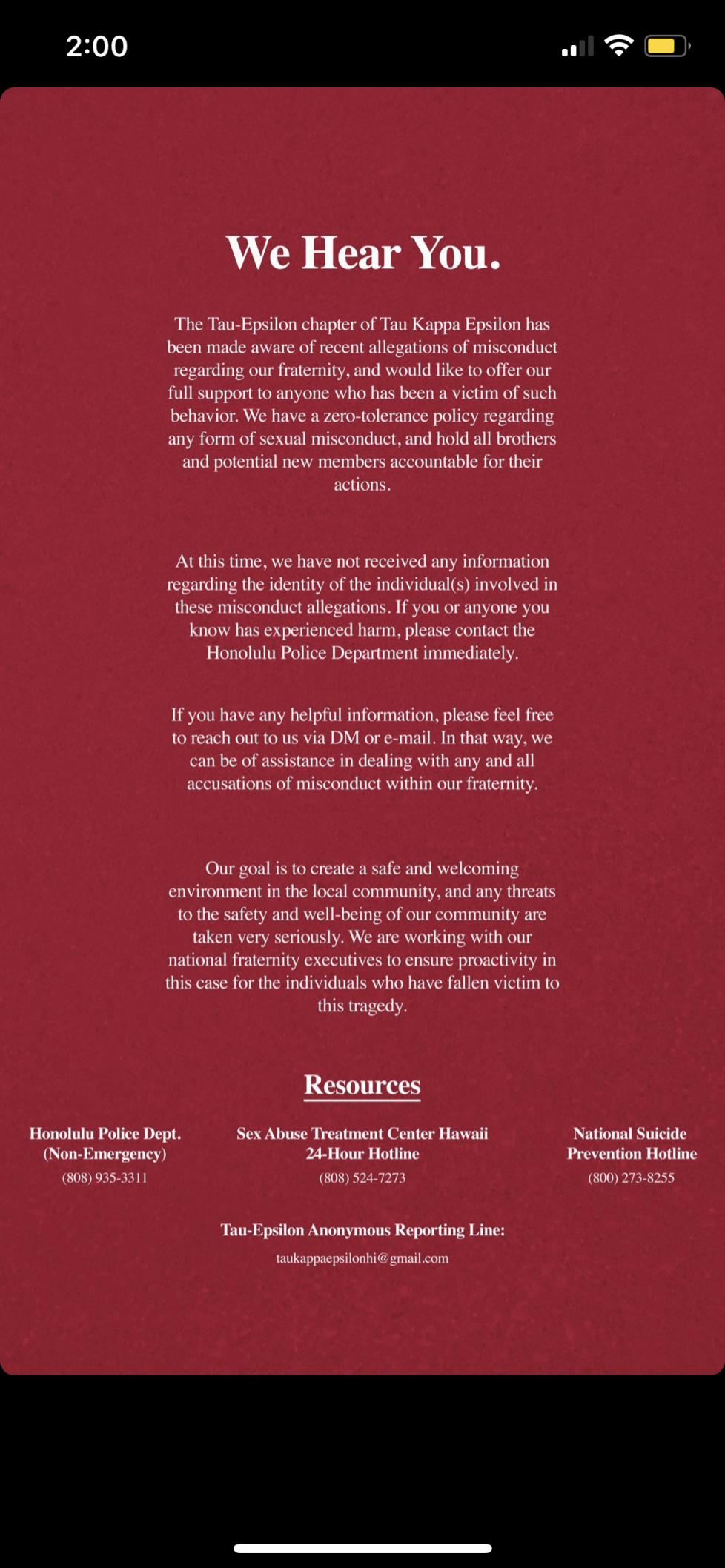 TKE's post additionally shared resources, including the Honolulu Police Department (Non-Emergency), Sex Abuse Treatment Center Hawaii 24-Hour Hotline and National Suicide Prevention Hotline phone number.
Immediately after the post was shared, UHM students flooded into the comments section of this post voicing their concerns of TKE's authenticity and honesty in regards to taking action and conducting an investigation into these allegations. Some of the posts' viewers have said that TKE was responding with similar "copy and pasted" responses to those concerns, and since then TKE has limited or turned off comments on the post.
Despite the first sentence of their statement, many of those who commented on the post and reposted it to their Instagram stories stated that they did not believe that these survivors of abuse and assault were truly being heard by TKE, nor by the university, calling on both to do better. 
Ka Leo reached out to TKE for a further response to the allegations. The organization stated: 
"At this time, we do not have any information regarding the identities of the perpetrators or if they are affiliated with our organization."
One perspective of a student was shared through social media on Tuesday, Nov. 5, through an Instagram and Snapchat post:
"PLEASE READ: It has come to my attention that since the beginning of the semester (late August), at least 15 girls have been roofied by members of the TKE fraternity at UH Manoa, one of them being a friend of mine. It shatters my heart that this sickening behavior is happening not just at UHM, but [at] universities & colleges across the nation. Additionally, to my knowledge, UH Manoa has been notified of this situation (with names included), and at this moment, has chosen to not punish any frat brother involved in this situation. Up until this point, the school has also not notified other members of the UHM community (students, faculty, & staff) of this incident as they do with SA, robberies, and other serious incidents. Please, please, please tell your friends about what's happening, as many do not know that this has been happening FOR MONTHS. Spread the word! If you or anyone you know has been through a situation similar [to this], whether it happened at UHM or elsewhere, you do not have to go through the pain alone. You are so, so strong, and your situation NEVER defines you or your character! My prayers & love go out to you. Thank you, Erin."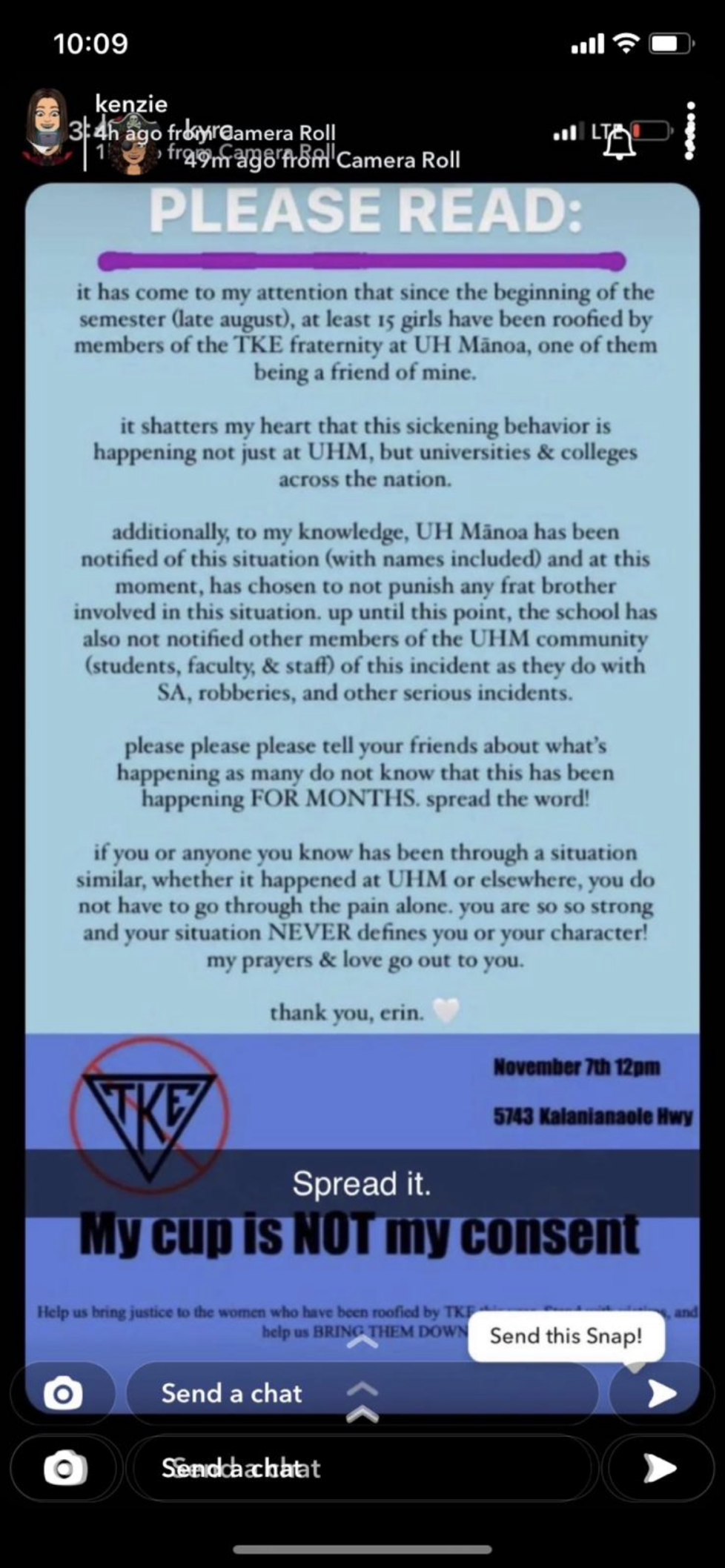 Kurth also included a date and address at the bottom of the flyer, mentioning a public protest in Hawai'i Kai organized by an anonymous UHM student. The event will take place Nov. 7 at 12 p.m. at the address 5743 Kalanianaole Highway. 
"I was heartbroken, disgusted and scared that not only had these incidents been happening since the beginning of the school year, but to my knowledge, the university has not notified us about this situation as they do with other safety concerns," Kurth said on Tuesday.
Dan Meisenzahl, UH Spokesperson, told Ka Leo Thursday that they have been investigating the issue and have "reached out to over two dozen students" since September when initial allegations surfaced, and said that not one victim has been identified. 
UHM released a statement Friday morning on the social media claims: 
"The university is aware of social media activity that makes claims that UH Mānoa administration is ignoring reports of students having been drugged and sexually assaulted by other students at an unspecified location. We are writing to assure our community that the university has in fact responded strongly to these reports, and that law enforcement is aware. Officials have reached out to more than two dozen individuals since late September, including those who first posted the claims on social media. The organization that is accused of being involved is not affiliated with the University of Hawaiʻi. Regardless, we are committed to investigating all reports of misconduct, and to maintaining a campus community and environment free from sex discrimination and gender-based violence. As the health and safety of our students are paramount, the university has a responsibility to respond to these types of allegations. Anyone with direct information about these incidents are asked to please contact the Office of Student Conduct at osc@hawaii.edu. If you are a survivor of sexual assault, related to this incident or not, there are campus resources available to provide the support and help you need. Options range from receiving confidential support to filing an official complaint. Resources available at UH Mānoa. Anyone found to have violated UH policies and procedures, including our policies covering sex discrimination and gender-based violence, is subject to disciplinary action up to and including expulsion. Our internal investigatory process is separate from any criminal penalties a student may face under the criminal justice system," - Provost Michael Bruno
Ka Leo also reached out to the Honolulu Police Department, who said a case has not been filed for these allegations.
Kurth said that she did not think that her Instagram and Snapchat post would reach hundreds of people, and she is proud that this situation has been brought to light.
"Throughout my time here at UH Manoa I have appreciated that the university prioritizes the safety of all students, faculty and staff. Thus, I hope that those involved will be held accountable and that the university will take the necessary actions to prevent further incidents from happening," Kurth said.
The flyer was quickly shared and reposted on social media by both UH students and others. The circulation of this flyer and its consequent uproar quickly evoked a response from another UH Mānoa fraternity, Kappa Sigma, which said they have received no allegations of assault. In contrast, Kappa Sigma's statement received generally positive feedback— for the exception of a few that challenged Kappa Sigma's dedication to educating their brothers about sexual assault— in the posts' comments section:
"In response to the recent allegations of sexual assault within our University of Hawaii at Manoa community[,] the Kappa Sigma Fraternity would like to show our solidarity with all survivors. We do not condone any forms of sexual abuse, assult, or violence in any way, shape, or form. We condemn the action of the assaulters who have corrupted these environments[,] which were intended to be spaces of safety, empowerment, and growth. Furthermore, the women who came forward with their stories of sexual assault are exceptionally brave. We would like to thank the survivors for taking action and speaking up to bring accountability and justice to our university's community. The Kappa Sigma Fraternity believes that we, as a part of the UH Manoa community, must advocate for broader societal changes to create a culture of consent[,] rather than faith in the criminal justice system that is so often rooted against women. We must teach consent holistically to young people and encourage bystander interventions while actively standing out against the victim-blaming and shaming that is still all too common. Women must have the resources for social, health, and general wellbeing to assist them regardless of whether or not they choose to report to the police. If you have any information regarding brothers of the Kappa Sigma Fraternity acting in such conduct[,] an investigation and immediate expulsion will take place."-Formal statement via Instagram (@kappasigmahawaii) 
In addition, the Kappa Sigma post also shared resources for women, including the National Sexual Assault Hotline, Hawaii Sex Abuse Treatment Center, UH System Confidential Advocate and UHM Department of Public Safety phone numbers.