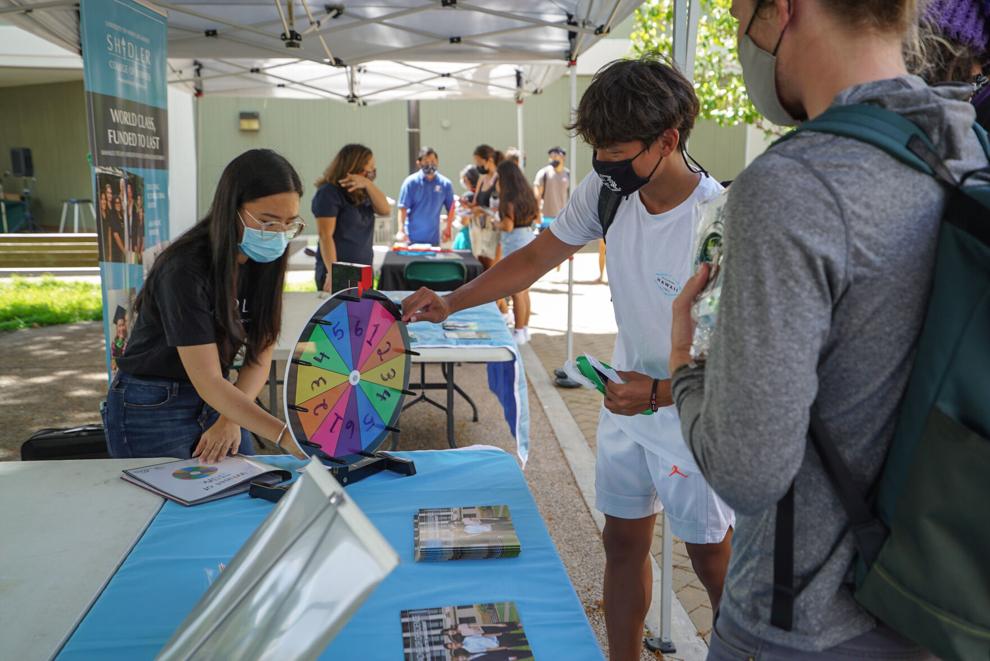 The University of Hawai'i at Mānoa held the Welina Mānoa: First Day of School Kick-Off Event on Sept. 22, where students were invited to interact with different organizations on campus.
Tents offered free snacks, merch and other goodies for students. The goal of the event was to familiarize students with the resources available on campus. 
The Office of Admissions, Office of Student Conduct, Financial Aid Services, LGBTQ+ Center, Student Equity Excellence Diversity, Office of Multicultural Student Services and others participated in the event. Students registered and received a passport to document their travels from table to table to learn about their campus resources. Once the passport was complete, students could submit them for the chance to win prizes. 
The welcoming event was initially postponed due to state coronavirus restrictions. The solution was to have limited numbers of organization members representing each table and ensuring that students were continuously rotating out. 
Welina Mānoa was one of the first in person events on campus in over a year and a half. "I am surprised at the amount of people stopping by, it feels like the old times," Alexander Khaddouma, counselor and psychologist in the Counseling and Student Development Center, said. 
"I'm really glad that we are doing this kind of event and I am surprised and excited that we can hold more of these this year. It gives us hope," he said.
Some students said they were excited to attend the event and get out of the dorms. "The event holds a certain level of excitement even though we have been here for a month, we have not been able to do much," Lauren Garner, an animal science major, said.
Kaila Flores, a business major, made the trek from her off-campus home to attend the event. "I was hoping to learn more about clubs and the organizations on campus so I could maybe get involved," Flores said. "I am really big on school spirit and community, so whenever there is a chance to attend something I will. I love the feel of community and the shared excitement."
"There are many great resources for students, but they can be hard to find on campus," Moto Tomita, regional director for International Recruitment in the Office of Administrations, said. "Here, we bring the resources to them."
Resources available on campus such as tutoring, navigation, mental health and community building can be instrumental in a student's success.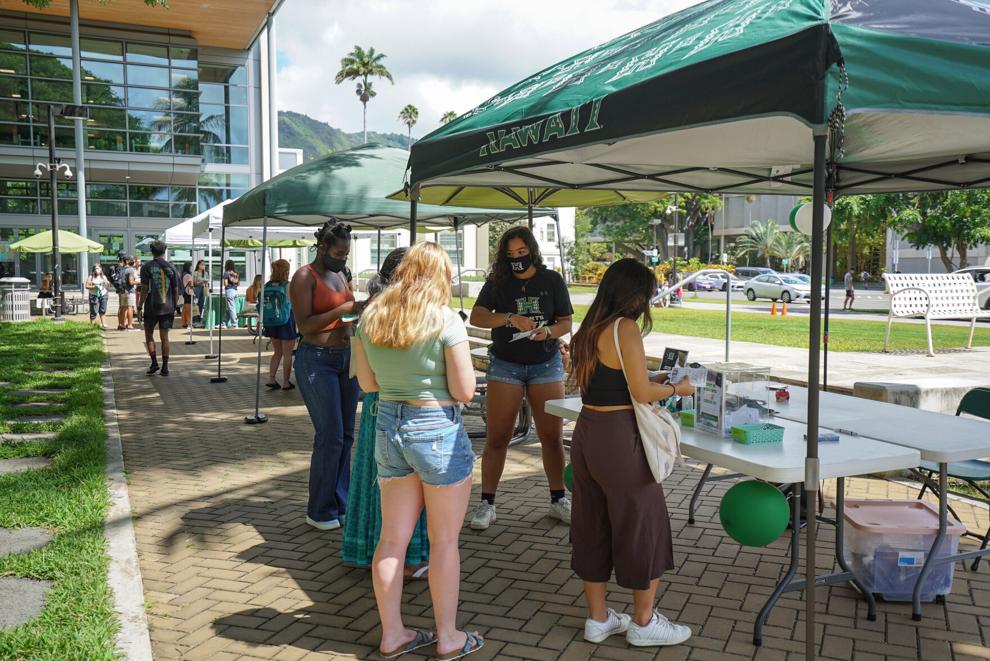 "I came because I knew this was kind of an introduction to campus, and so I wanted to see what was here," Garner said. "I feel like a lot of people don't know what is available to them on campus. There are all sorts of things on campus that can help you, this is a really good opportunity for people to get that information." 
Welina Mānoa not only offered information and resources, it also gave students a sense of community and hope that has been missing since classes were moved online. "I am so happy we get to do this. [The university] could have cancelled and the fact that they didn't is really great. It's a really important event," Garner said. "These are the people who are going to help you with your future."