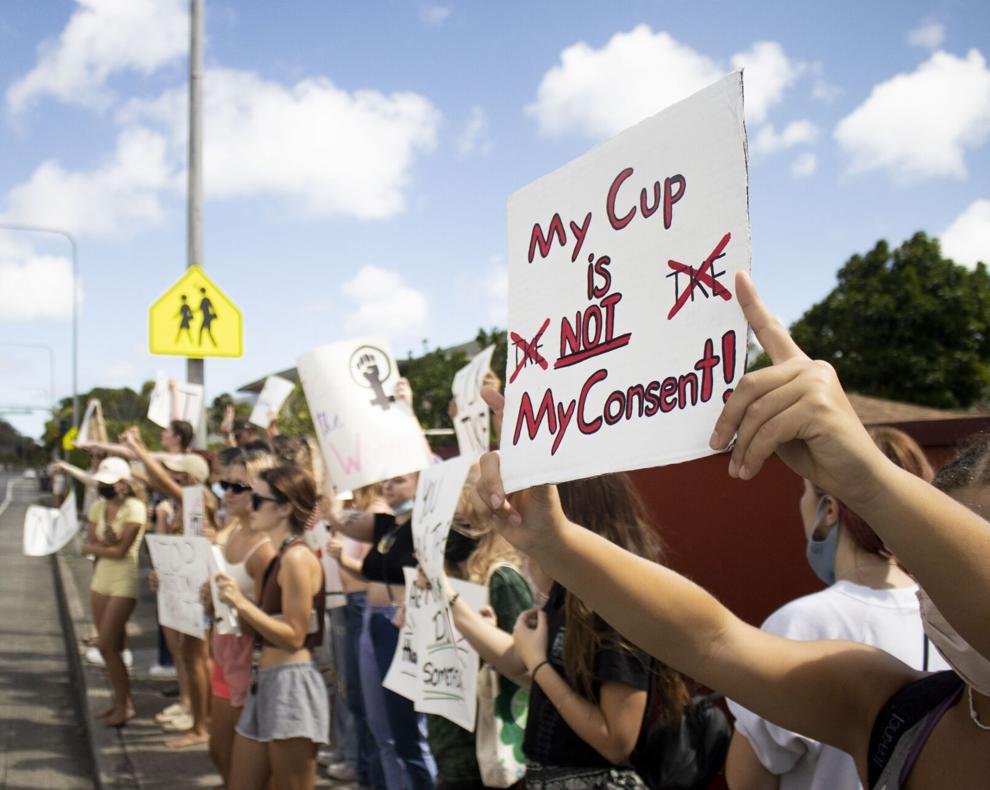 Content warning: This article contains references to sexual assault.
On Sunday, Nov. 7, over two dozen students gathered to peacefully protest the actions of the Hawai'i college fraternity chapter Tau Kappa Epsilon following allegations of sexual assault and drugging by TKE members that resurfaced earlier this week. 
Protesters arrived at 5743 Kalanianaole Highway, the location of the TKE fraternity house, holding signs with phrases saying "stop protecting rapists," "hold rapists accountable" and "you have names, do something." Phrases circulating the crowd were "hands off," "don't touch my drink" and "don't touch my body." Ka Leo confirms that at least two alleged victims were at the protest.  
"Hey boys! We're not little toys, we're women, so stop playing with us," shouted Michaela Baker, a UHM freshman.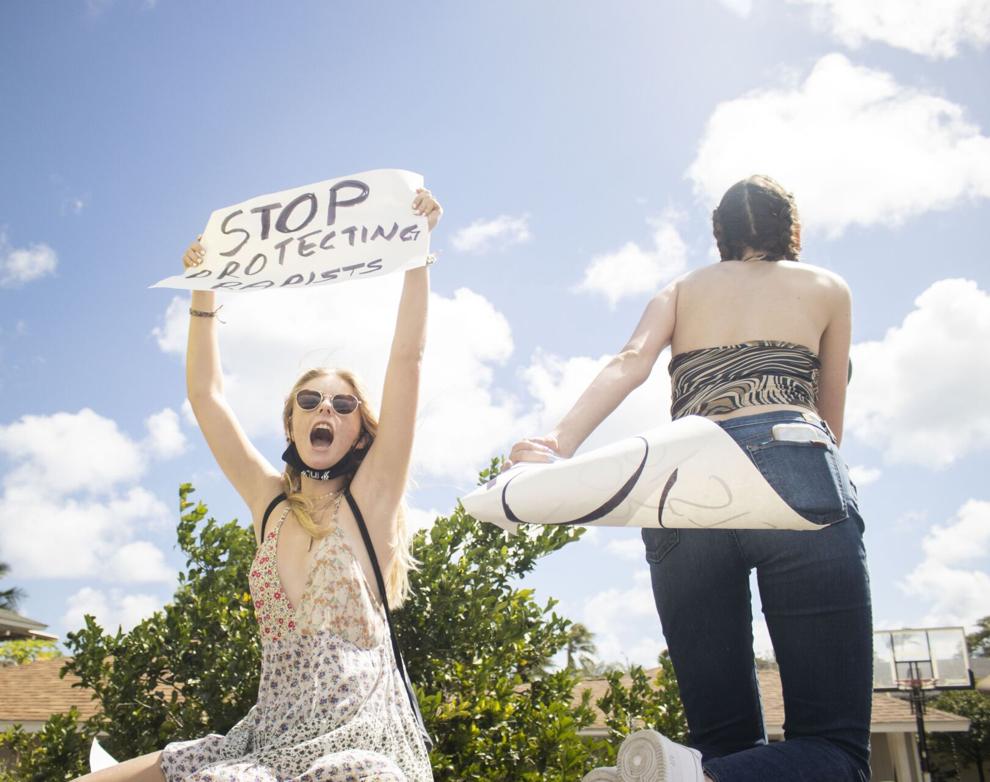 Countless passing cars displayed their support by repeatedly honking. One unknown woman in a passing car yelled out, "Our friend was just raped two weeks ago at your dorm." 
At around 1:30 p.m., the Honolulu Police Department arrived at the scene and asked that protesters stay out of the street. The situation remained peaceful and people began to disperse at around 2:30 p.m. 
Protesters repeatedly rang the bell at the gate of the fraternity house, but there was no answer from members at the TKE house. One protester shouted in the crowd claiming that they had received a prior message from a TKE member who called the protest "immature."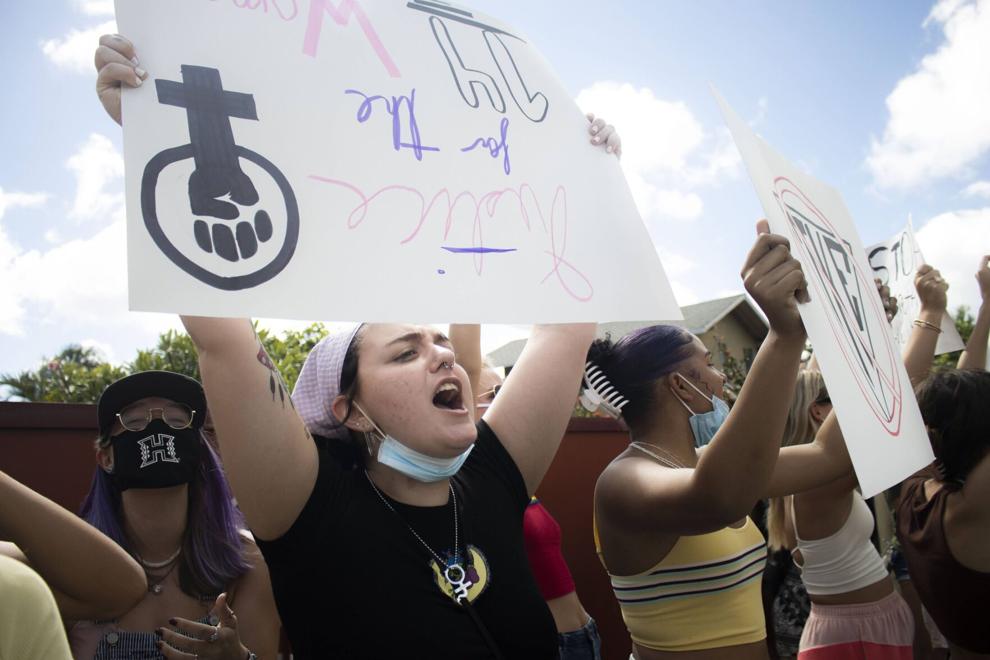 Ka Leo interviewed various protesters at the event, and each shared why, for who and for what cause they were protesting. 
Cassidy Rodgers explained that though she had no personal connection to the allegations, she feels very strongly about the issue. "Our cups are not our consent. We should be able to feel safe at parties. We should be able to feel safe around frat members who … we literally go to school with." 
She also added, "I just want all of the victims to know that you are so supported and that your stories will not be forgotten. Your stories will be the foundation of the change that we are going to try to make."
Izaiah Issac, a UHM freshman, explained that it is important for men to participate in protesting as well. "I think a lot of men are scared to come for some reason. I think it's important to stand up for what's right. Always." 
Malama Hokama-Paris, a UHM junior, said, "For me, it's important because I have sisters, I have friends, and of course I one day hope to have a daughter, so it's important for kāne (men) to stand up and take responsibility … and stand with the people who need [support]." 
Another junior, Makana Herrera, agreed. "We need to do something as a collective."
Mattia Da Fieno, a UHM freshman, stated that, "I'm here because this is horrible. [Sexual assault] is a disgraceful action ruining the lives of women who just wanted to go out and have a good time at a party, but the frat and frats across the entire country have been doing this... It's despicable."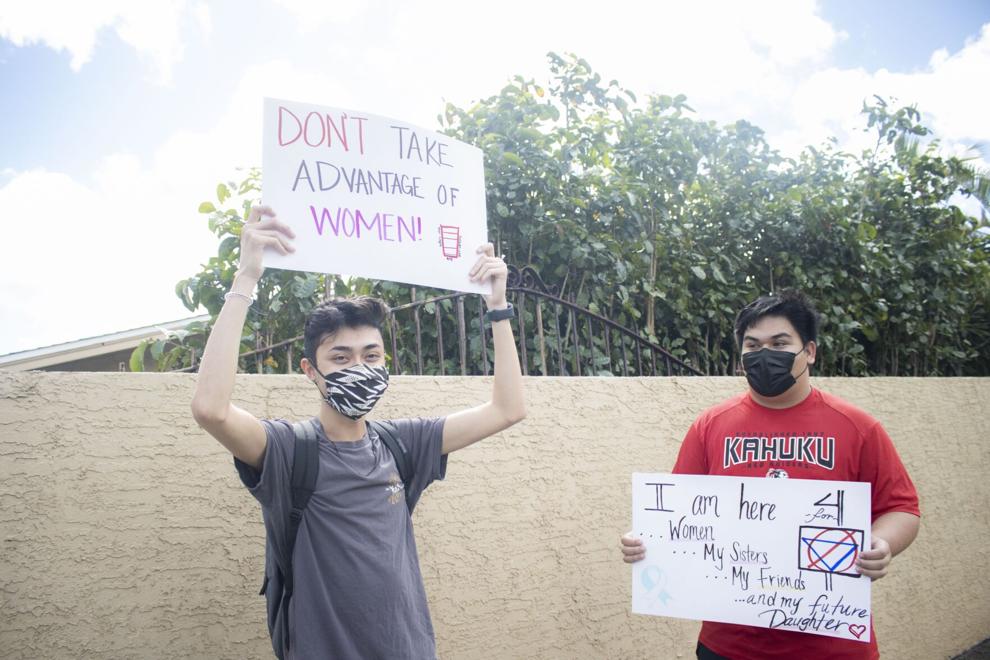 He also added that more men need to show their support. "It can't just be that we sit and watch other people protest this. We have to stand up and support the women who are fighting this," Da Fieno said.
Elijah Lopez, a UHM freshman, stated, "I'm out here because I want to be proactive in helping this ... get more exposure … because it's a serious issue... They've [TKE] gone years like this with immunity … and I think more men should be out here because we can't just sit silently and let it happen."
Sydney Nelder, a UHM freshman, explained why she decided to come out and protest. Ka Leo received permission to include Nelderʻs statement.
"As someone who's been sexually assaulted before, I've gotten my voice silenced, and I don't want my sisters' voices being silenced any longer, nor mine. So I'm just here to speak up on something that I believe is wrong. These boys need to be held accountable at the end of the day."
"I shouldn't be having to hear about my new friends being sexually assaulted and roofied by frats. That makes me sick to my stomach because I've had to go through that, and the fact that it's still going on makes me even more upset, so that's why I'm here today," Nelder said.
If you are in need of support, here are some resources you can contact:
Sex Abuse Treatment Center: (808) 524-7273 http://satchawaii.com
UHM Department of Public Safety: (808) 956-6911 https://www.hawaii.edu/titleix/help/confidential/
Mānoa Advocate: (808) 956-9499 https://blog.hawaii.edu/manoaadvocate/aboutus/
UH System Confidential Advocate: (808) 341-4952
Counseling and Student Development Center: (808) 956-7927 http://www.manoa.hawaii.edu/counseling/