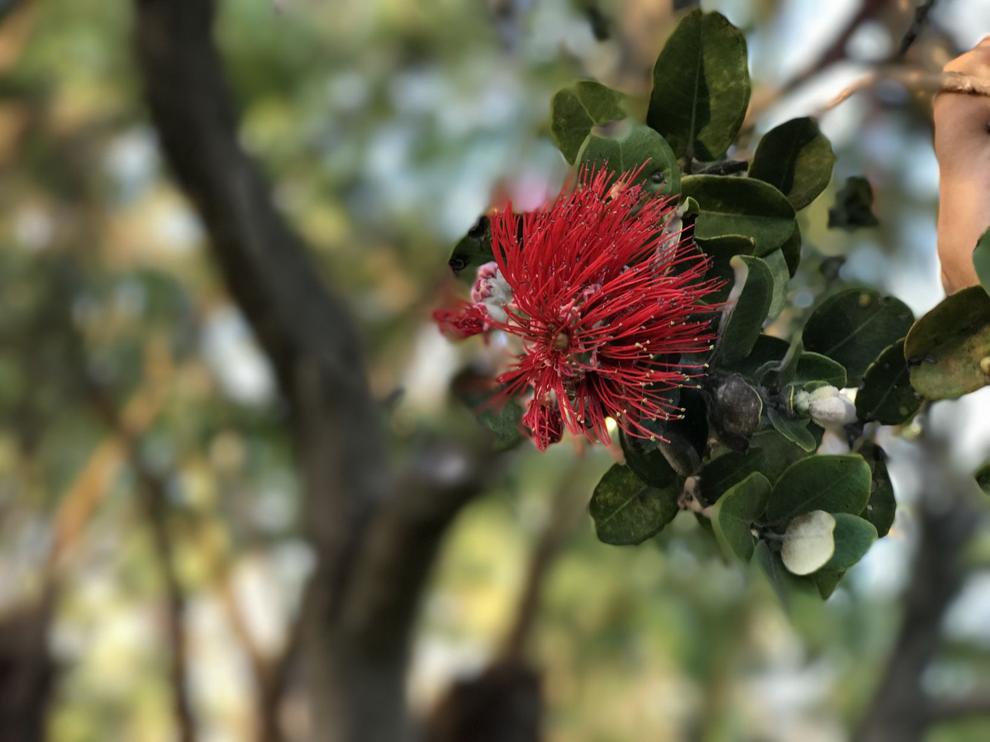 Up in the hiking trails above Mānoa valley, there are still many 'ōhi'a lehua that can be used for educational opportunities, but the experience on Hawai'i Island is not the same as the well being of 'ōhi'a are threatened by a fungal disease called Rapid 'Ōhi'a Death (ROD). 
The disease can be carried either by wind or insects, but it also can be spread by people transporting soil and plants around the state. While conservation and quarantine efforts are underway, the disease has already been recorded on Kaua'i and may one day spread throughout the rest of the Hawaiian Islands.
"'Ōhi'a is one of the most ecologically and culturally important trees in all of Hawai'i. By collecting and banking seeds, we can buy time for researchers to better understand ROD and how we can minimize its impact on our Hawaiian forest ecosystems," Timothy Kroessig, Lyon Arboretum, Hawaiian Rare Plant Program (HRPP), said. 
Multiple efforts are being made to combat the spread of ROD. The Botanical Society of America (BSA) Student Chapter at UH Mānoa is trying to enable education opportunities for UH students to start participating in the "Rapid 'Ōhi'a Death Seed Banking Initiative" at the arboretum HRPP. Their goal is to preserve the many precious varieties of 'ōhi'a lehua by collecting and storing seeds that are gathered from the capsules of the tree. This preservation of genetic variation is important for the potential restoration of 'ōhi'a trees across the archipelago. It not only serves to store and catalog the genetic diversity of 'ōhi'a, but also allows scientists to screen for genes which confer resistance to ROD and target these genetic lines for breeding and eventually, for reforesting areas which have been devastated by ROD. 
'Ōhi'a lehua is dominant in the canopy of Hawai'i's native forests and plays an essential role in the maintenance of watersheds and the recharge of the groundwater aquifers. Being one of the first colonizers of new lava flows, these trees turn barren fields of rock into rich luscious forest. Their roots help break down rock into soil and capture water that would otherwise run off into the ocean. They form the initial canopy which provides structure and habitat for other species to colonize these new forests. The absence of 'ōhi'a trees would disrupt large scale ecological processes governing forest establishment, water dynamics and soil creation. The effect of these systems spreads beyond the forest. Many coastal ecosystems in Hawai'i are already impacted by erosion due to sea level rise. Without proper structured forests to hold back the tide of loose soil, Hawai'i coastal ecosystems will only further degrade.
Our BSA chapter is giving people a chance to help the effort with a seed banking workshop at UH Mānoa on Dec. 7 in St. John 157 from 8:30 a.m. to 12:30 p.m. There, the students will go over how to identify, collect and protect the different types of 'ōhi'a for seed banking purposes at the Lyon - HRPP. The event will be hosted by seed banking experts such as Marian Chau, PhD. RSVP at goo.gl/forms/TZsyt173u374lSxU2.